**This post may contain affiliate links for products I recommend. If you click a link and buy something I may receive some compensation. This does not change the price you would pay.**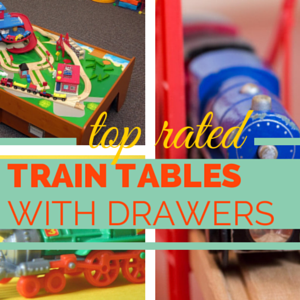 Any of these train tables with drawers will help you keep all the various parts and pieces of the track, controls, and power supplies together and tidy in one place.
Whether you need one for a child with to use with one of the popular Brio or Thomas sets or for a general play table that will handle both trains and other activities there's a great option that will fit your needs and available space.

TABLE OF CONTENTS: KidKraft / Trundle Drawers / Pull Out Drawers / Thomas and Friends / Imaginarium
KidKraft Train Tables with Drawers
KidKraft makes great play and activity tables and they have a number of them in different colors and sizes that work very well for kids' train sets. All of the following have pull out drawers for storage of track pieces and extra trains.
LOWEST PRICE


KidKraft Ride Around Train Set and Table with Drawers – Honey



2 blue plastic bins and 100 play figures, track included
MOST STORAGE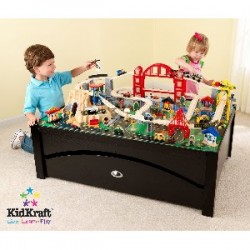 KidKraft Metropolis Train Table Set with Large Trundle Drawer – Espresso



Large rolling trundle drawer, 100 piece set and track, mountain, solid wood frame
Read my Review
BEST RATED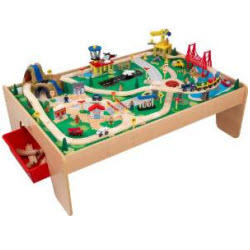 KidKraft Natural Train Table with Pull Out Drawers



3 red plastic bins, 120 play set, reversible train mat
All three of the above options are compatible with other train sets like Thomas and Brio. The play mats themselves can be removed or flipped offering the flexibility for the table to be used for other kinds of activities.
Train and Play Table with Trundle Drawers
Trundle drawers can offer a lot more storage space than the pull out drawers on other tables. Some of these could store the entire setup to get it out of the way when not in use.
This style of drawer is not attached to the table itself but can slide completely out from underneath. The big benefit is that rather than having to open and close a drawer during play, the trundle can be moved to the side of the table or a couple of feet away so that a child doesn't have to keep opening and closing a drawer in order to reach new track pieces, trains, or figures to put them on the table. Instead, they can have immediate access to their entire collection.
There are several options to choose from. Some are on wheels which makes them easier to pull out but if the wheels are all swivel style they might slide too easily on a hard floor surface. Wheeled drawers are usually made from wood or composite wood material. Others are plastic bins that fit underneath and do not have wheels.
When considering trundle drawers for a train table, think about the type of flooring on which the table will be located and pick the style that will be easiest for children to move.
LOWEST PRICE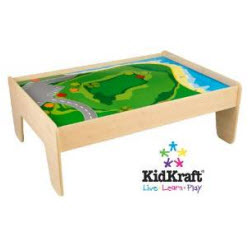 Natural Train Table with Optional Trundle Drawers



Drawers available separately here
MOST STORAGE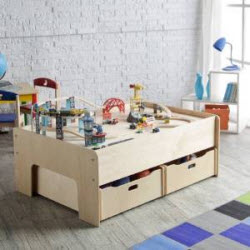 Little Colorado Wood Train Table with 2 Trundle Drawers



Sleek, modern look; rounded corners, and already finished
SOLID WOOD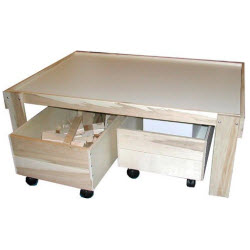 Beka Train Table with Top and 2 Drawers



Sturdiest option made of solid wood, unfinished, with wheeled drawers
Keep in mind, too, that if you like a particular style of train table but not the trundle drawers that come with it, you may be able to buy the table separately and purchase optional trundle drawers from another manufacturer.
Train Tables with Pull Out Drawers
Some of these activity tables do double duty and can be used not only for trains but also for arts, crafts, blocks, and Legos. They all have pull out drawers or bins you can use to keep extra supplies out of the way but still handy during play.
This style keeps things off of the floor. If you have a limited amount of space, you might not have room to take full advantage of trundle drawers because there might not be enough room to have them out next to the table.
LOWEST PRICE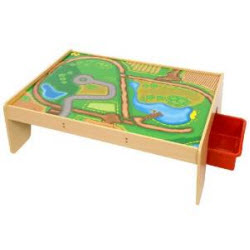 Bigjigs Rail BJT041 Train Table with Pull Out Drawers



Drawer position at the end and table height allows kids to sit at chairs on the sides
BEST RATED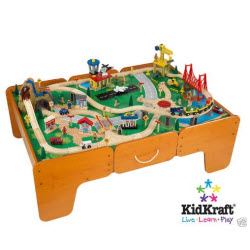 Kidkraft Waterfall Mountain Train Table Set with Pull Out Drawers



Includes 120 piece train set with track, 4 pc train, and interactive figures
MULTI-FUNCTIONAL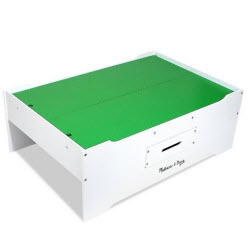 Melissa and Doug Deluxe White Wooden Activity Table with Drawer



Board flips for multiple uses, large drawer holds lots of pieces, no included set
Always check the interior dimensions of the drawers to compare true storage space from table to table.
Thomas the Train Table or the Imaginarium Table?
A child's first train is often one of the Thomas and Friends wooden sets. (Ours is over 6 years old and all the pieces have held up very well!) And once you've got the train it isn't long before you're looking for something to put it on because a floor – especially carpeted – isn't ideal for long-term play.
The Thomas tables are fun and visually attractive. Kids love the bright colors and the maps and they're learning, too – according to Parenting Science, toys that have kids follow a plan to recreate a design – like that of a train track – helps kids improve their spatial skills.
However, when you compare JUST the cost of one of the Thomas tables to that of the Imaginarium city scene table that comes with a compatible set of tracks and trains, you can save about $50 and still get all the benefits.
The following two tables are nearly identical in size (they're huge) and both have a storage drawer but the Imaginarium table costs less and comes with so much more.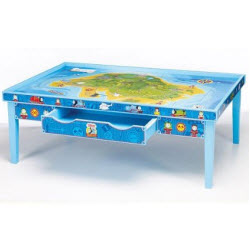 Learning Curve Thomas and Friends Train Table with Drawer
This brightly colored, wooden table has one large pull-out drawer. The outside is decorated with 3D faces of the story's main characters.
This table does not come with any track, trains or figures.
This is a wonderful choice for serious Thomas fans.


Imaginarium City Central Train Table with Drawers
This table is compatible with Thomas the Train or Brio train sets. This table was originally designed as an exclusive product for Toys R Us but is now available on Amazon. It comes with 100 piece train and track set with all kinds of accessories.
It comes with a pull out drawer that holds all the included pieces. The play set is a city scene with construction activities, a crane and train station.
For children ages 3-4 you can save even more by buying the current Imaginarium exclusive at ToysRUs. It's 2 inches shorter than the tables mentioned above but still comes with a train set and pull out drawer for half the price of the City Central table.