**This post may contain affiliate links for products I recommend. If you click a link and buy something I may receive some compensation. This does not change the price you would pay.**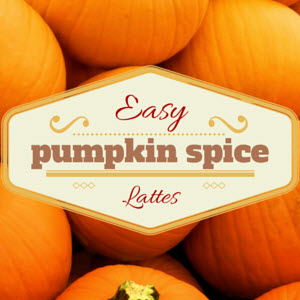 This easy pumpkin spice latte recipe is as close as I've been able to get to making Starbuck's own drink at home.
My husband is the errand runner in our house and so it's not uncommon for him to get a text while he's out that asks if he could stop at Starbuck's on the way home. While he doesn't drink coffee he's become very familiar with how to order and knows what I like – including that as soon as the pumpkin spice latte is on the menu that's what I'm going to want.
I'm addicted.
I like them hot and I love them as a frappuccino.
Last Christmas my husband bought me the Mr. Coffee Cafe Latte maker. (I think he was tired of being the coffee-getter.) I have used that thing almost every day since (love it!).
Pumpkin Spice Latte Ingredients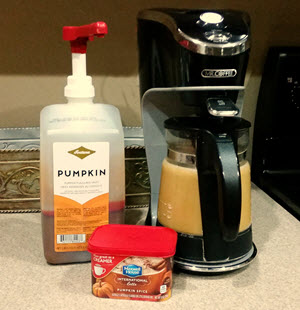 I use only 4 ingredients in the latte:
What? No milk? That's right. Not that you can't do this with milk (and I have) but I prefer to keep my calorie count as low as possible because of how much of this I might drink each season.
If you're going to use milk substitute a cup of non-fat for one of the cups of water and reduce the water by a cup.
Instructions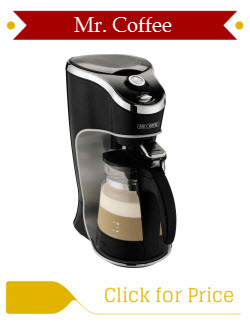 This is where the latte maker comes in handy. It has two settings – one for brewing coffee and one for frothing. I only need to use the Heat & Froth setting since I'm using instant coffee.
Fill the carafe with 3 cups of water (or 2 cups of water and 1 cup of milk, if you prefer)
Add 3-4 pumps of pumpkin sauce to the carafe
Add the 6 tablespoons of the instant coffee to the carafe
Add the desired amount of Sweet'N Low (I use 4 because I prefer my coffee extra sweet)
Put the lid on the carafe and place it on the base
Make sure to set the latte maker to Heat & Froth and push down on the start lever
The latte maker will be done in about a minute. The frothing wand will add a tiny bit of foam even without milk and does a great job with foam if you do use milk.
The recipe makes about two grande-sized servings.
On special occasions I'll top the cup off with a bit of light whipped cream and a sprinkle of pumpkin pie spice and have them with one or two black and white cookies (a favorite from my New York childhood) for a sweet and decadent mix of chocolate, vanilla, and pumpkin flavors.
When company is over, put the lattes in pretty, seasonal mugs and place them on a serving tray. They make a great presentation for a book club or game night.
With Coffee or as a Frappuccino
I'd tested a number of ways to get the same distinct, balance of pumpkin and coffee as possible without overdoing it but always found my coffee overpowered the flavor. The pumpkin sauce really makes a difference.
To make this recipe with coffee, use the Latte setting on the machine, fill the water line inside the water tank to the top (2 servings) and put 3 tablespoons of coffee inside the filter.
Put 1 cup of water or milk in the carafe along with the pumpkin sauce and sweetener (leave out the instant coffee).
No matter which way you make the latte you can turn it into a frappuccino without a blender by letting the carafe cool and then pouring the latte into freezer-safe cups. Place them in the freezer for a couple of hours and they'll be wonderfully delicious.
Of course, that means you have to plan ahead but I find that they don't get watered down by the larger bits of ice that sometimes are left inside when you try to use a blender. Maybe it's just that my blender isn't very good but the consistency and texture are more like what I'd get from Starbucks when I do this.
That's it! A simple, easy pumpkin spice latte recipe for all of us seasonal addicts. Enjoy!