**This post may contain affiliate links for products I recommend. If you click a link and buy something I may receive some compensation. This does not change the price you would pay.**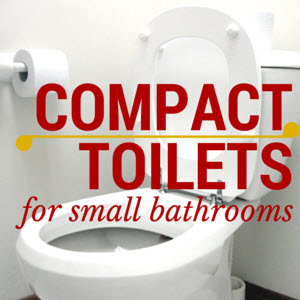 This selection of compact toilets for small bathrooms was assembled after comparing dimensions for length, width, and height and then considering online consumer ratings.
The various shapes (elongated, round, and corner) are all represented and there are some great bargains in the mix!
When you're dealing with a cramped bathroom, every inch of space becomes critical. If you can shave a couple of inches off of the size of the toilet, you'll have a little more freedom in moving around tight quarters.
If you're remodeling or doing a makeover, put one of these on your list of space saving ideas.

Table of Contents: Round Bowl / Best Deal on Compact Dual Flush / Elongated Bowl / Wall Mounted / Triangle Corner Shape / Measuring Rough In / Macerating Toilet
Compact Round Front Toilets
You have more solutions for toilets than ever before when dealing with a very small bathroom. Which style is best for you depends on how your bathroom is laid out.
One option is a round front toilet. I selected these specific models based on their overall dimensions and reviews. Most of these have a shorter length than the standard toilet so they won't jut out and eat up valuable space. Some have shorter tanks in case you also need to fit it under shelving or cabinetry.
Attention was also given to the overall width and I've included the measurements so you can see in advance which might make a great fit. (This took a bit of work as not all product listings always show you this information. When necessary, I consulted the manufacturer's site to get width, height, and depth.)
The three choices have the best review ratings from other consumers.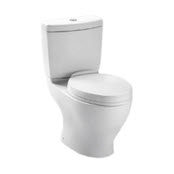 Toto CST412MFNo.01 Aquia Dual Flush Compact Toilet
L 27 1/2 x W 14 1/4 x H 31 1/4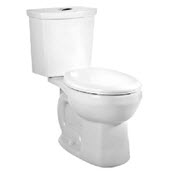 American Standard H2Option Siphonic Dual Flush Round Front Compact Two-Piece Toilet
L 27 3/4 x W 15 x H 29 1/2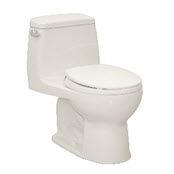 TOTO MS853113S-01 Ultramax Small Round Toilet
L 26 1/2 x W 16 1/2 x H 27 1/2


Great Deal on a Small Toilet With Dual Flush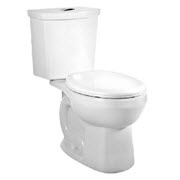 American Standard 2889.216.020 H2Option Siphonic Dual Flush Round Front Two-Piece Toilet
This two-piece toilet has a very reasonable price through this offer while supplies last.
It's 26.75 inches long (front to back) by 15 inches wide and stands 29.5 inches high. The ceramic comes in a choice of three different colors.
This is the smallest, standard toilet I could find online at such a bargain. The same toilet is carried by Home Depot but costs more.
There's one toilet I found that cost less (also at Home Depot) but it was nearly 5 inches longer and wider than this model.
The half flow flush is very effective and the toilet is quite comfortable.
Compact Elongated Toilets
Another option is for an elongated toilet which takes up less width. Sometimes it isn't that you're short on space, it's that you can't fit a standard width toilet in your bathroom.
These compact, elongated (or oval) shaped toilets are some of the most narrow you can buy. I've organized them based on their width from smallest to largest.
Before buying, make sure that the toilet comes with the seat (some don't) and also check the rough-in distance to insure a proper fit with your existing plumbing.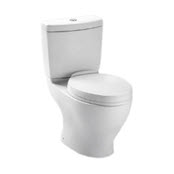 Toto CST412MFNo.01 Compact Aquia Dual Flush Toilet
L 27 1/2 x W 14 1/4 x H 31 1/4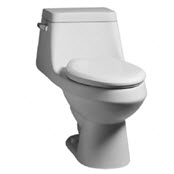 American Standard 2862.056.020 Fairfield Elongated One-Piece Toilet
L 29.2 x W 16.1 x H 26.4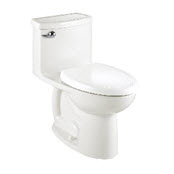 American Standard
Multiple Color Options
2403.128.020 Compact Cadet-3 FloWise 1 Piece Toilet
L 28 1/2 x W 15 1/2 x H 28 1/2


Need help? Click to Read this Detailed Toilet Buying Guide
Wall Mounted Toilet Has a Small Footprint
Depending on how your bathroom is plumbed (or on how handy you are) you may be able to take advantage of a wall-hung toilet which moves the tank behind the wall leaving only the seat in front. This can shave many inches off of the length of the toilet's footprint.
This is an ideal solution for very tight bathrooms or for makeshift bathrooms at job sites. This may require some installation, plumbing and wall work so either get your tools handy or hire a contractor.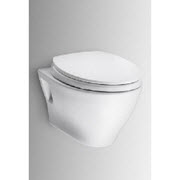 Toto CT418FGNo.01 Aquia Wall-Hung Dual-Flush Toilet, 1.6-GPF and 0.9-GPF Cotton
This Toto toilet mounts to the wall and has a dual flush system for water conservation.
The toilet can flush with .9 flow which is about half of the regular flush or can flush with the full flow.
Dual flush saves on the cost of water over time, paying you back regularly to cover the cost of the purchase.
The sleek design is easy to clean, too, and matches the style of almost any bathroom. You may need to buy a compatible Toto In-Wall Tank System
.
Space Saving Corner Triangle Toilets
Maybe you've got one of those really awkward bathrooms where the only place to put a toilet is in the corner. Triangular shaped tanks are the solution.
These can also be great for a powder room. Ours is square and was designed for everything to be against one wall which makes one half of the space look really cramped and leaves the other side very empty. A small, corner toilet can open up the space and keep you from bumping your legs or arms on surrounding cabinets.
These options are the shortest and/or the most narrow I could find that were also still reasonably priced.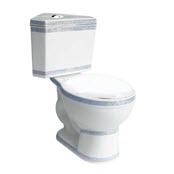 Compact Corner Round Front Dual Flush Toilet White and Cobalt 17676
L 30 x W 17 1/4 x H 29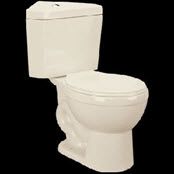 Corner Toilet Water Saver Dual Flush in Bone 17669
L 30 W x H 29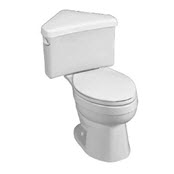 American Standard 2846.016.020 Triangle Tank Titan Pro Toilet
L 32 x W 19 1/4 x H 30 3/8


Remodeling Your Small Bathroom with Pedestal Sink and Toilet
One way to make more room is to replace a cabinet sink with a pedestal sink. You lose storage space – which you may be able to replace with wall shelves – but you open up a lot of floor space. My husband and I did this to a bathroom in our old house and it was amazing how much larger the room looked when we were done.
Get the Right Rough In Distance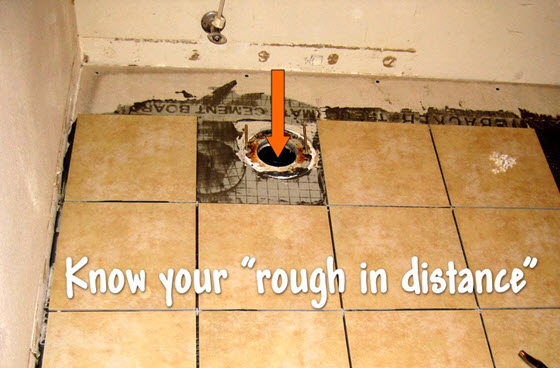 Photo by seansulli CC BY-ND 2.0
One thing you've got to get right in order to choose a new toilet is to make sure you buy one that has the same "rough in distance" as your existing plumbing. The rough in distance equals the distance from the wall behind the toilet to the center of the floor drain.
A 12″ rough in is a common measurement in the US but don't just guess – pull out the ruler. If there's already a toilet in place, you can measure from the back wall to the center of the first bolt cover you run into on the base on either side.
Small Macerating Toilet for Make Shift Bathroom


Saniflo 023 SANICOMPACT 48 One piece Toilet with Macerator
When my sister moved into a beautiful, old house in Pennsylvania, she had lots of remodeling to do but her biggest challenge was to get a bathroom on the main floor. She turned an existing closet into a guest bath. My parents had a similar challenge with a daylight basement that had no bathroom. Walling off a portion of the oversized water closet was one solution.
If you want to put a toilet in where there's not the traditional ground drain, a small macerating toilet might be a money saving option. They don't require the standard drain – just a dedicated outlet and a cold water connection. The built in macerator chops up the debris to liquid form and processes it without the tank.
This Sanicompact toilet is 18 1/4 inches long, 14 1/2 inches wide, and 15 3/4 inches tall.
Stylish Compact Toilet for Modern Bathrooms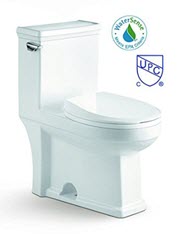 Julius – cUPC Watersense 1.28gpf Low Flush Modern European Italian One Piece Toilet
After awhile, all your choices start to look alike, don't they? And then there's this little gem from Luxury Modern Home. It's a slim, one piece design with very sleek lines and no nasty bolt covers to constantly clean (and retrieve).
This one is 28 inches long, 14 inches wide, and 35 inches tall.
You can imagine it in a trendy loft in downtown New York, can't you?
Who is Toto?
A number of the products I included in my list are made by Toto, a Japanese based company with a US division headquartered in Georgia. They got there start in 1917 and are currently one of the leading manufacturers of toilet and plumbing supplies.
They're so popular that they were featured in an episode of "The Kardashians" when the sisters went through the showroom looking for new bathroom supplies.
Their sleek design, positive ratings from consumers and their line of small but high performing toilets usually earns them a couple of spots on any list of of the best choices for consumers.