**This post may contain affiliate links for products I recommend. If you click a link and buy something I may receive some compensation. This does not change the price you would pay.**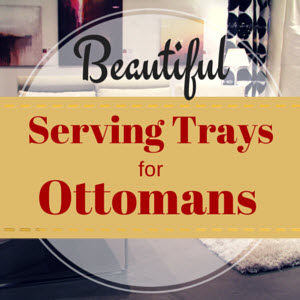 Serving trays for ottomans are a great way to use available space for decorating and also give you a ready-made place to put appetizers or drinks while entertaining. Organize books, vases and magazines during the week and then pull out the pitcher and martini glasses on the weekend.
Check dimensions before you buy and make sure that they'll fit the top of your furniture. Also go for the ones that have sides that aren't too short as they'll help catch anything that might spill out of a flower vase, off of a candle, or liquids if the tray is used during a party or gathering.
Wooden and Bamboo Trays for Ottomans
These are great wood and bamboo decorating trays because they all have handles. When you want to put your feet up, you can pick everything up in one fell swoop and then put it back again without having to move each item that's on the tray.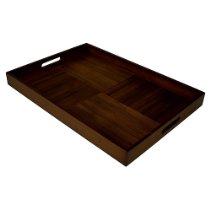 Simply Bamboo Extra Large Espresso Serving Tray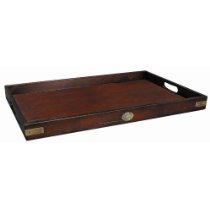 Authentic Models Butlers Serving Tray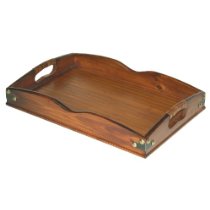 Mountain Woods Valencia Collection Large Antique Style Serving Tray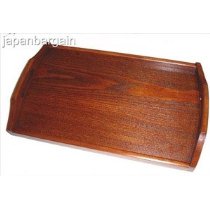 Wooden Serving Tray 17×10 #9599

I was thinking that, perhaps, if you had kids you'd be more drawn to the tray that has spots where you can put your photos but the more I thought about it, the more ways I came up with to use those photo spots. My father-in-law takes stunning scenery photos and we have many from their cabin up north. The colors in those photos would really match the colors in my living room and would look really good.
Decorative Ottoman Trays in Fun Colors
I love rooms done in bright colors or in shabby chic creams and then accented with pink, blue or yellow. Makes me think I'm at a wonderful beach house – which is exactly where I'd love to use any of the ones below.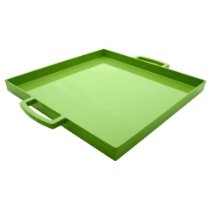 Zak Designs Eden 12-1/2-Inch Small Square Tray, Basil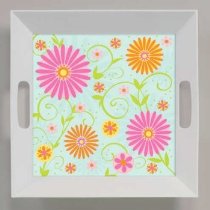 Spring Flowers Plastic Serving Tray 10″ Square w/Handles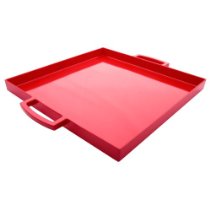 Zak Designs Pop Small Square Tray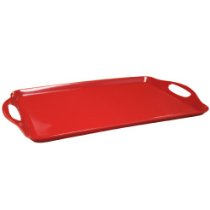 Calypso Basics, 07600, Melmaine Rectangular Tray, Red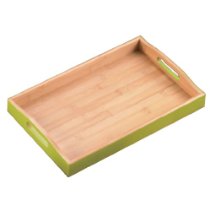 Creative Home 15 by 9-Inch Bamboo Serving Tray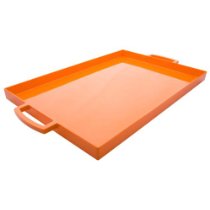 Zak Designs Pop Large Rectangular Tray

A home decorating tip that has stuck with me for years – and I think it's something I must have picked up from a magazine – was that one of the least expensive, fastest ways to change the look of your room was to move some of your home accessories from one room to another. This changes the look without you having to spend a lot of money at all.
When I see these rather whimsical trays, I want more than one and I tell myself it's because I can then move them around but really it's because they're so pretty!
Black Trays for Ottomans
For a modern living or sitting room, black is a great option because it goes with everything and can always be repurposed to another room if you move things around. It works with ottomans of all colors and there are a few in leather that are extremely elegant.
While these are most often used for display purposes, they're perfect for keeping your tea or coffee service nearby if you're hosting a small gathering. You could put a warming tray nearby with mini appetizers for a ladies club, for example.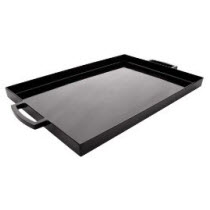 Large Black Ottoman Serving Tray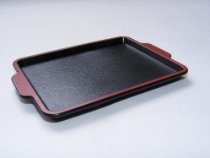 Japanese Black Lacquer Serving Tray