**This post may contain affiliate links for products I recommend. If you click a link and buy something I may receive some compensation. This does not change the price you would pay.**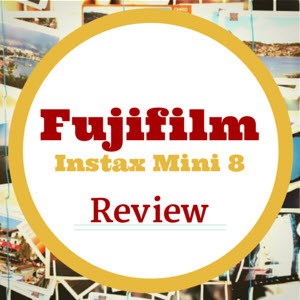 After this Fujifilm Instax Mini 8 review you'll understand why this instant camera has become a hit in the US even though its original target audience was female consumers in East Asia. It's cute, comes in a great set of pastel colors (plus black) and lets you share hard copies of great pictures in minutes.
When I was a kid, we had a Polaroid camera that worked along the same lines and my friends and I used it to take pics we could hang in our lockers or give to friends. This camera gives you the same opportunities but with a whole new look and with the better technology that's available today. Of course, the one we had back in the day was way too big to carry around easily whereas this one can tuck right into a jacket pocket.
Table of Contents: Features / My Review / Video / Compare Mini 8, Mini 7s, & Polaroid 300 / Price & Bundle Deals / Accessories
Full List of Features – Cute is Just the Beginning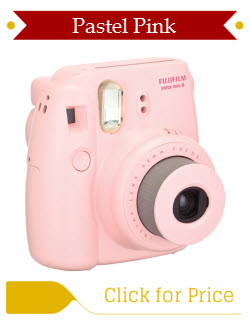 My kids always want whatever happens to be "cool" at the moment but I like to buy them things they'll really use and that will last. When we were considering this camera, I wanted to make sure it would take great pictures and was well constructed. The feature list helped me understand that it's not a toy – it's a great camera and not just for kids.
Flash goes off with every picture (no guessing or accidentally leaving it off) and it takes only a few seconds to recharge between shots
Five lighting settings indicated by easy to understand icons on the lens – Indoors/Night, Cloudy/Shade, Sunny/Slightly Cloudy, Sunny/Bright and Hi-Key. The Hi-Key setting washes out shadows and dark backgrounds so it looks more like a portrait setting.
Good sized viewfinder and visibility reduces squinting
It's called a mini because of the size of the images which are 2.4″ x 1.8″ – the total finished picture including the white space is about the size of a standard wallet size photo
1/60th of a second shutter speed which is comparable with digital cameras in the same price range and produces less blur from movement during the photo
Back of the unit has a removable cover where film is placed, a film warning window that tells you when not to open the back for risk of exposing the film, and an exposure counter to tell you how many shots are left on the film pack
Flashing LED light measures light and controls aperture setting so you don't have to mess with any complicated programming to get good shots
Cool, retro look in a compact body made of tough plastic and available in great colors that appeal to both boys and girls: black, pastel blue, yellow, pastel pink, and white
Includes the camera, a strap that can be used around your wrist or neck, 2 AA batteries, and the close-up lens
Requires 2 AA batteries – energy saver feature puts the camera into sleep mode after 5 minutes of inactivity
Dimensions: 4.7″ x 4.7″ x 2.7″ – weighs 10 ounces fully loaded
Full Instax Mini 8 Review – How it Works and Why I Like It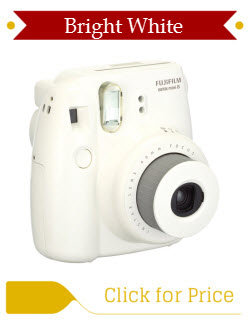 I had my teenaged son take a look at this camera with me. He's taking photography classes and has three cameras already – a DSLR, a 35mm film SLR, and a digital point and shoot. I first had to describe for him how an instant camera works and he said, "Oh! Hey! This is like an ancient Polaroid camera Dad and I saw at the camera store the last time we went." (Yes, my child, that's what I had as a kid…)
This truly is a very easy camera to operate. The batteries go in a side compartment that slides off. You pop the film into the back and press the button to take a picture to advance the film. There's a power button to the side of the lens that, when pushed, causes the lens to pop out and the shutter to open. Then you just turn the dial to the right light setting icon, look through the viewfinder and push the button on the front to take your picture.
Each roll of film takes 10 pictures and a small window on the back keeps track of how many are left so you don't open the camera and expose the film until it's all used up.
The exterior is very sturdy although I assume if you drop it, the plastic might scratch. It fits nicely in your hand and you don't need to use both hands to take a picture which I remember having to do with the old Polaroids.
The pictures come out nice and clear and with great color and, of course, one of the benefits of instant photos is that little space at the bottom where you can label the photo or write a little message. (They're great for labeling the storage bins in a young child's room so they know where to put away each kind of toy.)
As cute as it is, though, my first thought was about whether or not it would really get used. Everything today is digital. I can't remember the last time I printed out a picture – I just seem to store them on my laptop or external hard drives or share them on Facebook.
But then I got to thinking, the reason I don't print out the pictures I take with my digital camera is because it's really a pain. When I need a picture printed out, I have to go through the whole process of hooking my camera up to my laptop to download them, then I have to carry the laptop over to the printer, switch out the paper, and pray I have enough colored ink left to get a few out with all the colors intact.
Kids LOVE to put pics up on their dresser mirrors, in their lockers, taped into their school folders, and in photo albums. An instant camera makes all of those things so much easier.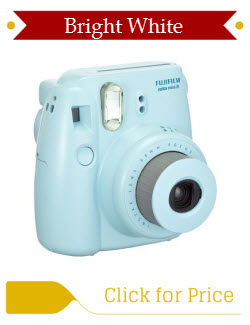 I could use it for scrapbooking, too. Can't count the number of times I've needed just one more photo to finish a page but I don't have it and then the whole digital thing seems too time consuming to pursue. Or, there are those school projects my kids are always getting when they need photos in order to make a poster.
My parents like to get photos they can put on their fridge (they have 13 grandchildren so it's a well-covered fridge) and I'm horrible about sending anything other than the classic school photo. To be able to print out a new shot on the Fujifilm Mini 8 whenever I want and put them in an envelope is just so much easier.
It's a great camera that I think solves some of the cost and issues we have in dealing with such a heavily digital world.
I read hundreds of reviews during my research and consumers give the camera high ratings. Their comments revealed several common themes:
The word "fun" came up so many times I lost track
Very sturdy exterior that can withstand being dropped a few times (an important consideration if this is for a kid)
Takes really cute photos
Great for weddings and parties where you want guests to take photos home with them
Be prepared to spend some money on film
Fuji Gives a Video Overview of the Mini 8
Nice to hear from the designers themselves. See what they had to say about the features and how they came up with them.

Compare the Instax Mini 8 vs Mini 7s vs Polaroid 300
Hey, Polaroid still makes instant cameras, too! In fact, they have one that very closely resembles the Mini 8 called the PIC-300. Then there's the very popular Fujifilm Mini 7s which preceded the Mini 8. How do they stack up?
Most of the features are exactly the same (including the image size) except for the following:
Model NumberInstax Mini 8Instax Mini 7sPolaroid 300
ColorsPastels & BlackWhite, Brown, White with Pink, White with BlueBlack, Blue, Purple, Red
Batteries2 AA4 AA4 AA
Dimensions4.7″ x 4.7″ x 2.7″ & less than 1 pound4.7″ x 4.8″ x 2.8″ & less than 1 pound4.8″ x 5″ x 2.5″ & 1.1 pounds
Hi-KeyYesYesNo
Film Cost$0.75 per picture$0.75 per picture$1.20 per picture
Prices are about $5-10 different depending on your color choice but the Mini 8 uses fewer batteries. The film cost between the Mini 8 and the Polaroid is significant making the Mini 8 far cheaper to operate over time. It also weighs less and has a slightly smaller overall size.
Fujifilm Instax Mini 8 Price – Bundle Deal or Not?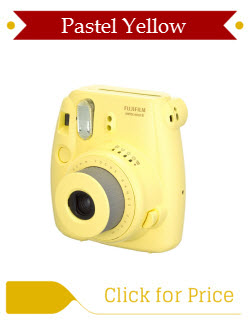 The price of the Instax Mini 8 is reasonable, in my opinion, because of its great performance and fun factor but also in comparison to alternatives for instant photos.
There are several color choices – pastel yellow, blue, pink, white, and black – and two new colors coming Spring 2015 – raspberry and grape.
Prices often vary by color so if color isn't important, you could save a few dollars buying the cheapest color (whatever that might be at the moment – it changes periodically).
Today, the cheapest price available is this one for the Mini 8 in yellow.
There are also bundle deals that can sometimes present a value.
For example, there are a ton of offers where you can buy both the camera and packs of film for a package rate. However, when I reviewed and compared those deals to buying the camera and film separately, I got a better price most of the time when bought separately because of a special deal I found online for the twin packs of Instax Mini 8 film.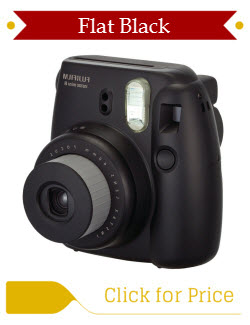 There are also bundle deals on the Fujifilm Instax Mini 8 with accessories. Some of them will save you money over buying the camera, film and accessories separately but some will not.
Watch out for bundles packaged with cheap accessories that may not hold up over time. Another tip – make sure to check the list of contents in the product description. Some look like they include the camera but don't.
For deals that include just the camera and film, compare the lowest price you find for the color you want and the lowest price for the film when purchased separately to the price of the bundled offer before you buy.
You can't find these at most stores so you almost have to buy them online. There are so many listings for these that finding the best price takes a bit of work. If you're not careful you could pay as much as $100 more than you should.
Cool Instax Mini 8 Accessories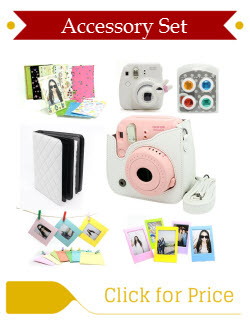 There are some fun accessories for the Instax Mini 8. Girls always seem to have some spare bag or other in which to tuck a camera but while this looks like something you could toss in your purse and take with you, a case will help protect the lens and exterior from scratches.
There are pre-printed film packages that include cartoons or rainbows, close-up lenses, color lenses, photo albums, wide lenses and skins. Many of these are geared towards kids and they allow you to customize your camera. Kids will get a kick out of adding on to their collection of accessories.
While researching the material for this Instax Mini 8 review I learned a great deal about the camera, had a chance to relive some childhood memories, and was inspired by the ability to create new ones with my own children.