**This post may contain affiliate links for products I recommend. If you click a link and buy something I may receive some compensation. This does not change the price you would pay.**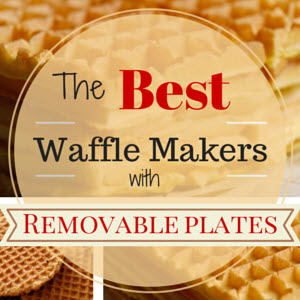 A waffle maker with removable plates has two benefits. First, it's easier to clean. (Yay!) Second, it can often do more than waffles. Some will do pancakes, eggs and sandwiches, too.
They're far better than the ones that make you work like a dog to get in between each of the slots to clean afterwards. If you like doing great homemade breakfasts, get one of these functional kitchen appliances, expand your options and spend less time wiping up afterwards.
These three are the best for both performance and price.

Table of contents: Round / Flip Belgian / Square
T-fal EZ Clean Waffle Maker with Removable Plates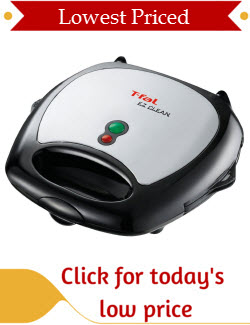 The T-Fal SW6100004 waffle maker is number one on my list because of it's low price and ease of use.
Comes with two sets of sturdy, removable plates – one set (top and bottom) for waffles and one set for sandwiches
Plates are coated with non-stick Teflon so food slides out easy and the plates are easy to clean
Each removable plate is 4.5″ x 9″ and makes two waffle squares that are 4.5″ x 4.5″ and about 1/2 inch thick
When used for sandwiches the waffle maker pinches the sides closed like a pocket sandwich
Heats up fast and will cook waffles in about 3-4 minutes
Locking clip holds the waffle maker closed
Release button pops the plates out for easy removal – tabs on the plates slide into slots in the base to lock into place
Plates are dishwasher safe but if you wash them in the dishwasher you'll want to re-oil them periodically
Can be stood up vertically when not in use
Includes cord storage area
Best of all, it's cheap as waffle makers go. That also means a few trade offs for the lower price. In going through reviews from hundreds of real users these are the few cons:
There are no flat plates
Exterior finish wears over time
While there is a power on light and an indicator to tell you when the unit is ready to cook there is no indicator to tell you when the waffles are done so you have to watch the time
It only makes two waffle squares or two sandwiches at a time. If you've got a family of 4, you're going to have to press 4 different servings just to get everyone started and if you have teenaged boys you're going to be making waffles all morning to keep them fed.
Best Price
This waffle maker goes by a couple of names which makes comparison shopping a challenge. It is referred to as the Avante Sandwich and Waffle Maker on the T-Fal site and sometimes misspelled as Avant on other sites.
Right now, two retailers are priced so closely that you'll want to check both:
Click here to check Amazon's price on the T-fal SW6100004
Click here to check Walmart's price on the T-Fal EZ Clean Removable Plate Waffle Maker
Hamilton Beach Belgian Waffle Maker with Removable Plates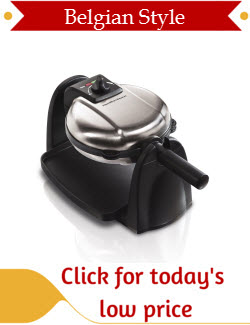 If you need something that only makes waffles and still want the benefit of being able to remove the waffle plates so they can go into the dishwasher, take a look at the Hamilton Beach 26030 Belgian waffle maker – you'll love its performance and price.
Easy twist handle
Removable plates pop out by sliding the locking latch on each one
Makes waffles that are about 8 inches in diameter and 3/4″ thick
Flip feature distributes batter for consistent crispness on each side
Drip tray catches excess batter
Teflon coated for a non-stick finish
Browning control dial allows you to customize the exterior crispiness of each waffle
Handle folds away during storage
Grids and drip tray are dishwasher safe
Reviews online prove over and over again that consumers think this is a great value. The waffles are thick and fluffy but it's the removable plates that are the main attraction. It's very hard to find a comparable option with that feature that doesn't cost more than $100.
Interestingly, the number of tips for which recipe or mix worked best with the 26030 are almost as numerous as the number of high ratings. This means you should feel free to try your standard recipe but don't be afraid to experiment.
When it comes to complaints there are very few and those revolve around a faulty eating element – a very rare occurrence. Should that happen, though, contacting the manufacturer should get you back on track.
There's also no indicator light or bell to let you know when the waffles are done but it won't take long before you know how many minutes to cook them and can set your kitchen timer accordingly.
Hamilton Beach 26030 or 26010 Waffle Maker?
If you've already been researching your options you'll have noticed that Hamilton Beach has another Belgian waffle maker with removable plates that is very similar to this one – the 26010. The price is lower than the 26030 but I still think the 26030 provides the better deal.
The main differences are:
26030 has a flat drip tray vs. the contoured one on the 26010
The 26030 is slightly larger
The 26010 has a different handle design and a few reviewers have noted issues with the handle sticking (although the number of instances is very small)
The 26030 looks more European
2 foot power cord
Best Price
This should cost less than $50 and I've compared a number of online sites to find the best price to which I've linked below.
Click here to check Amazon's price on the Hamilton Beach 26030 Belgian Waffle Maker
Cuisinart WAF-300 Belgian Waffle Maker with Removable Plates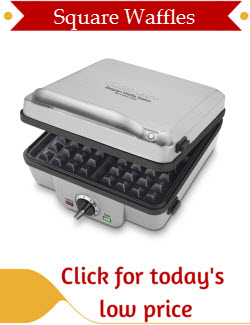 If you have a large family, the Cuisinart WAF-300 Waffle Maker< does four, square, Belgian style waffles at one time and the plates can be swapped out for a pancake plate on the bottom. It can also do eggs, sausage and bacon.
Generous-sized handle stays cool during use
Includes 3 plates – two are waffle patterns and go in the top and bottom of the unit – one is flat for use in making pancakes and goes only in the bottom (meant to be used when the lid is open)
Finished waffles are just over 4 inches square and 3/4″ thick
6 setting temperature knob on the front controls browning
Pancake plate has round cutouts to control pancake size
Audible alert tells you when pre-heating is complete and when the waffles are done
Indicator lights for power and pre-heating
Non-stick coating on all plates
Release buttons on the side pop the plates up so they can be removed
Dishwasher safe grills
Includes tongs
Cord wrap storage in the back
Stands upright so it takes up less space in your cabinet
While this isn't the cheapest model on the market it does a better job at making consistently cooked, thick, fluffy Belgian waffles than others with removable plates. It's also the only one in this price range that offers an audible alert. The quality of the materials are better and it looks more professional.
The one drawback is that the pancake cutouts make flipping a pain so unless you're a stickler for evenly sized pancakes and willing to deal with the hassle you may find you stick with a regular griddle for that purpose. However, you'll still find it handy for doing individual portions of scrambled eggs – a great idea when you have family members who like them done differently.
Best Price
This is pretty widely available at a number of online merchants but Amazon has the best price at the moment.
Click here to check today's low price on the Cuisinart WAF-300
My family loves making a traditional Sunday breakfast when we spend time with my in-laws at their cabin. We all agree, though, that a waffle maker with removable plates is a must. If you feel the same way then one of the models discussed above is sure to meet your needs.