**This post may contain affiliate links for products I recommend. If you click a link and buy something I may receive some compensation. This does not change the price you would pay.**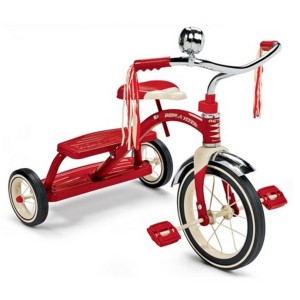 This list of my six favorite tricycles for boys was hand picked based on my experience as the mother of three. Of course, I wasn't too shabby at riding one myself, back in the day.
There's a time in the development of each child where it hits you that it's time to get your kid his own set of wheels. Funny, isn't it, that we start them out with three, move them up to two, and then finally help them progress to four – a car – when we hope they'll pack all their stuff and get their own place? But I digress…
Getting them their first tricycle is really about developing motor skills, getting exercise, and teaching them a skill they can use for healthy habits the rest of their life – the ability to get around on one's own energy.

Classic Red Tricycle for Boys
An old favorite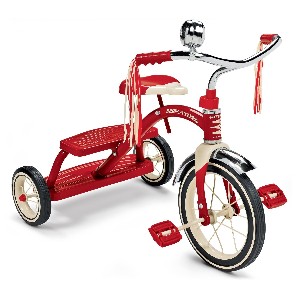 Radio Flyer Classic Red Dual Deck Tricycle
Look familiar? I'm sure I'm not the only person over 30 who had this model (or one very much like it) as their first tricycle.
For some reason, the combination of color and the two step deck in the back always led me to believe that I had the best as compared to the ones my brothers had. They both always wanted to ride on mine, our friends wanted to use it, and we squabbled a fair amount over taking turns using it.
My favorite thing to do was to give my younger brothers a ride by having them stand on the deck while I "zipped" around the driveway. We got years of use out of that and continued to enjoy it even when we'd really outgrown it.
A Dirt Bike-Like Trike
I couldn't resist…
For boys, it's all about speed – even if their bike just LOOKS like it moves fast. My boys always wanted whatever was just one level above their age range. Before they could even ride a three wheeler, they wanted a two wheeler. Before they were even able to drive, they wanted a Ferrari.
This tricycle is really bright, will get a lot of attention, and they can pretend they're jumping dirt hills even when they're really just pedaling over a crack in the sidewalk.
It has a nice, wide seat and is made for kids as young as 18 months. I had a friend who rode dirt bikes competitively and when they were babysitting my youngest one weekend they took him out to a show to see the riders. This is probably just the kind of tricycle he had as a kid.
Radio Flyer 79S Big Flyer Three Wheeler
Better than the old Big Wheel
This is the same style as the old Big Wheel so many of us had. It's a three wheeler but it sits very close to the ground and you can make really great turns without tipping.
We had two like this when I was a kid and we rode them to the ground. We'd race and make pretend courses in our yard and speed through them. They had a great turning radius and a really comfortable, full seat so we felt really stable sitting inside.
Considering that those two three wheelers held up to four kids and a neighborhood worth of friends for many, many years makes a statement as to their longevity and durability. It appears that this model has those same characteristics and is highly rated by other parents.
A Hot Rod Tricycle Boys Will Love
Flames, a light and a padded seat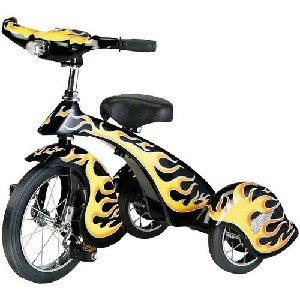 Morgan Cycle Hot Rod Retro Trike
This is certainly not cheap but it's so unique that I wish they'd had a style like this when I was little.
It has extra detailing above and beyond the basic styles. It's made of all steel with extra frame details and a hot looking black and orange flames paint job. There are even metal wheel covers!
When any of my siblings or I had a toy that our kids outgrew but was really special, it would end up at our parents' house so that all the grandkids could make use of it. This is the kind of toy that would have gone that route. It's something that will last, is different than all the other boys would have and can be passed around between families in order to get the most use out of it.
Tractor Tricycle for Boys
Just like Dad's
A city kid might not appreciate this model but my dad has a John Deere tractor he uses in the maintenance of his relatively large yard. Every one of my boys has been fascinated with that tractor and my dad takes them all for rides on it when they come over. As they grow older, they're allowed to drive it themselves.
If you've got a little boy who recognizes the brand name or sees dad riding around in a life-size one, they'll enjoy having their own version they can pedal around themselves.
The frame and design are very simple, it's made of steel and has rugged tires to handle dirt, bumps, dips and grass.
Choosing a trike that fits the environment in which your child will do most of their riding is important. For awhile, my family and I lived in Colorado where our yard, street, and driveway were all dirt. The only concrete we had for our bikes was in our unfinished basement. In those cases, you want to make sure you have a bike with tires that can handle lots of dirt.
Best Starter Tricycle for Toddlers
Rugged three wheeler for small boys
The first tricycle we got for our oldest son was one of those small, basic models that he outgrew in about a few months. It didn't have enough room between the pedals and the handlebars to allow for his legs to grow. I hated the fact that he didn't get much use out of it.
This style has the seat further back so that as a child grows they can bend their legs more comfortably and still reach the pedals and the handlebars.
The seat is a nice size which lifts to reveal some storage space so boys can put their favorite toys inside and take them for a ride or put their sippy cup so they can take a drink when they're thirsty.
It also comes in several different styles besides the motorcycle look. There's a Thomas the Train version and a Harley Davidson model.