**This post may contain affiliate links for products I recommend. If you click a link and buy something I may receive some compensation. This does not change the price you would pay.**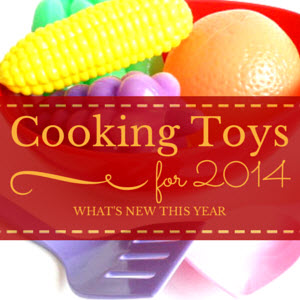 This list of new cooking toys for 2014 is meant to help parents and grandparents quickly find the latest releases as they complete Christmas shopping for children who love (or soon will enjoy) pretend food and imaginary kitchen play.
While all the best brands are included they don't always make it easy to find the items that have only recently been released and as a parent whose child has sometimes received a repeat present I know what an annoyance that can be to the person who was hoping to give a child something they didn't already have.
Many of these are great additions to an existing cooking set or pretend kitchen and will expand a child's potential to get more mileage and fun from their current toys.
Let's start with one of the most recognized names in kids' cooking toys: Melissa & Doug. Fortunately, they provide a complete category page on their site showing 2014 releases. They have three new cooking toys for kids this year.
Melissa & Doug 2014 Pretend Pancake Set

Melissa and Doug 2014 Pancake Cooking Set

The Flip & Serve Pancake Set with wooden food appears to be a huge hit! It's already out of stock on Melissa & Doug's site (but available elsewhere) and I can see why – what's a special family breakfast in many households? Pancakes! It's probably one of the first meals my children learned to cook on their own.
Includes:
2 pancakes
9 toppings
Pats of butter
Skillet and spatula
Knife and fork
Looks like some delicious fun!
Toy Sweets and Hot Dog Cart

Melissa and Doug Sweets and Food Cart

I love this Melissa & Doug Snacks and Sweets Food Cart! It's a unique spin on the toy kitchen concept that also invokes memories of launching your own lemonade stand.
Kids can cook up hotdogs with all the fixings and condiments and pretend to sell them to their friends along with ice cream cookies, popsicles, pretzels, and soda.
The two front wheels rotate and there are handles on the back like a real cart so they can wheel it around the house or the yard.
There's a drawer for storage and the top slides open to reveal the frozen foods and hotdog bin.
Melissa & Doug 2014 Toy Can Opener Set

Melissa and Doug 2014 Can Opener Play Set

The Let's Play House! Can Opener & Cans Pretend Set is a great addition to a child's play kitchen collection as not many of them come with a can opener so it would give them something new to use with existing cooking toys.
Includes:
Two cans with tops
Screw on tops that remove with the can opener
Working can opener
Might not sound like much but it's really pretty cheap and kids about 4-5 will love being able to mimic parents in the kitchen by being opening cans and then pretending to prepare the imaginary contents in their play kitchen.
Another of the best manufacturers of kids cooking toys is KidKraft. Their line of play kitchens spans interests as broad as barbecue to Asian cuisine toys as evidenced by the two additions to their line up in 2014.
Their site doesn't make it easy to find new releases but a phone call to their customer service line (which was answered quite promptly, by the way) gave me all the information I needed. While they have a few new kitchen and cookware items coming out in 2015 these are the only two items they've brought out this year with no plans for anything else before Christmas.
KidKraft 2014 Asian Cuisine Toy Cookware Set

KidKraft 2014 Asian Cuisine Cookware Set

The Asian Cuisine Cookware Set lets a child pretend to cook up their favorite Asian foods, serve it in bowls and then use the easy-to-work chopsticks to finish the meal.
Includes:
21 wood composite pieces
Bowls
Cooking pot
Chopsticks
Utensils
Cups
Comes in nice, bright colors and lots of pieces to facilitate a child's imagination.
KidKraft 2014 Sushi Dinner Set

KidKraft 2014 Sushi Dinner Set

The Sushi Dinner Set comes with pretend food that would work perfectly with the set above.
Includes:
23 composite wood pieces
Scoop of rice
Sushi rolls
Serving bowl
Chopsticks
Sushi, vegetables and soy sauce
The pieces have a nice, sturdy feel and kids can explore new foods and cultures or simply enjoy playing with foods they more regularly eat at home.
Plan Toys 2014 Kitchen and Cooking Toy Set

Plan Toys 2014 Kitchen and Cooking Toy

Plan Toys has a new, small toy Kitchen Set that comes with a pot and pan for pretend cooking. What's most interesting about this toy is it's size. At only 12″ tall, 11.3 inches wide and 7.2 inches deep this can fit in any child's room and be easily moved into your own kitchen so your child can "cook" while you're making dinner.
With the size in mind, this is best for children ages 3-5 years old. Too much older than that and they'll either need to sit on the floor to play with it or put it on a tabletop. However, it has dials that twist, an oven door that opens, and comes with a pot, pan, and spatula that have wooden handles.
Under the oven is some additional storage for other cookware sets or pretend food.
There you have it – the latest cooking toys that have come out in 2014. I'll add more if I come across others but the play factor of those on this list seems pretty darn good!