**This post may contain affiliate links for products I recommend. If you click a link and buy something I may receive some compensation. This does not change the price you would pay.**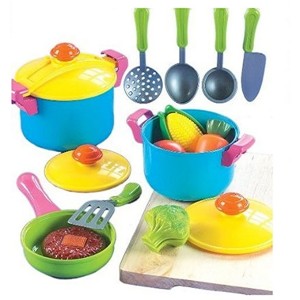 Some of the best cooking toys for girls have been around for years in some fashion or another. When my sister and I were young, we had a number of these or improvised something similar with the things we had on hand.
Recently, she and I had an opportunity to go shopping together to find a special present for her daughter who is quite fascinated with spending time in the kitchen just like Mommy. We took note of a few great options throughout the day – some of which had us giggling in the aisles at the memories they brought forth of the time when we ourselves were children.

Great Play Cookware Set for Girls
Pots, pans and cooking utensils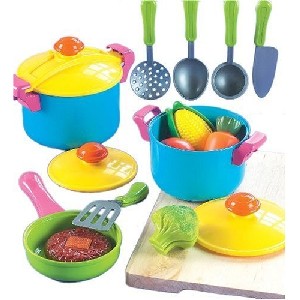 (Click for details)
Small World Living Toys Young Chef Cookware Set
There are several reasons I recommend this cookware set for girls. First, the pieces are reasonably large with nice, "chunky" handles so they're easy to grip.
Second, the bright colors are really pretty, attention getting, and they just look very cool in your hand.
Third, the price is simply unbeatable. For less than $20, you get a great set of toy pots and pans with some colorful foods and utensils.
Finally, I like the fact that the foods are healthy and include a sample of vegetables. This set will go with other play sets, too, or a play kitchen your child might already have.
Latest Version of the Easy Bake Oven
Wow! It's purple!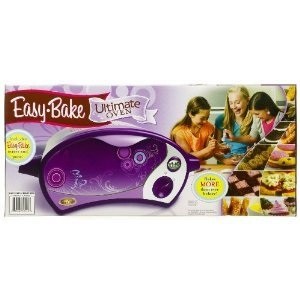 (Click for details)
Hasbro Easy-Bake Oven
This one isn't quite like the one I had as a child but for safety reasons those older versions are long gone. In fact, a few years ago, we'd tried to get one for my step-daughter but they were no longer on the market. After some revisions, they've finally come back out with it again and now it's a gorgeous purple!
I think I must have played with my Easy Bake Oven more than any other toy except for my doll house. I cooked muffins, cookies, and even experimented with my own recipes. For awhile, my brothers and sister and I had a thing for melting our ice cream flavored gum in the oven just to the point of it being warm and then sticking the gum in our mouth. (Don't ask me why – maybe we felt we were making a quick dessert…we also dipped french fries in our vanilla shakes so there's no accounting for taste when you're young.)
Best Toy Appliance Set for Young Girls
Four pieces and accessories all in one
(Click for details)
Kitchen Pastel Wooden Play Food Set
I think I had to wait years as an adult to have matching appliances but you can get a young girl a blender, coffee pot, toaster and mixer all in one set.
Each appliance comes with a number of related accessories also in pretty pastels. The products feel sturdy and are fun to use.
They're made by KidKraft who also has quite a range of play kitchens and these will go with a number of those play sets.
What I like about this is that almost every kitchen has this same set of appliances so children are familiar with them and can now mimic the activities of their parents with their own versions of the same items.
Cutest KidKraft Play Kitchen
Not many come with a dishwasher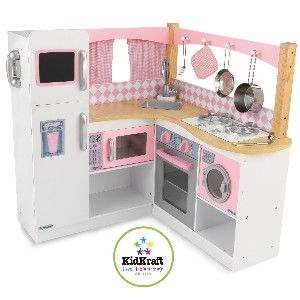 (Click for details)
KidKraft Grand Gourmet Corner Kitchen
Choosing just one KidKraft kitchen set for girls is nearly impossible. They have some of the cutest options available. However, there are a few things that both my sister and I preferred on the Grand Gourmet that you don't find in other styles.
The dishwasher is one such example. I like the idea of it being used for storage but also because it's unique (although it looks like a clothes washer which we decided was fine and could be used that way, too).
The corner arrangement mirrors the set up of my sister's kitchen so it's a lot more like Mommy's and would fit inside a playroom or bedroom.
To top it off, I love the idea of the little gingham curtains you can pull open and closed.
A Mud Pie Play Set for Pretend Cooking
A big childhood memory for me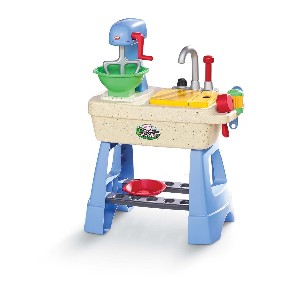 (Click for details)
Little Tikes Mudpie Kitchen
I know I'm getting up there in years but please tell me I'm not the only child who played with dirt. For my siblings and I, dirt was a significant staple in every outdoor event from making mud pies to throwing dirt clods to playing in the sand box.
When my youngest was about three, he went outside to play and came back in covered in stains and with grimy hands. A relative who was visiting commented on just how filthy he was. I was rather astounded because, well, he was a kid. I love to see a child do something other than cling to a gaming device and instead get their hands dirty with something fun.
When it's hot outside, the smooth texture of mud is quite refreshing. Now, little girls can have their very own station for making their own mud pie creations.
Cooking Apron and Utensil Set for Girls
All the things she needs to help in the kitchen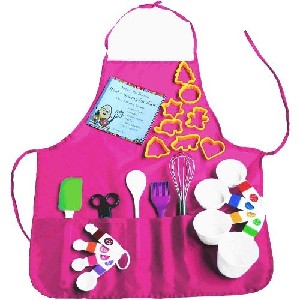 (Click for details)
Playful Chef 23 Piece Pink Apron Children's Baking Set
Every little kitchen helper needs her own pink apron, measuring spoons, and measuring cups, right? This set is great for pretend kitchen play but can also be used when working side by side with Mom.
Besides the apron and measuring devices are a set of cookie cutters, a whisk and a spatula that tuck into pockets on the front. I need one of these myself – just in a larger size.
If we purchased any of the other items on our list of the best toys we found, it seemed we'd have to get this anyway because it would work with all of them.