**This post may contain affiliate links for products I recommend. If you click a link and buy something I may receive some compensation. This does not change the price you would pay.**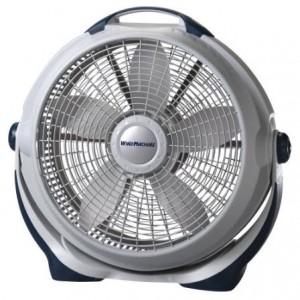 For seven summers now, I've struggled to stay cool in my bathroom. Only tonight did it dawn on me that a space saving floor fan is the perfect solution!
When you live in Arizona and don't want a four figure electricity bill for running your AC all day for three months, you learn to find ways to keep cool inside. We have floor fans all over the house and ceiling fans in every bedroom and the living room.

Most of the time I'm very comfortable but the one thing I hadn't learned to manage was how to stay cool in the master bathroom.
Here's a typical scenario – it's 110 degrees outside and 80-84 in the house. In preparation for dinner out with my in-laws, I want to shower beforehand. You can't get cold water during the summer at our house. The water pipes are too close to the surface and are heated by the sun all day so warm and hot are my only shower options.
By the time I'm done with the shower, the bathroom is about 90 degrees. Grudgingly, I pick up my hair dryer to dry my hair and instantly feel like it's another couple of degrees hotter. Soon, I'm sweating and miserable and wiping drops off my forehead before I can apply any makeup. I need another shower!
A couple of years ago I started dragging the pedestal fan from the bedroom into the master bath. That helps a great deal but it's got a gigantic round base that eats up a ton of floor space. I have to dance around it while I'm getting ready but it's worth it in order to stay cool.
Tonight, though, as I was doing my little bathroom/fan dance, it dawned on my I have options I hadn't considered. First, I could mount a fan to the wall. I started poking around online to see what was available. There were some that seemed doable but, there's no convenient outlet to plug one in on the one wall where I'd consider putting such a fan.
Back to the drawing board.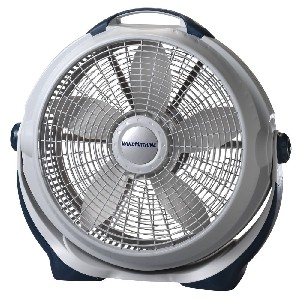 (Click to read reviews)
Lasko 3300 Wind Machine
I'd nearly resigned myself to sticking with the tower fan until I saw a floor fan model that would fit in the cutout under my bathroom counter that's meant for a vanity chair.
I don't have a chair, nor have I ever wanted one so we've just been using that space for the waste can. However, a tilting floor fan would fit perfectly, there's an outlet right near there, and the base is significantly smaller than the one on the tower fan so I'll be saving a lot of space – no more dancing around that thing!
I chose a Lasko based on the video review done by a customer on Amazon. He gave a ton of information.
It's cheap, we've used Lasko fans for years without any problems, and the size is perfect.
I did think it was a little funny that all the product descriptions and reviews talk about using it bedrooms and garages and here I was looking for one to use in the bathroom. I figure until you've lived through an Arizona summer (especially with this year's heat wave) you can't imagine the things you'll do to stay cool…just one of the reasons I also have a portable, evaporative cooler on my patio.