**This post may contain affiliate links for products I recommend. If you click a link and buy something I may receive some compensation. This does not change the price you would pay.**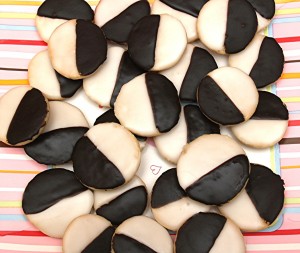 This is the traditional New York White and Black Cookie recipe I've been using for years.
I grew up in upstate New York and my my Dad used to bring us these beautiful, large, cake like cookies – half vanilla frosting, half chocolate frosting – from a bakery he passed between his office and our home.
He didn't bring them frequently, just occasionally with the right amount of time in between. Just enough so that when I had one, it was a very special event.
Now, my sister and I use this recipe to make them for him.
Photo courtesy of nikki1201 / CC BY 2.0
Black and White Cookies Ingredients and Directions
This recipe calls for fondant powder. This can usually be found in a store that specializes in cake decorating supplies. It's a special sugar mix that is used to make candy and specialty cake icing.
You're going to make the cookies first, make the fondant frosting while the cookies are baking or after they've cooled, and then frost the cookies.
Making the Cookies
Ingredients:1 cup granulated sugar
1 1/2 cups plus 1 tablespoon vegetable shortening
1 teaspoon liquid butter flavoring
1/2 teaspoon salt
1/3 cup plus 1/4 cup nonfat dry milk
1 teaspoon light corn syrup
3 eggs
4 cups plus 2 tablespoons cake flour
1 1/2 teaspoons baking powder
2/3 cup cold water
1 1/2 teaspoons vanilla
Directions:
Pre-heat the oven for 350 degrees.
Beat together the sugar, shortening, butter flavoring, and salt.
Add the nondry milk and corn syrup and cream them with the sugar and shortenings.
Add the eggs and beat the mixture until it is fluffy.
Combine the cake flour and the baking powder in a separate bowl. Add some of this mixture to the egg batter, followed by some of the cold water. Continue adding some of the flour mixture followed by the cold water until all are in the same bowl as the egg mixture. Blend thoroughly.
Nest one cookie sheet inside the other to make a double-thick cookie sheet. Line the top cookie sheet with parchment paper. Spread the batter in the top cookie sheet until even. Use a water glass to make 3 inch circles and peel away the excess dough. Re-spread the remaining cookie dough to get as many more 3 inch circles as possible. This recipe should make 18 cookies.
Make sure the cookies are spread evenly on the cookie sheet and bake for 18 minutes. Pull them out and let them cool on a wire rack.
Making the Vanilla Fondant
Ingredients:2 1/2 cups fondant powder
1/4 cup cold water
2 teaspoons vanilla
Directions:
Bring the water under a double boiler to barely simmering. Add the fondant powder, the cold water and the vanilla to the boiler. Keep extra cold water nearby as fondant tends to be a dry frosting and without sufficient water the frosting will dry too fast, harden, and crack on the cookie. When the ingredients are well blended and thin (it should run slowly off of a spoon), frost one half of the cooled cookies and set them aside.
Making the Chocolate Fondant
Ingredients:2 1/2 cups fondant powder
1/4 cup cold water
2 teaspoons vanilla
4 to 6 ounces semisweet chocolate chips (about 1/2 cup)
Directions:
Follow the directions for the vanilla fondant and include the chocolate chips. When the frosting is melted and well mixed, frost the other half of the cookies. Make sure the vanilla frosting has "set" before starting to frost them with the chocolate frosting.
Let the cookies continue to set on a wire rack. When the frosting is no longer warm and pliable, you can store the cookies individually in plastic baggies or wax paper. These can be frozen and thawed later for a special event.
(I tried using a pre-made fondant frosting once. It was very difficult to get the frosting cutouts to stick to the cookies. It's much easier to work with the frosting when it's warmed. As the frosting dries, it will make the shiny, smooth glaze familiar to fondant frosting.)
I don't know what it is that makes these cookies so special. They're really just like a small yellow cake frosted on one half with chocolate frosting and one half with white frosting. Is it that they taste like a small cake? Is it the scrumptious blend of the chocolate and white frosting combined? Perhaps it's the ratio of frosting to cookie in each bite. I think it's different for everyone who enjoys these cookies. Often, I'll eat the chocolate half first and then the white half. I don't need to blend the flavors and the cookie still tastes wonderful. To each his own, no?
Because I'd always had these cookies from a bakery, it wasn't until I was in my twenties that I realized it was even possible to make them at home. (Yes, I'm a bit like that about food. I don't enjoy cooking so when I taste something wonderful my first thought is not "Boy, I need the recipe so I can try this at home." It's, "Thank goodness I can get food this good from someone else.")
I scoured the web for a black and white cookies recipe but they were hard to come by – it being 1993 and the web being the size of a thimble, relatively speaking. One day in 1994, while browsing the newspaper, what should I stumble across but a recipe for these gorgeous, moist cookies. The first thing I did? Make a batch for my Dad. My sister was in town and, without her, I'm not sure I could have finished one cookie as the fondant frosting gave me a bit of grief and it seemed it took us eight hands to get one cookie done. We perfected the process along the way and she took a batch of them back home with her to give to Dad.
Look to the Cookie
Black and white cookies featured on Seinfeld
Once you travel outside of the NE, these cookies are hard to come by. Most of my friends, even my husband, had never heard of these before. So, when Seinfeld featured these cookies in an episode, I actually tried to contact the bakery from the show hoping I could have them ship me some black and white cookies. No such luck.
"You see, Elaine, the key to eating a black and white cookie is that you wanna get some black and some white in each bite. Nothing mixes better than vanilla and chocolate. And yet still somehow racial harmony eludes us. If people would only look to the cookie, all our problems would be solved. "- Seinfeld.
Look good? Would you try this black and white cookies recipe? Tell us how much you like them (or maybe you don't – GASP!).