**This post may contain affiliate links for products I recommend. If you click a link and buy something I may receive some compensation. This does not change the price you would pay.**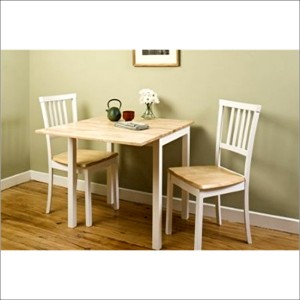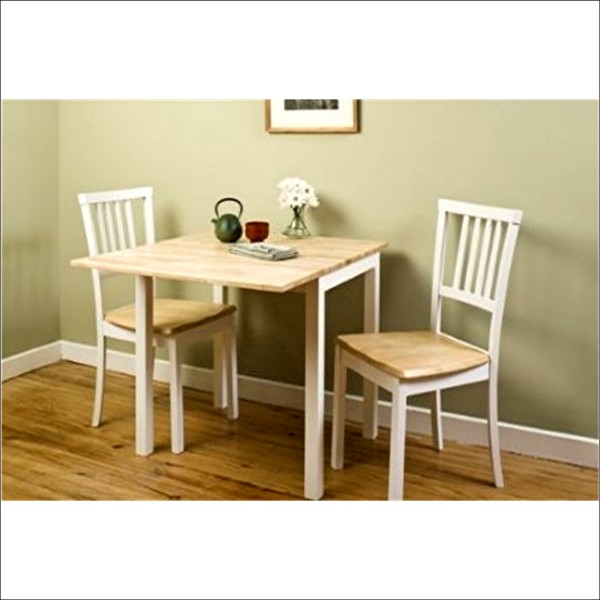 Here's a great selection of kitchen tables designed for small spaces. Most are wood with a white, light or dark finish and there's something for even the tightest living quarters.
Some come with a drop leaf side so when it's not in use it takes up even less room. When you're eating – or entertaining a few, close friends – you'll still be able to set a nice arrangement.
Need storage, too? Look for the styles that have drawers built in to house tableware and place settings.

Small Drop Leaf Kitchen Tables
Tables with a drop leaf on one or both sides mean you gain table space just when you need it but can tuck that space away by folding the leaf down when not in use.
You can easily fit two people when the leaves are down and 3-4 people when they're up. You can also move these around easily and pull them away from the wall when you're entertaining.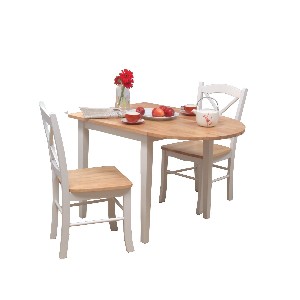 TMS 3pc Tiffany Dining Set in White and Natural
GREAT REVIEWS!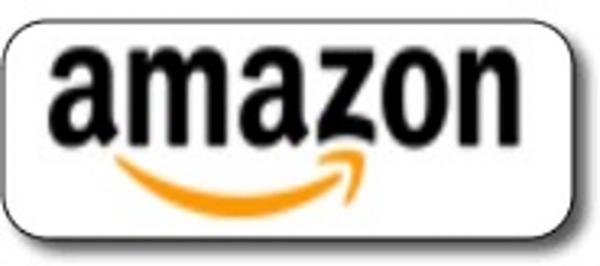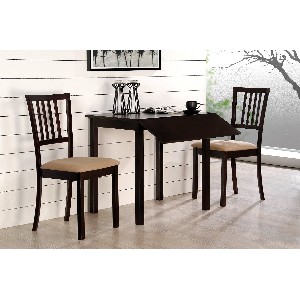 Dropleaf Table and Chairs – Jackson 3pc Dinette Set Cappuccino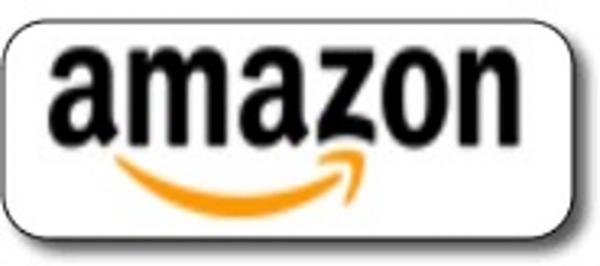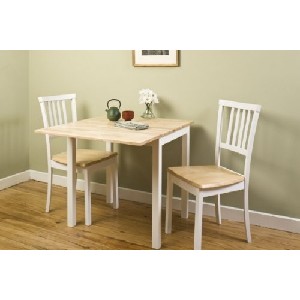 Jackson 3pc White and Natural Dropleaf Small Kitchen Table Set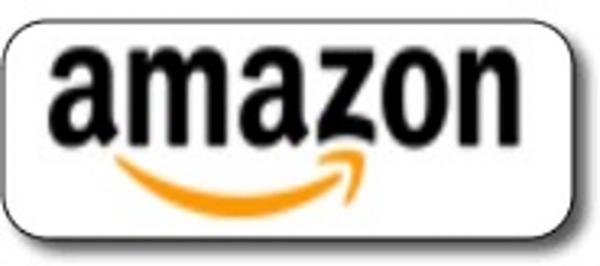 Kitchen Tables with Built In Storage
If you don't have much space to begin with, anything you can do to add storage to your kitchen will probably be a blessing.
These tables not only have a small footprint but they're also designed to hold wine bottles, table settings, books, napkins, or other items you might need to have available but can't fit inside your cabinets.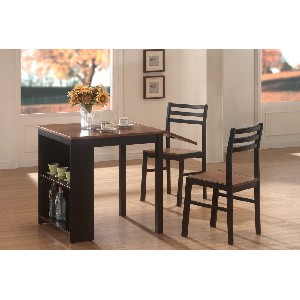 3-Piece Breakfast Table Set in Black Walnut with Shelves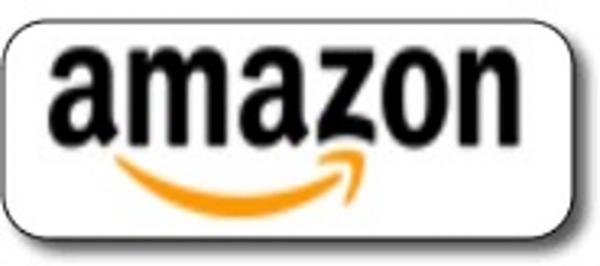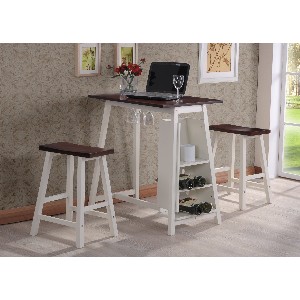 Kings Brand D3748 Small Table with Storage in Espresso and White Finish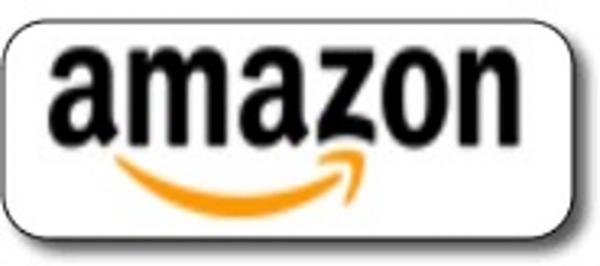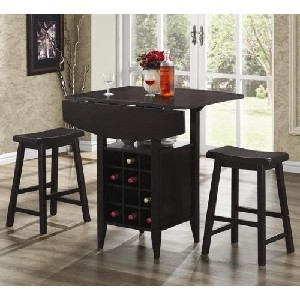 3 Piece Kitchen Table Wine Rack and Stool Set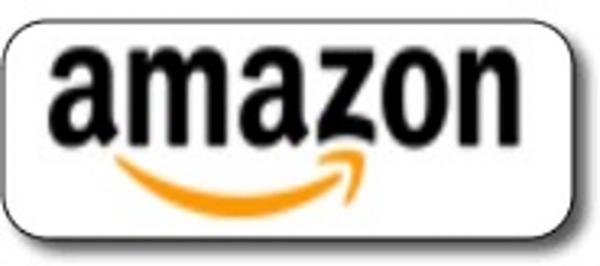 What do I put in the table storage I have in my kitchen? Napkins, extra place mats, my table cloths, disposable cups and plastic forks, knives and spoons. You never know when you need them but they're right near by when you do.
Kitchen Table and Chair Sets for Two
The kids have moved out and its just you and your spouse in your downsized, cozy townhouse on the beach. You don't need the larger kitchen but you still need a place to sit and sip your cappuccinos.
Maybe you've just moved into your first apartment and you're wondering how to make some room for a small table and chairs that will fit two people. There are styles that range from the modern, sleek white Ikea table to the more traditional style wood table with padded chairs. Nice to know one has options! My sister just bought a small black table kitchen set for her mother-in-law that's really very sharp looking.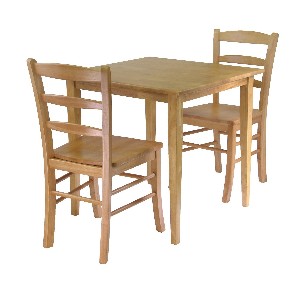 Winsome Groveland Wood Kitchen Table and Chairs Set for Two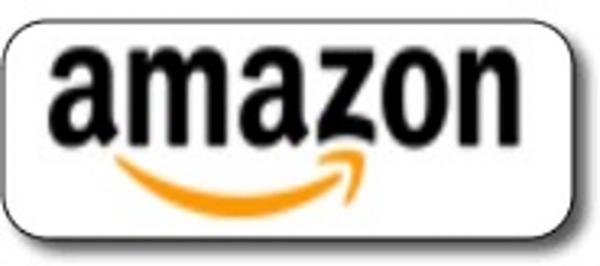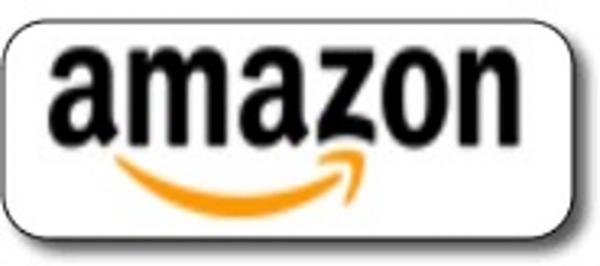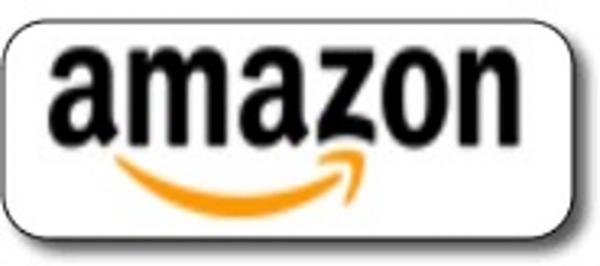 White Tables to Brighten a Small Kitchen
It seems small kitchens are often dark, too. A lack of wall space to accommodate extra windows doesn't help. You can use lighting and lighter colored furniture to brighten the look of a kitchen that seems to lack enough light.
These little white tables are a great solution.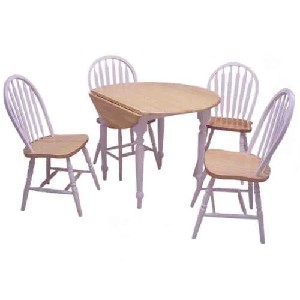 TMS 5 Piece Small Kitchen Table Set in White and Natural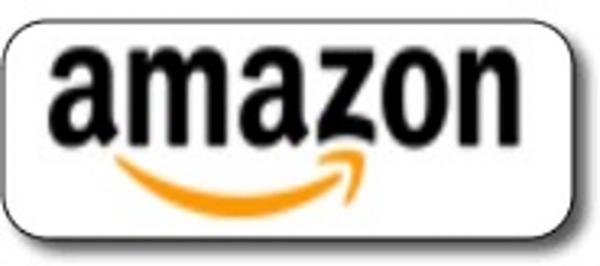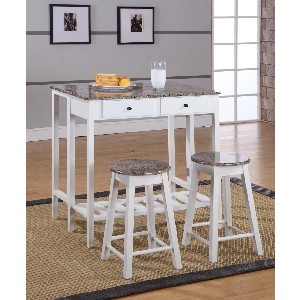 3 Pc. Kings Brand White Finish Wood Table and Stools with Marble Laminate Tops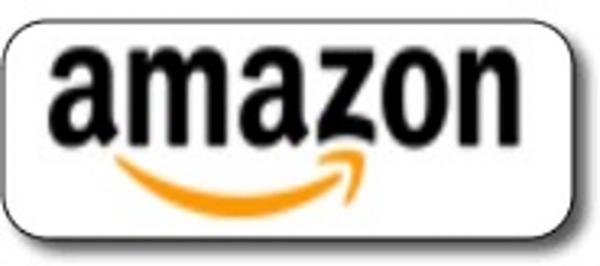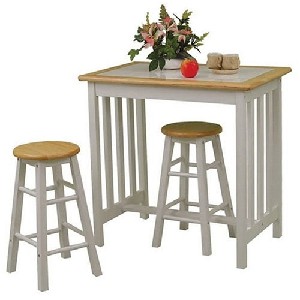 3pc Small Kitchen Table and Chairs Set with Tile Top in White/ Natural Finish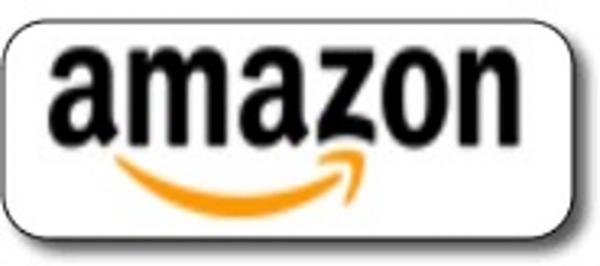 Dark Wood Table for a Sleek Apartment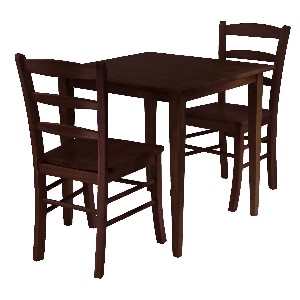 by Winsome Groveland
Square Dining Table with 2 Chairs 3 Piece
Click image to see enlarged version with detail
Pull Down and Wall Mounted Kitchen Tables for Small Kitchens
I've lived in some cramped living quarters before. My dorm room in college had a very tiny, shared kitchen between my room and my neighbor. There was absolutely no room for a table which meant all the eating had to take place in my one-room dorm space. I had a tiny desk but that was usually covered with research papers and books.
You can get a small table that pulls down from the wall and pull up a chair or two. They're incredibly sturdy and highly convenient. They don't even have to be put in the kitchen itself. If you don't have room to eat where you cook then put one of these in room nearby where you can easily carry our plates back and forth.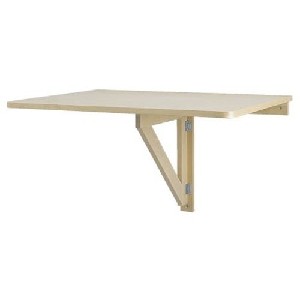 Ikea Wall-Mounted Drop-leaf Folding Table for Kitchens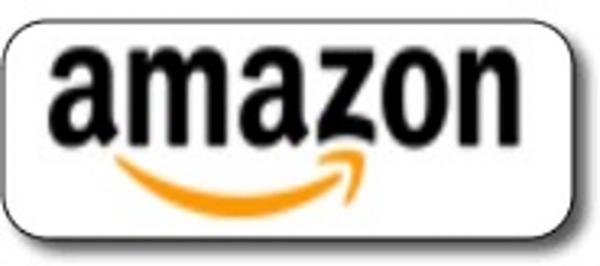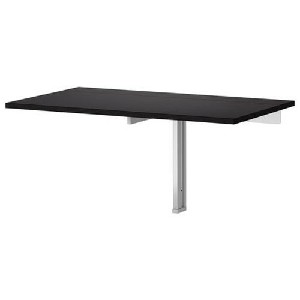 Ikea Bjursta Wall-mounted Small Kitchen Table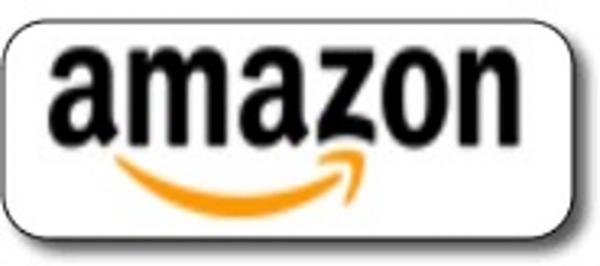 Small Round Kitchen Tables
Some tight kitchens can only accommodate a rectangular table that will fit up against the wall. However, if you have a bit more space, there are some benefits to having a round table.
A round table with the same diameter as the width of a square table gives you a little more traffic flow than you'd have if you had to walk around the corners of a square table. The shape breaks up the look of a rectangular or square kitchen. It's easier to fit a few more people around the table, too, when you have guests.
My in-laws have a small round table for four in their breakfast nook. The table sits in a corner with a window on one side. Because of the shape, it's easier to reach that window either to open it or adjust the blinds without having to squeeze around a hard corner.
I also find a circular table is cozier. Everyone can see everyone else and anything you put in the center of the table is the same distance from any chair.

Pedestal Round Kitchen Table Cappuccino Finish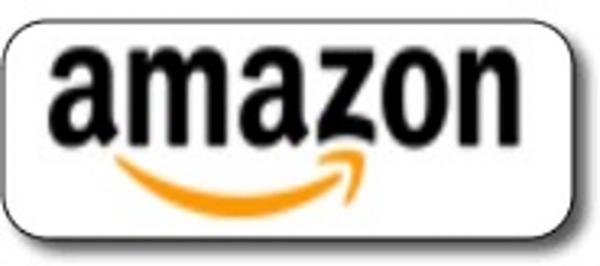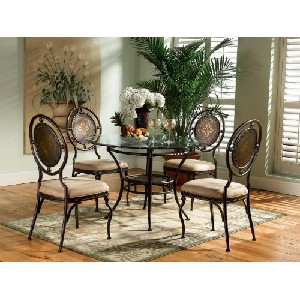 Powell Basil Antique Brown Round Dining Table Pedestal Base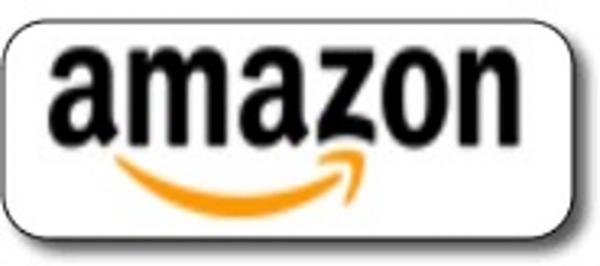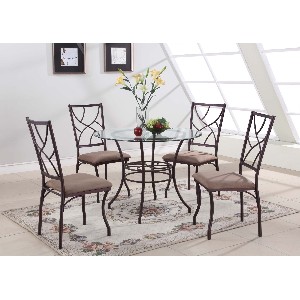 5 PC. Set Small Round Glass and Metal Dining Room Kitchen Table And 4 Chairs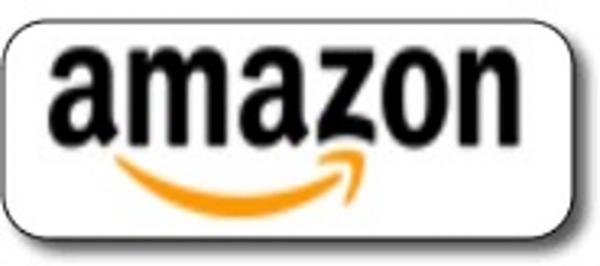 Account for the Chairs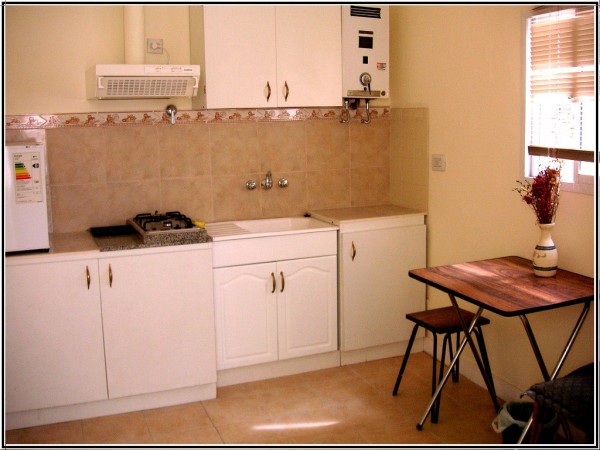 Photo by blmurch CC BY-ND 2.0
The above image demonstrates a typical, small apartment kitchen. All of the workspace is along one wall and there's just a bit of an open area for an eating space. However, while you're working, you don't want to be bumping into the table behind you. This person wisely placed a folding table in the kitchen and used stools (or a backless chair) in order to quickly move things out of the way.
This serves as a reminder that you do need to account for the space the chairs will take up. The table is one size but if you have chairs that don't neatly tuck completely under the table, you need to allow for the extra space they'll take up when coming up with the maximum size table that will fit in your space.
Retro Black Top Soda Fountain Table
TV shows always show sleek, small apartment kitchens in lively downtown locations.
If you've got a cool downtown loft with a retro look, try this old fashioned soda fountain table with a black top. Add a couple of bar stools and it works for breakfast, lunch, and even a romantic dinner for two.
There's a little cafe we visit on the way to the Painted Desert in Arizona that uses these tables and we always feel we've been transported back in time when we eat there.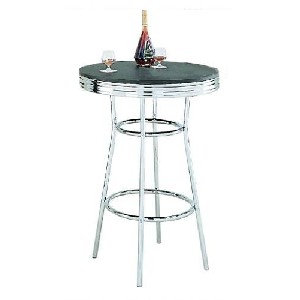 by Poundex
Retro Soda Fountain Style Bar Table w/Chrome Plating & Black Top
Click image to see enlarged version with detail
Maximizing Space in a Tiny Kitchen
My poor mother – who loves to cook – has one of the smallest kitchens I've ever seen. Somehow, she's managed for years to still produce incredible amounts of food even when all 20+ of us are gathered together for a family event.
If she didn't use some of the tips in this video, she'd never be able to do what she does. You'll learn some really efficient ideas for making your kitchen space seem much larger than it is.

My very first kitchen table was a round, gray, laminate table that I picked up at the furniture store that I worked at during college. It was a special order return so I got it for a discount but it had no matching chairs. Didn't matter to me – I was just so glad to have the table. Later, I added a couple of white stools that I could move around my apartment as needed. Tell us about your first table!