**This post may contain affiliate links for products I recommend. If you click a link and buy something I may receive some compensation. This does not change the price you would pay.**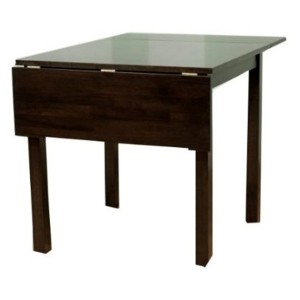 What do you get with a drop leaf dining table like these? Space and flexibility – two of my favorite things to keep in mind when putting together a room in my home.
In my home, the dining room and formal living room are combined into one, large room. We don't use the dining table very often which means that a full size table would just take up space for most of the year that could be used for something else. By using a table like this, I regain that extra space yet can still seat my family and guests for formal meals.
Round Drop Leaf Dining Table 42 Inch
Check out the listed models of round drop leaf dining tables measuring 42 inches in diameter found below.
They are all wooden tables, the top and the base, come in different color shades, and were selected for offering excellent value. Click on each image for information, pricing, and shipping details. Matching chairs are also available.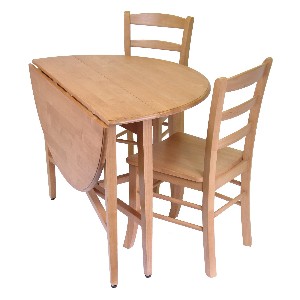 Winsome Wood 42-Inch Round Drop Leaf Table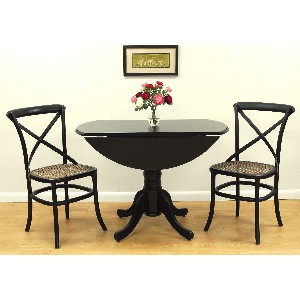 Carolina Cottage 42-Inch Round Drop Leaf Table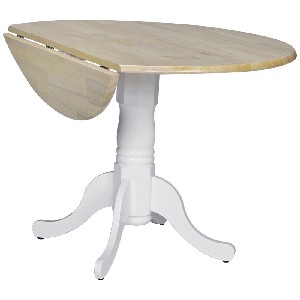 Round Dual Drop Leaf Pedestal Table in White and Natural

Rectangular Drop-Leaf Dining Table
This is another set of drop-leaf dining tables, but in rectangular shape. Look at the different shades and styles being offered online.
Just like the round models, these tables are not only great for a casual breakfast, lunch, or dinner, but for card games with family and friends.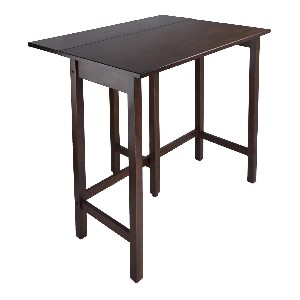 Winsome Lynnwood Drop Leaf High Table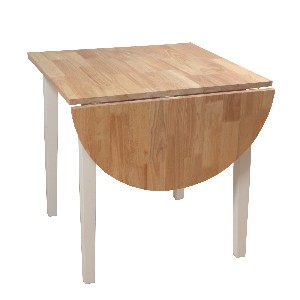 TMS Tiffany Dining Table, White/Natural

3-Piece Drop Leaf Dining Table
Need a table for a small kitchen? No problem! The following 3-piece sets are ideal for the space conscious. Purchase one of the six gorgeous drop-leaf dining tables offered by a major online retailer and save big.
Notice the two perfectly matching chairs, and the different styles, shapes, and finishes of each set. One of them should match your decor and taste. (Check here for 5 piece sets.)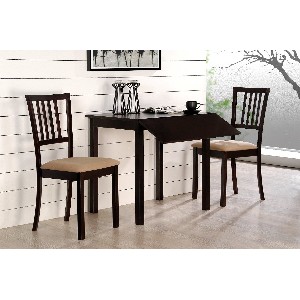 Dropleaf Table and Chairs – Jackson 3pc Dinette Set Cappuccino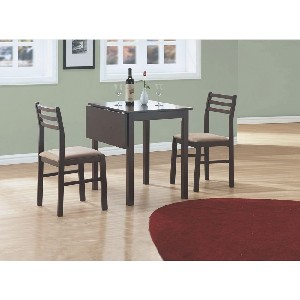 3 Piece Square Drop Leaf Dining Set in Cappucinno

Drop Leaf Dining Table With Oak Finish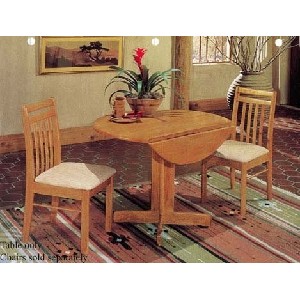 Drop Leaf Dining Table Oak Finish
Look what I found! This is a beautiful wooden drop-leaf dining table in oak finish. Furniture of this type can only emphasize the natural decor of your kitchen or dining area.
The diameter of the round table is 40 inches, while the height is 30 inches. Please notice that the matching chairs are sold separately, and that some assembly is needed.
Click below for product details and pricing information. This item is discounted 61% at the time of this publication, and that includes no shipping charges when ordering online for convenient delivery to your door.
Drop Leaf Bar Table With Stools
Bar tables are the most casual of the bunch. Keep in mind that they are not only perfect for drinking, but for meals as well. The ones presented here come with two pretty matching stools. They add a modern touch to any corner of the kitchen or dining area. The variety of shades and shapes found here should please every taste and budget.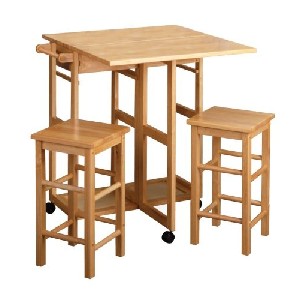 Space Saver Drop Leaf Table With 2 Stools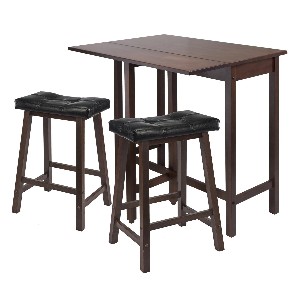 Winsome Lynnwood Drop Leaf Kitchen Table with 2 Cushion Saddle Seat Stools, 3-Piece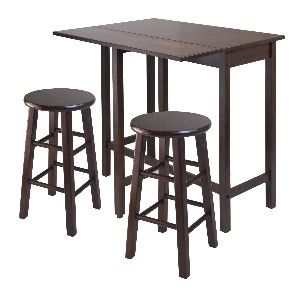 Winsome Lynnwood Drop Leaf Island Table with 2 Square Legs Stool Walnut, 3-Piece

Wooden Drop-Leaf Bar Table