**This post may contain affiliate links for products I recommend. If you click a link and buy something I may receive some compensation. This does not change the price you would pay.**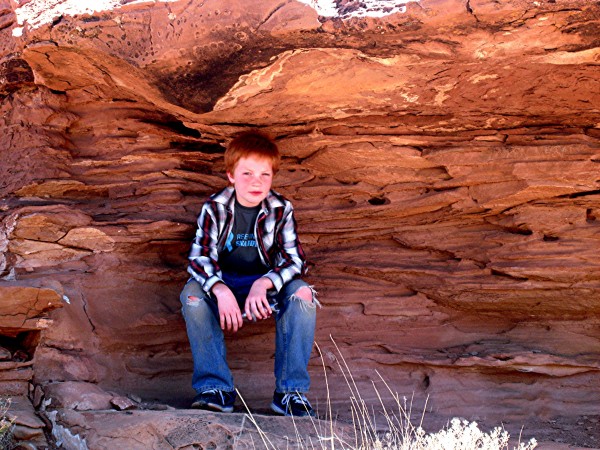 That red head in the top photo is a genetic anomaly of some sort. He's got red hair, fair skin and a face full of freckles. Our friends think its funny to see him walking around with his brown haired mother and blond father. All three of my children have different hair – one has very fine blond hair, one has very coarse, red-brown hair, and then there's the red head. I joke that if I ever want a salon to color my hair I'll just pull one of the boys along and say I want "that" for the next few months.

In Arizona there's a fair amount of rock the same color as that hair.
On a recent trip to Winslow, Arizona, we spent a few hours at McHood Park for a picnic. It's just a few miles southeast of Winslow and includes a picnic area with covered tables, barbecue grills and small boat launch.
We didn't go into the water although others were kayaking, swimming, and jet skiing. It was a little windy for eating outside and we lost a few napkins along the way. After one of those lunches spent hanging onto your plate, bags, and food we discovered there were crags and crevices to climb up behind the restrooms and that's where we headed.
It was Memorial Day weekend, hot, and the sun was blazing. We had bottled water with us and despite worrying that we might run into a few unwanted critters, we didn't spy a single bug or snake. (Huge sigh of relief…)
Our 10 year old took the lead and my first thought was I wouldn't be able to keep up. Between the heat and some hiking we'd done the day before, my legs were considering a sit at the picnic table while the men went off to explore but I was glad I joined them.
The terrain was fabulous and the colors were so vibrant. The rocks were white and cream or dark and red. Bronze colored ribbons ran through some and others were so fragile they'd crumble when you touched them.
Before we knew it we were on a sort of peak looking down at another part of the reservoir.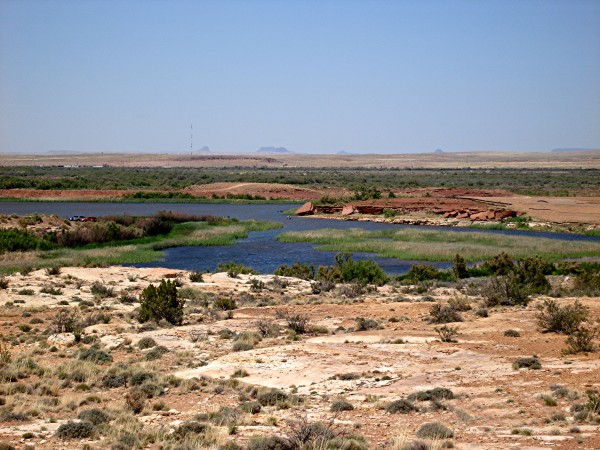 I'm originally from the east coast and spent many years in Oregon before moving to Arizona. The environments are completely different and while the desert often seems barren, lonely and flat I find it quite beautiful in its own way.