**This post may contain affiliate links for products I recommend. If you click a link and buy something I may receive some compensation. This does not change the price you would pay.**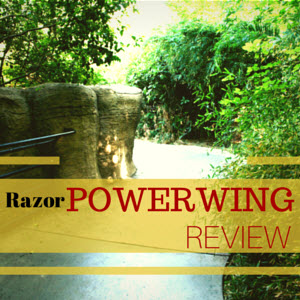 These Razor Powerwing Scooter reviews, prices, and options are intended to help parents make decisions about purchasing these ride-on toys for their kids.
As a mother, I know how much we parents want to make sure our kids get the best, high-quality products that are fun and safe at the same time.
We also want to make sure we are getting our money's worth of entertainment value and I have been fascinated with the Razor Powerwing since I first saw a commercial for one on TV. Besides knowing how much it cost, I wanted to make sure the PowerWing was safe and that my kids would actually use it and not get bored right away. Of course, if they did get bored with it….well, it might just become mine!
Table of contents: Consumer Reviews & Ratings / Black & Red / SweetPea Pink / Larger DLX / Safety Features / Prices / Demo Video
Product Information
Razor USA, a company based in California, first revealed the Razor Powerwing, a three wheeled scooter with a dual wing back end, at an international toy fair in February of 2008. At the same toy fair in February of 2009, they revealed a new version of the Powerwing, an all pink model with cool decals for girls, as part of their new Sweet Pea line.
The company is well known for a variety of manual and powered scooters and there's probably not a child today who isn't familiar with the name.
In total, there are two models of the Powerwing available, the original Powerwing with several color choices as of 2010 – black and red, silver, Sweet Pea or pink – and the Powerwing DLX, or Deluxe, available in silver.
Consumer Ratings & Reviews
Reviews written by those who have already purchased and tried a product are valuable information to those looking to purchase. We don't want just the ad hype, right? We feel better and more comfortable about a decision to buy a Powerwing Scooter if we get a chance to hear how real consumers like ourselves felt about buying the same thing.
At the time of this article, there were 78 reviews on Amazon and 63 review writers had rated the Powerwing a 5. I've summarized the pros and cons from those reviews below in bullet form:REVIEWER COMMENTS
Powerwing is easy to balance, turns fast and kids of all ages seem to love it.
Really does do tricks, drifts and 360 spins.
Does not perform well on rough sidewalks or streets. Smooth surfaces work really well.
Smaller Powerwing version best for kids up to maybe 10 years old. Older than that and the scooter seems to small for them.
Easy to assemble and came with the tools to do the job.
No foot pushing needed – just move your hips side to side to get the scooter moving.
The majority of the reviews were incredibly favorable – 93.6% of the reviewers rated the Razor Powerwing Scooter a 4 or better.
The biggest complaint? That there wasn't a model big enough for adults!
If you're looking for something with more excitement for an older child consider the Razor Ground Kart – pricier but they'll get to zing around the neighborhood in style.
Black and Red Trim PowerWing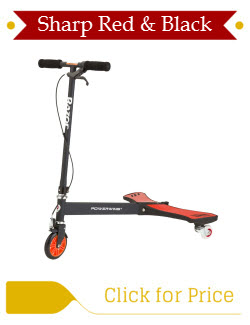 So many of the Razor scooters are plain silver but this line has a number of color choices. The red and black is probably one of the most popular and all of our boys wanted this one. We ended up using our label marker to mark which one belonged to which child.
Suitable for kids 5+ and maximum weight of 143 pounds
Dimensions: Scooter is 30 inches long, 22 inches wide and 31.5 inches tall
Sweetpea Pink PowerWing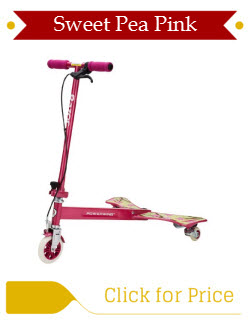 This color choice is totally feminine. It's all pink with some white and black trim and colorful stickers on the kick plate.
It's the same size as the red and black model.
My sister's daughter must have toys that are all pink. She is the total girly-girl (we call her Princess) and this scooter was perfect for her. No chance her brother was going to borrow it, either, which I think is why she has this particular color preference.
Razor Powerwing DLX for Larger Kids and Small Adults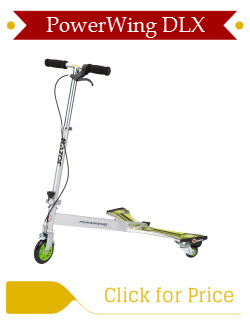 This could be a trick scooter for small adults. The slightly different dimensions allow this PowerWing to handle slightly more weight and taller children.
Kids 5+ and maximum weight of 143 pounds
Scooter is 26 inches long, 33 inches wide and 36 inches tall
The first time I saw the commercial on television for the PowerWing, I wanted one. I never felt the same about the traditional scooter styles as an adult but there's something about the way you use it by swiveling back and forth that reminded me of how much I enjoyed roller skating both as a kid and as an adult.
It's very easy to use and the fact that you have a spot for each foot that's more side by side than the standard style just seems more stable to me.
Razor Powerwing Scooter Safety Features
The Powerwing includes several safety features to help kids learn and maneuver more easily:
The special three-wheel construction provides stability to make the scooter easier to learn and use.
Urethane front wheels and polyurethane back wheels for durability.
Hand brake for increased control.
High performance ABEC-5 bearings for a smoother ride.
Removable stability bars – like training wheels, in a way – to help teach younger children more safely.
One thing to note: In October 2008, there was a recall of over 100,000 Razor Powerwings. The edges of the foot plate were found to be too rough, causing ankle injuries. Any Powerwing sold between October 2007 and September 2008 was recalled. New foot plates were installed and used in the manufacture of all future Powerwings. The recall was voluntarily implemented by Razor USA.
If that concerns you, check out the Rip Rider which is more like a Big Wheel – still great exercise but on a more stable base and lower to the ground.
Razor Powerwing Scooter Prices
Online comparison shopping is a useful way to keep track of your holiday spending. For the items on my list, I check online prices at some of the stores best known for deals and discounts and then keep track of those amounts on my list. If I happen to be out shopping for one item and spy another on my list, I can quickly check to see if that store's price is better than what I've already noted. If it is, I grab it. If not, I'll stick with the online deal.
I researched the Razor Powerwing Scooter on a number of comparison sites.
Prices were all over the board for the Powerwing Scooter. Some package deals were available which included both the Powerwing and a helmet/pad set. If you find a good price, just double check the items included with the purchase. (Safety gear is always recommended.)
Amazon's prices for the PowerWing fell at the low end of all the purchasing options I reviewed, although even they displayed some price variance between different color options.
Video Demonstration
Real kid. Real Powerwing. Real fun!
When buying a riding scooter for kids, especially one that can be used for tricks, it's helpful to see it in action and what better than a review from a real kid who obviously loves his PowerWing. He does a great job showing some of the simple tricks your kids are likely to try on the scooter.
We know kids might want to use it without safety gear if they can get away with it. This demonstrates that the scooter is easy to control in a number of different situations.

After all the research and reviews – well, I know I want a Razor Powerwing Scooter for Christmas. Oh – I mean, I know I want to get one for my boys….that's what I meant. Silly me.