**This post may contain affiliate links for products I recommend. If you click a link and buy something I may receive some compensation. This does not change the price you would pay.**
Razor products are always popular over the holidays. If you are shopping for a Razor Ground Force Electric Powered Go Kart this season, use these facts, reviews, prices, and color choices information to help you find the best deal and choose a gift that meets your expectations.
Buying an electric go kart for kids can be a big decision. We love to give children ride-on toys that will keep them entertained, thrill them, and are incredibly popular but we also want them to be safe. Knowing how a go kart operates and what it delivers in terms of safety is just a reasonable thing to consider before making such a purchase.
All the facts I could gather on Razor go karts are listed below for your reference.
Razor Ground Force 2013
Razor Product Information for 2013 Holiday Season
Razor USA, LLC is based out of California and launched in 2000 with the release of the modified kick scooter that became (and remains) a top selling scooter product. They have since manufactured additional ride-on products for kids including the Ripstik skateboard and pocket rockets. Razor introduced the Ground Force electric go kart during an international toy fair in the early part of 2004. Known for their sleek design and high quality, the Ground Force follows the footsteps of the previous Razor products.
Razor Ground Force Prices
Find a deal on Razor Ground Force Electric Go Karts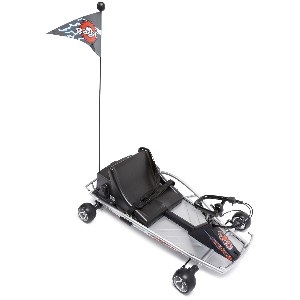 Razor Ground Force Electric Go Kart
This is a smooth running, low profile go-kart for kids 8 years and older. It can run for as long as 45 minutes per charge and runs on two 12 volt batteries. The maximum speed is 12 miles per hour which feels faster but is still a safe speed for children in this age range.

Before I spend money on any Christmas present or holiday gift that costs more than $40, I like to do some comparison shopping. Many sites are available online to help you find the lowest price before you head out and spend all that gas money going from store to store. I also prefer to do most of my holiday shopping online. I make a list (well, the kids make a list and I whittle it down from there), I comparison shop online, make a note of which store I ordered from, and keep track of all receipts right on my computer.
I researched the Razor Ground Force electric powered go kart on a number of comparison sites.
Prices varied by as much as $80. The lowest price available at the time of this research was this listing on Amazon.
The good news about knowing the price variance at different stores is that if the Ground Force becomes hard to find over the holidays, at least I know that when I find one the chances are I'm not going to have paid that much more than I would have had I purchased it early. We'll see if that trend holds throughout the months of November and December in 2013.
Razor Ground Force Electric Powered Go Kart Colors
Silver Razor Ground Force Options
Many people are not aware that the Razor Ground Force electric powered go kart is available in two color choices. Silver is available at most stores and while it looks great, the other color option is certainly more eye-catching.
The cherry red Razor Ground Force was an exclusive color offered through Amazon but does not appear to be available this year. Not sure if it will return before the holidays or not.
Razor Ground Force Safety Equipment
Go Kart Helmets for Kids
Razor makes a full selection of helmets and safety gear to accompany their ride-on products.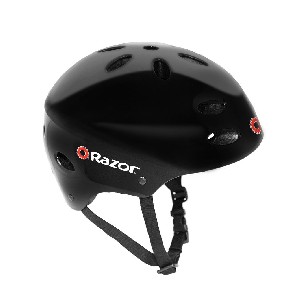 Razor V-17 Youth Multi-Sport Helmet


Pink Razor Aggressive Youth Multi sport Helmet

Razor Electric Go Kart Rider Specs
Electric Go Kart Age Ranges
The Razor electric go kart moves at a speed of 12 mph. Considering that most ride-ons for kids move at about a speed of 5mph, this is considerably faster.
Razor's specifications provide that the Ground Force is appropriate for children 8 years up and has a weight limit of 140 pounds. The user manual makes it clear that exceeding the weight limit can pose risks to the driver as they cannot comfortably or safely manage the steering mechanism.
This was certainly something I had to consider. With three boys ranging in age from 6 to 15, buying a Razor Ground Force for my 12 year old son meant that the youngest son was likely going to either try to drive the go kart or would be envious of being told he couldn't. How I usually solve that problem is to get each child something similar in nature but age appropriate. A ride-on jeep meant for younger children meant that each boy received an electronic ride-on toy and that each understood the other could not use the toy belonging to their brother. Honest. That sometimes works…. 🙂
Razor Electric Go Kart Safety Features
Keeping kids safe on electric go karts
So what has Razor done to make the Ground Force as safe as possible for kids? Several things:
Safety shoulder and lap combination seat belt holds driver in place
Sturdy steel construction meant to last
Operated by hand accelerator and hand brake which are easier for kids to manage
Upgraded rear axle allows for the best maneuverability
It would appear that Razor takes safety seriously, as one would expect of any company in the business of manufacturing toys for kids.
Razor Ground Force Consumer Reviews
Consumer opinions from recent purchases
Understanding prices, specs and safety considerations is one thing, but I always like to know what other consumers have to say about a product. Those who have already purchased and used a product often take the time to write a worthwhile review on Amazon or Epinions and that's always the most valuable information. It's not hyped up by sales and marketing – just pure, simple truths that help me decide if the Razor go kart is right for my children.
There were 75 reviews on Amazon at the time of this article. I read all of the reviews and summarized the general pros and cons into a few bullet points for quick reference:
REVIEWER COMMENTS
Razor Ground Force requires minimal assembly which is easy to do and the go kart comes with the tools required to complete assembly.
Go kart is sturdy and long-lasting.
Be very cautious using the electric powered go kart around cars. The low profile makes it difficult for neighborhood traffic to see.
Razor Ground Force moves fast – faster than some people expected even.
Battery operated performance makes it quieter than other go karts and less intrusive in neighborhood parks and play areas.
Does not operate well on grass. Requires a solid surface like pavement or packed earth.
Razor Ground Force electric go kart has a wide turning radius and requires some amount of space to complete a turn but does do nice 360 degree spins.
Low profile makes it sturdy and prevents tipping or flipping.
Charge time lasts 45-60 minutes.
Fits in the back of a mid-size SUV nicely. Based on the fact that it operates best on pavement or asphalt, consider your surroundings before you buy. If you do not have a large amount of non-traffic pavement, you may need to cart the Ground Force to a local park so you'll want to make sure you have a vehicle in which it will fit.
The majority of the reviews were very favorable – 72% of the Amazon reviewers rated the Razor Ground Force go kart a 4 or better.
Hopefully, this collection of information regarding the Razor Ground Force electric powered go kart helps you feel more comfortable making a decision about buying one for your own kids and also provides some guidance on price.
And, if you do get one….ENJOY!