**This post may contain affiliate links for products I recommend. If you click a link and buy something I may receive some compensation. This does not change the price you would pay.**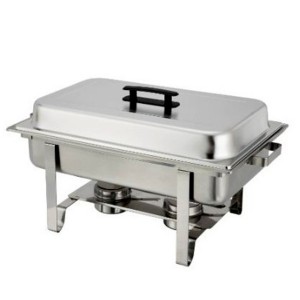 Keep those happy memories, capture the moment of important gatherings and see how beautiful you have prepared your table at home or the food business you have. The Warming Trays and Buffet Servers are an important appliance or others will like to call it food presentation helpers.Many have been using it for many restaurants and now homes for holding parties.
Take pride with the food presentation you make.

Warming Trays – check out many different styles and models!
I remember going to the school cafeteria and getting food scooped out to me from those big trays that kept the food warm during the several lunch hours that would be served and thinking that it looked like so much food. We didn't have such a thing at home.
Now, with a growing family of my own and family gatherings that at a moment's notice can turn into 25 people, these warming trays are an absolute necessity. My mother and my sister are amazing cooks and my sister-in-law is Italian and puts out the most incredible pasta dishes. Our family meals turn into a smorgasbord of smells and tastes all kept warm while we meander our way from various parts of the house to the buffet.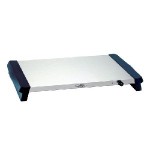 Broil King NWT-1S Professional 300-Watt Warming Tray
Stainless steel with adjustable temperature ranges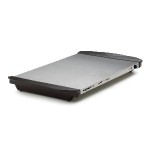 Waring Pro WT90B Stainless Steel
400-watt professional-grade tray keeps food warm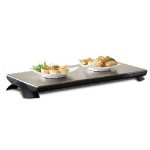 Cordless Warming Tray
1000watt cordless stainless-steel warming tray keeps food warm up to 60 minutes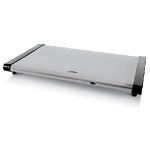 Oster CKSTWTLS00 Warming Tray
Electric warming tray large enough to fit 2 9-by-12-inch casserole dishes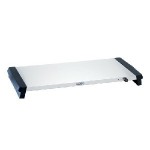 Broil King NWT 28S Professional
300-watt commercial-quality extra-large stainless-steel warming tray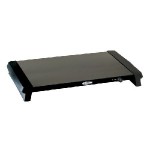 Broil King NWT 1B Professional 300
300-watt commercial-quality warming tray with cool-touch handle

Buffet Warmers
My mother-in-law received a buffet warmer for Christmas one year because her husband recognized that serving guests in their new house had her running back and forth from the patio to the kitchen more often than was necessary. With the buffet style, she could get all the food in one place and all warm and ready to go when she was finally ready to have us all sit down to eat.
Her's has see through covers which she prefers because she can quickly see which dish is running low without having to lift each one to figure out when it's time for a refill.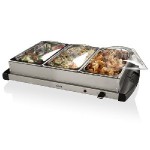 Oster CKSTBSTW00 Buffet Server
Stainless steel, 3 sections with clear lids, holds a total of 7 1/2 quarts of food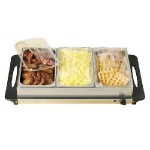 Nostalgia Electrics BCD-992 3-Buffet
3-section buffet and warming-tray 3 variable heat controls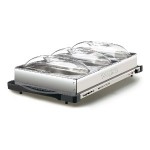 Waring Pro BFS50B Pro Buffet Server Warming Tray
Buffet-style food server with adjustable heat from 155 to 200 degrees F

Warming Servers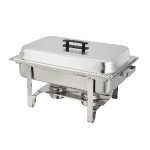 Winware 8 Qt Stainless Steel Chafer, Full Size Chafer
Stainless steel mirror finished cover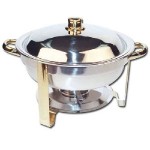 Winware 4 Quart Round Stainless Steel Gold
4 Quart Round Stainless Steel Gold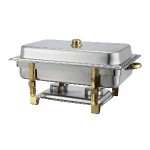 Winware 8 Quart Stainless Steel Gold
Includes one full size food pan, 2-1/2 inch deep

Warming Trays and Buffet Servers
Product Information
Let your guests serve themselves at ease. It also makes it easier on you! Food looks wonderful and presentation is enhanced by the look of the servers themselves.
Enjoy the food while the desired temperature is maintained making the food stay hot throughout your event.
Crafted from white ceramic and chrome-finish metal
Serve Directly From Oven or Stovetop to Table
Wide Stainless Handles for Easy Transport
Safe to use in the dishwasher
Different Methods for Keeping Your Food Warm
According to Jill Davie at FineLiving, buffets that have a separate temperature setting for each dish are an excellent choice when you'll be serving different kinds of foods. You can adjust each bay so that the setting is perfect for the particular food inside without scorching one dish in order to get the other dish just right.
How to choose the right Warming Trays and Buffet Servers
Buffet servers or warming servers? Its up to you, these two servers although they have the same function they have differences. If you want o keep the food warm and maintain the taste go for warmers, if you only need a presentable server then go for the buffet servers. However these two are good together to use in every buffet party. It is recommended that you have warming trays and buffet servers.
Consider the following:
They worked very well at keeping the food warm and were the perfect size.
Beautiful porcelain double or single server makes beautiful food presentation
Inspired by the great French kitchens
Attractive and 'elegant' enough to mix with silver trays for a dining room buffet setting.
Beautifully crafted trays and servers in classy style
Serve warm and great tasting food in a fashionable way