**This post may contain affiliate links for products I recommend. If you click a link and buy something I may receive some compensation. This does not change the price you would pay.**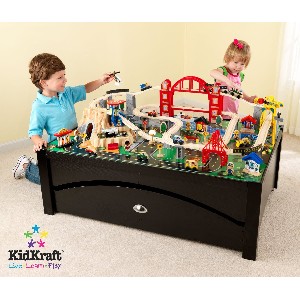 The KidKraft Metropolis train table and set is one of the most popular choices for parents because it looks more like a real piece of furniture than other options. It's made by a well recognized manufacturer with a great reputation, it's sturdy, provides great storage space and the price presents a true bargain.
Kids love it, too, for the variety of interactive play provided by not just the track and train but with the city scene and numerous accessories.
It's designed for children ages 3-15 and while children at the top of that range may have outgrown toy trains the table can serve other purposes such as acting as a Lego building table, for board games or even for holding their game system and games.

This set includes a large table; rolling, detached trundle drawer on 4 swivel casters; two-piece, reversible play board with a city graphic scene; and a 100 piece train, track and accessory set.
TABLE OF CONTENTS: Table Description / Dimensions / Train Set Details / Play Factor / Compatibility with Other Sets / Reviews/Pros/Cons / Best Price
Table Description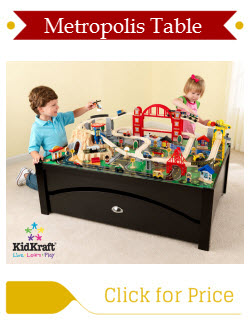 The only color choice for the KidKraft Metropolis train table is Espresso – a very dark brown that almost looks black (but, really, it's brown).
The interior frame is solid birch wood which is what keeps the table sturdy even if children lean on it or push it around.
The exterior is a wood grain veneer over medium density fiberboard. The fiberboard will chip over time but one of those wood coloring markers can hide any such chips.
The thing to remember is that while this looks like a real coffee table it's meant for play. It's going to show a bit of wear over time. Something more solid would easily cost 3 times the actual cost of this table. I think if you keep that in mind you'll be extremely pleased with this option.
All of that being said it truly is a great looking table and is a very nice height for kids. Once they're around 3 years of age most should be able to reach the center so they can access all the parts of the track and the accessories.
There is one trundle drawer that is not attached to the table but slides underneath on a set of 4 swiveling casters. The drawer can be pulled completely out from under the table. It is the full length of the table so the back of the drawer is flush against the back when it's all the way pushed in.
The interior of the drawer is about 7-8 inches deep and has one divider running down the center which I think is great for keeping track pieces separate from accessory pieces or for separating the train set from other toys like Legos or puzzles. The drawer does hold the entire train set with room to spare.
Because the drawer can go all the way through either side it is sometimes a pain to line the drawer up when sliding it back in place. Younger children will need help doing so safely.
The front of the drawer has a cupped pull handle that's easy for kids to use and the drawer rolls easily on all floor types – even carpet.
The top of the table is actually 2 pieces that lay in the opening above the drawer and they're reversible. On one side of each is the play board graphic and on the reverse side of each is the same espresso color as the table exterior. Flipping the boards so the espresso colored side is right side up makes the table look like a regular coffee table.
There's a very small lip around the edge of the table so pieces can't roll or slide right off the edge but it's not a very high edge.
Train tables with storage drawers are an ideal choice because all of the train set can be swept into the drawer and out of sight whenever necessary. You don't need separate bins or tubs in which to store the track and trains.
Dimensions
The KidKraft Metropolis train table comes in pieces and assembly is required. The included directions aren't the most detailed I've ever seen but the tools required come with the set and it might take you an hour to put the table together. Some of the train set pieces also need to be assembled.
Table: 46.5″ L x 32.75″ W x 26.63″ H
Weight: 84.55 pounds
This is roughly 4ft by 3ft and you'll want to allow at least a foot or two around the table for kids to stand or sit while they play with the train. You'll also need at least 3 feet of clearance on one side in order to slide the drawer all the way out.
Details on the KidKraft Metropolis Train Set & Track
The train set that comes with the Metropolis table contains 100 pieces which consist of:
20 wooden track pieces
1 train engine
4 train cars
4 trees
1 mountain with drive through tunnel
1 train signal
4 signs
9 cars/trucks/construction vehicles (one of the trucks counts as 3 pieces)
1 boat
1 plane
1 helicopter
1 helipad
1 plane runway (2pcs)
3 guard rails
1 bench
2 construction barricades
3 beams for the crane to lift (by hook – not magnetic)
5 people
3 houses (3pcs for each house)
1 basketball hoop
1 gas station (3pcs)
13 track support pieces
2 cargo pieces
1 single-tier bridge
1 two-tier bridge
4 assembly pieces
The train pieces themselves attach together magnetically. The included vehicles all have wheels that fit the track. All of the accessory pieces are wooden or wooden with plastic details.
The table itself is flat and the track does not attach to the table so it can entirely be torn down and stored away.
Play Factor
We've established it's a great train table but what do kids think? As a parent, you want to make sure that an investment like this has big play factor. There's nothing I hate more than buying something for my kids that takes up some space and then doesn't get used. (I'm sure you know what I mean!)
There are three things to consider:
If your child likes trains, they're going to love having a train table. End of story.
Unlike smaller train tables for toddlers, even if your child outgrows trains this one will still be extremely useful because of the fact that you can flip the play boards and make this look like a real coffee table.
Kids love the features of this train set. It's more than just a train – it's an entire cityscape of play with a fuel station, people figures to move around, cars to roll, and planes to fly.
Kids love the chunky feel and sturdiness of the pieces, the ability to roll the train through the mountain tunnel, the hand crank on the crane for lifting the construction pieces, and the plane and helicopter landing pad and strip.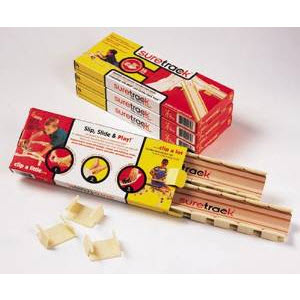 The one thing that might frustrate kids (and parents) is that the included track doesn't always hold together. A bump and you might find the bridge falls over or an elevated piece of track falls out of place. However, if you get a couple of boxes of Suretrack clips that work with wooden train tracks you'll find the train stays together more reliably which extends play and reduces parents having to get involved repeatedly to fix the track.
Train Set Compatibility
Chances are you already have a train set in your house and your child will be able to do more with this table if they can use that set with this one.
The Metropolis table can hold any other set by itself, of course, since the play board is flat but the set itself is compatible with other sets, too.
It works with the Thomas and Friends wooden train sets (including the battery operated ones) and also works with Chuggington and Brio trains.
It does not, however, work well with the die cast ones Thomas trains – although younger kids make it work and often can't tell they're not a perfect match.
Metropolis Train Table Reviews from Parents
No matter where you look, this table gets strong reviews from other parents. It's one of only a handful of train tables for kids that resembles a solid piece of furniture.
The most repeated comments about the table's performance has to do with how well it looks and blends in with other furniture, how their kids have played with it for hours at a time, how it gets regular use, and how much kids enjoy the number of accessories that are included.
Kids absolutely love it. Parents like it, too, because it keeps pieces organized and can look like a regular piece of furniture. You'll get more use out of it later as a short game table for kids. Parents who have had multiple train tables have commented that they prefer this one over others they've had because of its large size, extra capacity trundle drawer, and sturdiness. It's hard to find a comparable choice that offers this much for such a great price.
Pros
Large play space
Huge amount of storage so it will hold more than just the included play set
Can be used for other kinds of play like Legos or toy cars
Can be disguised as a coffee table by flipping the top boards
Lots of interactive pieces with the set
Compatible with several other popular train sets
Track is not affixed to the table and it's flat so you can set up a completely different track and train set
Great support from KidKraft
Sturdy
Trundle drawer can pull out completely and be rolled around for quick access
Cons
No instructions for setting up the tracks the way they look in the picture but someone here has outlined how to get started to make sure things fit properly and match the picture
Both sides of the top – the play board and the matching espresso side – can chip
Train track may wobble – can use secure clips to keep it together
Can't be stored away (like under a bed) as it does not collapse
Best Price
I thought the price on Amazon was reasonable until I looked at Walmart's price for the KidKraft Metropolis Train Table
and found you could save a few bucks buying from them (at least as of the time of this review).
Either way, this table is similarly priced to tables of the same size that don't have any storage which, in my opinion, makes this a far better deal if you have the space.
Add in the fact that the table's appearance will grow with your child and I think this is one of the best train tables available for kids today.