**This post may contain affiliate links for products I recommend. If you click a link and buy something I may receive some compensation. This does not change the price you would pay.**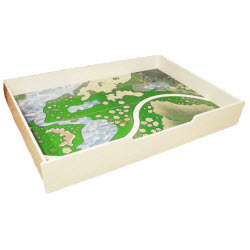 An under the bed train table is one way to take advantage of unused space and provide kids with a flat, firm setting for their favorite tracks and trains.
We've always tried to get the most out of the bedroom space our kids have and this is such a wonderful way to give them a large play area without trying to stuff another piece of furniture in their room. Whether this will work for you or not depends on the dimensions of the bed under which the table will be stored. A toddler sized one is going to have less space to work with than a full size one, for example.

TABLE OF CONTENTS: Review / Dimensions / Material / Train Set Compatibility
This train table operates like a trundle drawer. It slides out from underneath the bed and then can be stored again when your child is done playing.
It can also be slid under other kinds of furniture. (Ours hung out under the pool table for awhile.)
Trundle Underbed Train Table Review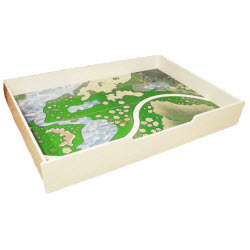 Rolling caster wheels make it easy for children to pull this train table out from underneath their bed even on carpet.
The interior has a simple graphic board insert with waterways and green space. The surface of the play area is flat so it can also be used with Legos, Matchbox cars, and other play sets. You could lay other play mats on top of the board insert, too.
The corners are rounded for safety. The height of the interior play space is short enough for children to be able to reach in and access all the pieces yet tall enough to hold a big train set.
Dimensions
| | | |
| --- | --- | --- |
| Dimensions in Inches | Exterior | Interior |
| Length | 45 3/4 | Est 44 1/4 |
| Width | 32 | Est 28 1/4 |
| Height | 6 1/2 (with casters) | N/A |
This is just a couple of inches smaller than the large KidKraft train tables.
You need to measure the opening under your child's bed from the floor to the bottom of the side panel and then from the inner ends of the side panel. My son has a twin bed with low hanging side panels that only allow 6 inches of clearance so this doesn't fit under his bed but does fit under a set of bunk beds that we have.
You're also going to need to measure the width of the bed and shave off a couple of inches to make sure the table will fit completely underneath.
If the bed has any detail (like curved side panels) you'll need to measure the true opening on the side – the section that's not impeded by any of the detailing.
This could also be stored under another train table or under a larger bed in your home if the opening on your child's bed isn't sufficient.
Table Material
The table is made of melamine and available in white and a wood grain color. While it seems to hold up well assembly can be tricky. The pieces can split when you try to insert a screw if not done carefully. However, there are few alternatives on the market other than buying a separate full size trundle bed and converting it into a play table by inserting a play mat or going the DIY route.
Train Set Compatibility
Most children's train sets are going to fit just fine in this table. Thomas and Friends and Brio sets, for example, won't have any issues. Of course, any tall bridges or hills may have to be knocked down before putting the table back under the bed.
All things considered, this is a reasonably priced choice if you need a train table that you can store out of site or away from younger siblings.