**This post may contain affiliate links for products I recommend. If you click a link and buy something I may receive some compensation. This does not change the price you would pay.**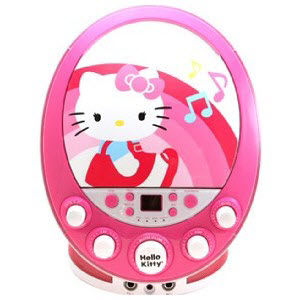 Perfect for the budding musician, these kids CD players with microphone have the features parents want most – good sound quality, ease of use, reasonable prices AND they allow kids to mimic their favorite Disney characters or sing along to their favorite songs.

My youngest son has loved to sing since he could talk and he memorized any song he heard – those on his favorite show or in the car. He now sings in the talent show at school every year. When young children show an interest in a worthwhile activity, getting them toys that can help develop that talent is a wise move and a great investment.
Best Toy Microphone with CD Player
There are only a couple of choices for ages 3-5 and these two offer the best combination of price and features. They take 4 C batteries instead of 6 like the others, have a DC jack so you can plug it into the wall instead of using batteries and the buttons are easy to operate.
Keep in mind, these aren't going to be commercial quality and they're not cheap, either. As soon as you try to make a toy out of a piece of delicate technology like a CD player, the price is going to be higher. However, of all the options you'll get better value for your money with these two. They're identical (same manufacturer and features) other than the color as one is meant for girls and one for boys.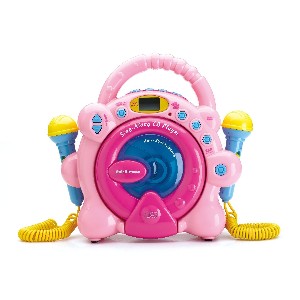 Pink Sing Along CD Player with Microphone
What girl wants to sing alone when she can have her friend join in? With two built in microphones you'll get twice as much fun. (I'm sure I'm not the only parent who wants to join in…)
This play karaoke machine accepts regular CDs so your child can listen to her Kids Bop music or her favorite character sing alongs.
There's no volume control on the microphone but there is on the main unit. There's also a headphone jack.
It's relatively light weight, has easy to use buttons and great for children over 3 years old.
Kids will have to get their mouths close to the mic but they can use it with or without music which they'll love.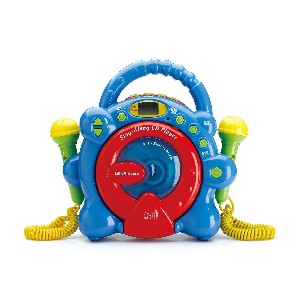 Blue Sing Along CD Player With Microphone
This will also play your own CDs created on your computer.
Lots of kids music is available digitally but giving a 3 year old an MP3 player can be a recipe for disaster. This one has a nice handle and is made from durable plastic that will withstand bounces, drops and even the occasional toss across the room.
These two kids in the video are having a blast with the Little Virtuoso sing along set which is the same manufacturer and style as the two listed above just in another color.

Hello Kitty Microphone and Karaoke Machine
If there's an age you reach where Hello Kitty no longer looks cute to you, I haven't reached it yet. Probably not a surprise then that a Hello Kitty CD player that lets you sing with your pop hits is a winner with many girls.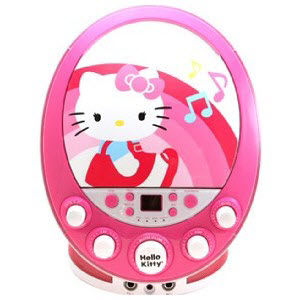 Hello Kitty CD Player with Microphone
While there's a model just like this on Amazon with a slightly different design (all pink, white, and black) it costs more than the model that's available at Walmart.
I think this model is the best Hello Kitty option available because it's compact but has amazing features.
There's a little rim of plastic that runs around the outside perimeter that emits flashing disco lights to whatever music is being played.
Consumer ratings are very strong and the sound quality is reported as being very good. It can even connect to your MP3 player or to the TV. Just make sure to compare the prices and look at the deal at Walmart.
Plays your own CDs, digital music, has cool lights and is a hit at any sleepover.
This model is recommended for kids 7 and up and because Hello Kitty is universally accepted no matter how old you are your child is probably going to hang onto it well into college.
CD Player and Microphone for Older Kids
A company called Singing Machine does nothing but make karaoke systems mostly geared towards kids and teens. They have some sleek desings, some with disco lights, and great color options for boys and girls. They're so cheap, they often cost less than the toy ones mentioned above but the ratings and reviews are overwhelmingly positive when compared with more expensive choices.
These are three of my favorites.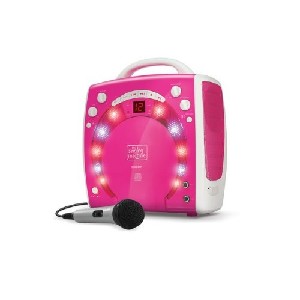 Singing Machine SML-283P CDG Player with Microphone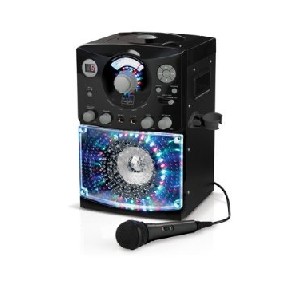 Singing Machine SML-385 Karaoke and Microphone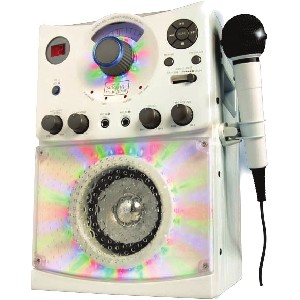 The Singing Machine SML-385W Disco Light Karaoke System


How about a review of the Singing Machine from a kid who's actually used it? The video is a bit blurry at times but there's no doubt he thinks its great (and then find out who really owns it at the end of the video – that's the funniest part).
I think that for all kids having a unit that is portable is important. Younger children are going to want to take their toy with them to grandma and grandpa's house while older kids are going to want to take it over to a friend's for the afternoon.
All of the Singing Machine options have two microphone jacks (but you'll have to buy the second mic separately), play disco lights, and play regular discs as well as CD+G discs which are specially formatted for use with karaoke machines. When you connect the player to your TV with those special formats the words to the song will play on the TV so you can read along. This makes it easier to learn new music.
Besides helping kids exercise their passion for singing, these CD players are a lot of fun at birthday parties and family events. It seems we always start out having our son sing a song or two for our friends and suddenly we're all standing in line to take a turn. There are even Christmas CDs with all your favorite songs – talk about a great activity for Christmas Eve!