**This post may contain affiliate links for products I recommend. If you click a link and buy something I may receive some compensation. This does not change the price you would pay.**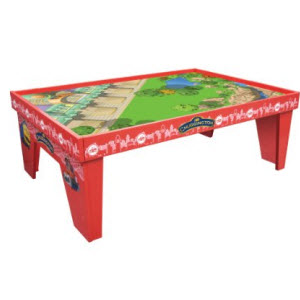 It used to be there were several Chuggington train tables available but now there's really only one.
This review covers the Let's Ride the Rails Playtable with Playboard made by Tomy. While no longer listed on their site, it is still carried by several reputable online stores – some of which are overpriced so comparison shop using the information below before you buy.
So many little fans are still intrigued with the show and its characters and the train sets themselves are still widely popular. If you're after a Chuggington table for a child then you might want to snap this one up sooner rather than later.

TABLE OF CONTENTS: Description / Compatible Train Sets / Reviews / Best Price
Table Description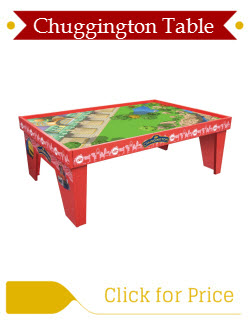 The Let's Ride the Rails Table is solidly constructed with wide legs that provide a sturdy and safe table that's a good height for train table for toddlers and young children.
The table measures 49.5″ long, 33.5 inches wide, and is 17.5 inches in height. Kids can sit on small chairs or stools while playing with their favorite train set or can stand and easily access all points of the table.
The playboard is actually made of two separate pieces that sit inside the table frame which leaves about a one inch lip on the table to keep trains from rolling off and onto the floor.
The playboard features a graphic design of Chuggington scenery. Scenes of the town rim the edges of the table, too.
The table itself is red and on each end are large, colorful representations of the main characters.
There is no storage drawer or bin so if you're looking for a table that will also hold all the related track and trains then consider looking for train tables with built in storage options or take advantage of the generous clearance underneath to place some tubs or wooden trundle bins that can slide out from under the table.
It also does not fold up so it can't be stored in a closet or under a bed easily. Just keep that in mind when planning where to put the table.
Train Set Compatibility
The playing surface is approximately 47″ by 31″ and because the board is flat it will accomadate many different train sets including Thomas and Brio but certainly all of the Chuggington sets can be configured to work within this space.
One of the starter sets will be enough to begin with but will make the large play area look a little barren. That just means you've got room to add to your collection over time.
Reviews
Parents who have purchased this table for their children liked the colors and the amount of space children have for setting up their trains.
Many of them commented that they were concerned with how well the table would withstand rough play and several found their children literally on top of the table. None of them noticed the table giving at all, though, and found it held up really well. Good thing because I have all boys so I know what they'd have done with this – they'd have been on top of it within an hour of our setting it up. Just too tempting to get right up there while putting those tracks together sometimes.
Best Price
Here's where I think things get a little fuzzy. I think the price is a little high when you compare it to other tables, like the KidKraft Metropolis table which comes with more for a lower price. If your child simply must have Chuggington (and I've certainly had times where I paid more than I might have to get my child what I knew would please them most) then this table is really your only option.
If that's the case, there are only two places I'd recommend for the best price online. The first is this listing on Amazon. The second is not a site I'm as familiar with but the price was lower at least before tax and shipping charges were added on: MyToyBox. You'd probably want to compare the final totals and shipping time on both sites before making your final decision.