**This post may contain affiliate links for products I recommend. If you click a link and buy something I may receive some compensation. This does not change the price you would pay.**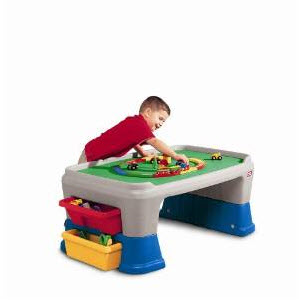 These 3 train tables are the best for toddlers because they're designed for safety, make it easy for children 2-3 years old to reach all parts of the table, and provide some amount of storage for trains and tracks.
As the mother of 3 boys, we've had more than our share of Thomas, Brio and even Polar Express sets roam across wooden tracks in our house. We've set them up on floors, furniture, tile and carpeting. We've stored them in closets, bins and under beds. It wasn't until our youngest came along that we invested in a play table and then I'd wished we'd done so much sooner.
The following were chosen based on their fun factor, age appropriateness, overall ratings from online reviews, and price.

TABLE OF CONTENTS: Little Tikes Easy Adjust Play Table / Step2 Deluxe Canyon Road Train & Track Table / KidKraft Lego Compatible 2 in 1 Activity Table
# 1 – Little Tikes Easy Adjust Play Table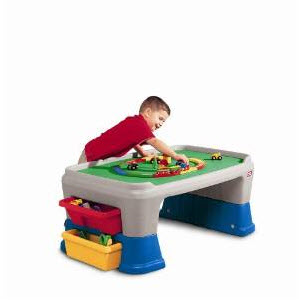 What's not to love? The Little Tikes Easy Adjust Play Table is my number one choice for so many reasons. By reconfiguring the pieces, the table is adjustable. The blue base pieces can be removed and placed under the base. This lowers the table to just 12 inches. With that arrangement, the four plastic storage bins slide under the base with one on each side.
When the blue base pieces are used to raise the table, the height is 18 inches and the Little Tikes chairs can fit underneath. No chairs come with the table but they're inexpensive (and indestructible – we've had two of them for over 10 years and they haven't faded, chipped or cracked). The storage bins slide into place with two on each end when the table is at full height.
The top is removable and underneath you'll find two shallow storage wells perfect for holding flat train track pieces.
Recommended for ages 2+
Flat table surface is perfect to use with any train set, for coloring, with cars, and other toys
Playboard insert is made of particle board and is painted on both sides. One side is green and the other is brown (either side is great for trains) and can be wiped clean with a damp cloth
The colors used in the table frame are nice and bright
All the corners are rounded so there are no sharp edges to worry about
Big play area – Table dimensions: 43″ L x 24.5″ W x 20″ H
Best train table that can grow with a toddler
This does not come with any train set but will fit many of the most popular sets for toddlers.
Reviews
A significant majority of parents who have purchased this train table for their toddler have been extremely pleased. They love how easy it is to put together, how much the storage bins hold, the fact that the table can be used indoors or out, and that it holds up for years.
This is the kind of train table that can be passed from family to family as children outgrow the table.
Each child may get several years of use before they outgrow the table height but it's priced so reasonably that's it's an excellent bargain with lots of flexibility.
Click here to find the best price on the Little Tikes Easy Adjust Play Table for Toddlers
#2 – Step2 Deluxe Canyon Road Train & Track Table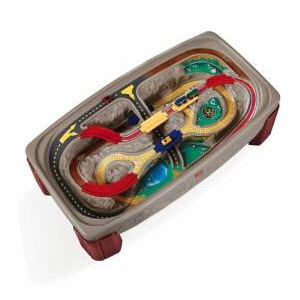 The Deluxe Canyon Road Train & Track table is simply ingenious. Under the flat, removable lid is a well that houses fixed train tracks. Parents, pay attention – this means never having to set up the tracks. The track is always ready to go!
The track also works with just about any wheeled toy – Matchbox cars, Brio train sets, Thomas wooden and die cast trains and Chuggington sets. That alone means you're going to get several good years of use.
When the lid is in place, kids can use it for other play activities or games. It's gender neutral, several toddlers can play at once (this is a popular choice for pre-schools) and both girls and boys enjoy moving trains around the track.
Table dimensions: 47″ L x 26″ W x 16″ H
Play space dimensions: 44.875″ L x 23.875″ W
Made of molded plastic that's scratch resistant
Comes with a 3 piece train set
Trains and other toys can be stored in the well when the track is not in use
The built in track includes sections marked as roads as well as those marked for trains that fill the entire well – underpasses, curves, and turns
Helipad even encourages play with toy planes
Lid is made of particle board that's painted white on one side and natural on the reverse side
Best train table for a frustration-free experience for toddlers
The manufacturer's suggested age is 3+ because of the small parts on the included train set. If your child is younger than 3 you might keep the train out of reach and use other toddler appropriate sets initially.
Reviews
Kids absolutely love this set according to the hundreds of consumer reviews online. They're able to use so many different train sets that there's endless options for play even though the track never changes. Train sets can also be set up on the flat lid when its in place.
The other benefit is that since the track is fixed to the table and it's fairly lightweight, parents are able to take it with them on a visit to nearby family, to the park, or out to the backyard.
Again, the sturdy construction means this train table is going to hold up for many years. The only reason it falls in second place is because it has less storage space than the Little Tikes model.
Click here for the best price on the Step2 Deluxe Canyon Road Train & Track Table
#3 – KidKraft Lego Compatible 2 in 1 Activity Table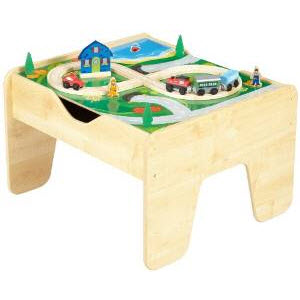 Of the three choices listed here, the KidKraft Lego Compatible 2 in 1 Activity Table is the smallest table and provides the least amount of play space. However, it's a wooden table whereas the other two were plastic and some parents want to avoid the "toy" look of the plastic train tables.
The table is made of MDF and melamine. It's easy to wipe clean, has a smooth finish, and rounded corners for safety.
The playboard fits inside the top and is reversible. One side contains a flat train set graphic and the other is four Lego style building plates in primary colors.
Includes a 30 piece train set with wood track, 3 trains, and accessories
Comes with 200 Lego-compatible blocks
Sufficient clearance under the table for bins or storage tubs
Table dimensions: 25″ L x 23″ W x 17″ H
Playboard: 24″ L x 20″ W
There's storage space under the removable lid
Best wooden toddler train table
The manufacturer's recommended age is 3+ because the included blocks and train parts pose a choking hazard for younger children. If your toddler is under 3 they can still use the table with age appropriate sets until they're older.
If you're looking for something more substantial with extra storage space the KidKraft Metropolis table is a great option.
Reviews
Consumers who bought this train table for their children had 3 main reasons for doing so: they wanted a wooden train table, they liked the idea of having a Lego-compatible side on the play board, and the included train meant they were getting a whole table and train set all at once.
There are also many comments about how the small size of this table was a better fit for their child's bedroom or playroom.
However, there are a few drawbacks. While the blocks are considered Lego-compatible, they are NOT Lego blocks and they don't seem to work well with Legos or Duplos. You can set your own building plates on the flat side of the play board and use your own Legos instead. Kids enjoy playing with the included blocks anyway but they can't mix and match them with their existing Legos.
The included track is solid wood and compatible with the wooden Thomas trains but not with the die cast trains.
The smaller play surface doesn't allow for a very complex track arrangement.
You'll want to be careful when buying this particular table. There are multiple listings on Amazon with different prices. At the moment it's even cheaper at Walmart.
Click here for the lowest Amazon price
Click here to compare Walmart's price on the KidKraft Lego Compatible 2 in 1 Activity Table
There are more train table choices for older children but those may frustrate toddlers because they might not be tall enough to reach the whole play area or strong enough to work the storage drawers.
These three tables are the best for providing toddlers the maximum amount of fun at heights that work well for them and considering the level of fine motor skills of children 2-3 years old.