**This post may contain affiliate links for products I recommend. If you click a link and buy something I may receive some compensation. This does not change the price you would pay.**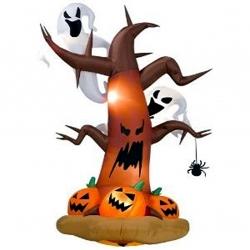 Check out this year's incredible selection of Halloween airblown inflatables updated to show new 2014 decorations!
No matter what theme you're going for, you'll find an inflatable yard decoration that's perfect for your fright night – large black cats, glowing orange pumpkins, haunting cemetery scenes, and rotating Halloween globes.
Stores only stock a limited supply of each one and they sell out fast. Online stores have great selections, too, and offer quick and easy shopping with immediate information on inventory levels so you don't have to drive all around town.

Table of Contents: NEW for 2014 / Carriages & Coaches / Ghosts / Black Cats / Trains / Pumpkins / Monsters / Arches
New Halloween Inflatables for 2014
Figuring out which inflatables are really new releases each year is a challenge. When I first started creating this list several years ago I had no idea how hard it would be to find this information.
Three of the most recognized manufacturers – Gemmy, BZB Goods, and Sunstar Industries – do not distribute public lists of their 2014 models.
Online retailers will sometimes mark an inflatable as being new for the year when I know it's not because I have copies of my previous lists with images showing some of the inflatables were out a year or more earlier.
To the best of my knowledge the following inflatables in this section are truly 2014 releases.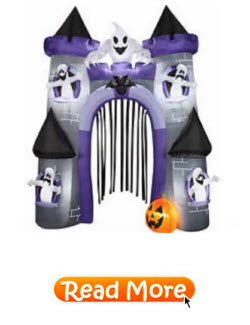 Haunted Castle Archway Airblown Inflatable

Inflatable Halloween Wild Stage Coach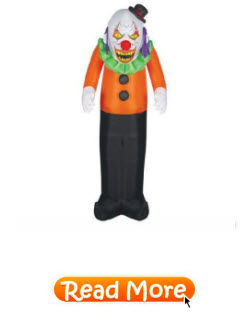 Scary Clown Airblown Inflatable
At it's tallest point, the headless horseman inflatable reaches 7.5 feet into the air and is almost 9 feet long.
The rider's horse is just about to leap over the RIP headstones while evil grinning skulls, tree and pumpkin look on.
While Gemmy has done the headless horseman before, in previous years it was either as a stand-alone figure or attached to a carriage.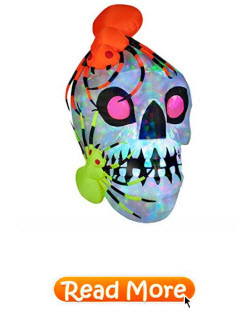 Giant Halloween Kaleidoscope Lights Airblown Skull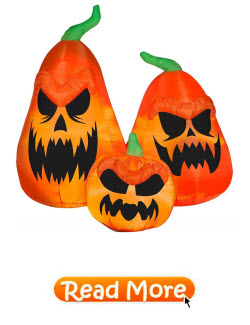 Scary Jack O Lantern Airblown Pumpkins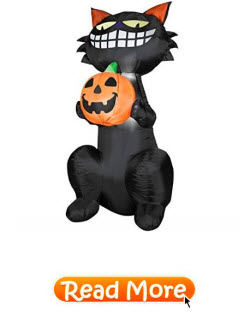 Grinning Black Cat Holding Jack O Lantern
Of course, as a major Game of Thrones fan, I want this new Fire & Ice Airblown dragon but I can't find it anywhere. Gemmy just released this video showing it in action:
It's supposed to be available at Lowe's but I couldn't find it on their website as of October 2nd, 2014. = UPDATE: I just found you can buy the Gemmy Fire & Ice Dragon on eBay.
More New Arrivals Added as I Find Them!
Large Carriages and Coaches
Creepy reapers, skeletons and headless horseman always ride up in great, big carriages. Add one of these giant inflatables and then get some scary music for a great background soundtrack and place a fog machine nearby.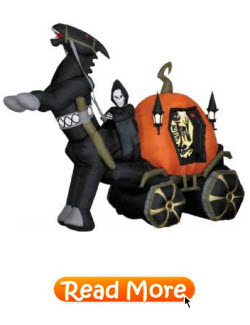 Inflatable Reaper Carriage with Rearing Horse – 6ft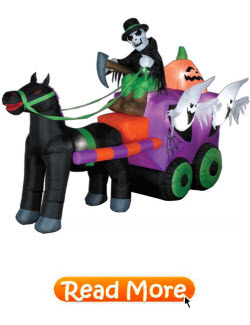 Inflatable Halloween Wild Stage Coach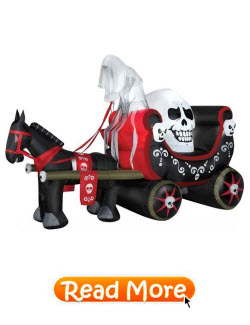 8ft tall Gemmy Animated Airblown Reaper with Carriage
Airblown Ghosts for Your Yard
You have to love the ghosts. It's one of the first costumes I used for my kids when they were little and they loved to yell "Boo" when they jumped out from some cupboard or from around some corner. They still do that but without the sheet. These are great ghost displays for your outside decorations.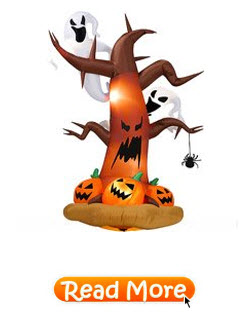 Airblown Tree with Ghosts Pumpkins Spider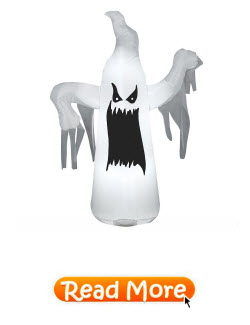 Airblown Inflatable Draped Ghost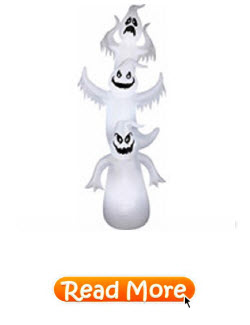 12ft Tall Ghost Stack Inflatable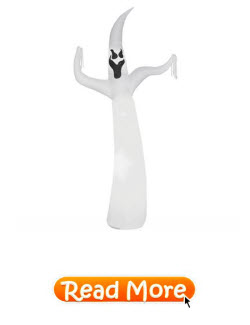 Gemmy Inflatable Slender Ghost for Halloween
Airblown Black Cats – Different Styles to Choose From
Some of us always worry about a black cat crossing our path but certainly on Halloween. They're the witches pet and love to cause mischief. Some of these light up, some are animated, some just look spooky but they'll all look great in your front yard.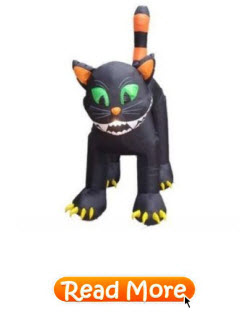 Animated Inflatable Giant Black Cat

Animated Airblown Black Cat with Hat

Grinning Cat with Green Glowing Eyes
Halloween Inflatable Trains
You'll notice that one of these trains is new for 2014. It's a custom design done for YardInflatables (where it may be cheapest).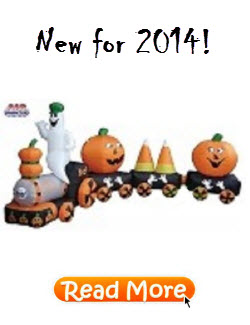 Inflatable Halloween Train New for 2014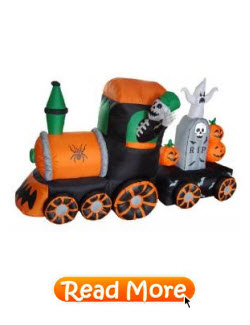 7 Foot Long Halloween Inflatable Skeletons Train
The past couple of years, inflatable Halloween trains have been hard to come by. One very popular model became discontinued and there were no great replacements. YardInflatables must have noticed the same thing and they've come to our rescue with a new option for this year.
Inflatable Pumpkins for Halloween
Great styles for 2014
What's not to love about holiday inflatable yard decorations? They're super easy to use, take up little space when deflated for quick storage, and can be used over and over year after year. Build up your supply of Halloween decorations with a few of this year's best Halloween airblown inflatables: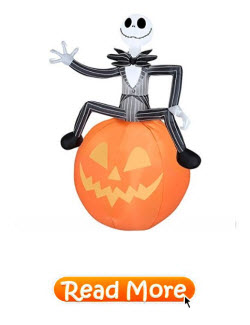 Jack Skellington and Pumpkin Airblown Decoration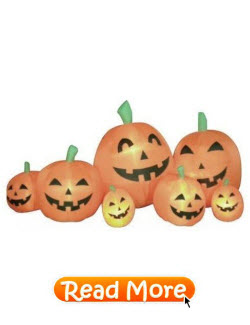 Long Inflatable Halloween Pumpkins
Reapers, Witches and Clowns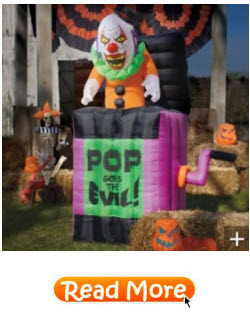 Animated Evil Jack in the Box Clown
Arches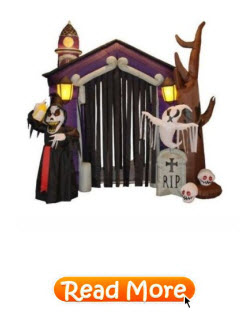 Inflatable Haunted House Castle Arch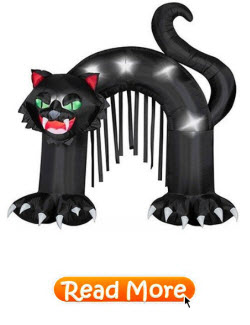 Black Cat Archway Outdoor Decoration
If you're going to decorate for Halloween – you want to go all out. This is very much a holiday for kids and candy and spooky sites. Large inflatables, like the ever popular pirate ship, give the appearance of having done a lot of work without really having to put in very much effort. Although, they can be used as part of an overall haunted theme. Kids absolutely LOVE these decorations and will be intrigued any any new ones you add to your collection.
How Halloween Inflatables Work
Plug and go
Most Halloween airblown inflatables come equipped with an air-pump that, when plugged in, inflates the decoration within just a couple of minutes. Most also light up so they can be well seen at night and some even revolve.
Set the inflatable in the desired location in your yard and stake it down with the supplied yard stakes. Zip the fabric closed, and plug it in. It's that simple.
Use a timer to turn your yard inflatable on when you want it to come on and off when you want it to turn off without your having to go outside a couple of times a day to plug it in. These yard timers work great for all other outdoor decorating.
How to Store Halloween Yard Inflatables
Make your yard inflatable decorations last
There are a couple of ways to store your Halloween airblown inflatables to keep them in great shape for the next year. If you've kept the original packaging, refold the inflatable back into the original box.
However, I find that approach works only the first year or two and then the box starts to deteriorate. Instead, by holiday decoration storage bags – like those you can get for wreaths and Christmas trees – and store them safely away from the dirt and dust that might accumulate between seasons.
Here's wishing a happy and safe Halloween to all visitors and may your Halloween airblown inflatables bring you and your trick-or-treat visitors much entertainment this Halloween.