**This post may contain affiliate links for products I recommend. If you click a link and buy something I may receive some compensation. This does not change the price you would pay.**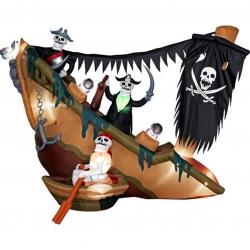 This giant inflatable Halloween pirate ship can be had for a bargain just in time to decorate your yard this October. It is 8 feet tall and 11 feet long, lights up, sets up in just a few minutes and has animated features.
This yard decoration gives the impression of a shipwreck full of skeletons waiting to grab the loot of passing trick-or-treaters. Add a fog machine and spooky music and you're set.

Best Price on Inflatable Pirate Ship
I've been monitoring the sales and stock information for this decoration for over three years now. It sells out pretty quickly each year and, in fact, ran out of stock in 2012 – at least online where I check.
Right now it's cheapest at Walmart but if they run out make sure to check this listing at Amazon: Lowest Price on Amazon.
I researched this pirate ship on a number of comparison sites.
Prices were all over the board for this inflatable Halloween decoration from a low of $139 to a high of $277. That's a difference of about 50%!
There's no doubt comparison shopping saves money and I hate overspending on decorations since they're only used once each year. I do like these inflatable yard decorations because they're really easy to set up and take down and you can get years and years of use out of them.
Inflatable Pirate Ship Features
Animation and Lights
The inflatable pirate ship has a lot of eye-catching features. Movement and lights keep it entertaining and will creep out group after group of trick-or-treaters on Halloween night. Features include:
One skeleton's head is animated and moves back and forth and another moves his scabbard from side to side
Includes bright light bulbs throughout for great visibility from the street
Made of weather-resistant nylon material
Stakes and tethers included to anchor the inflatable in your yard
Can be used indoors or outdoors
Self inflates in seconds – just plug in the indoor/outdoor electric cord and the fan will blow air into the fabric and it will fully inflate. Unplug it at night or have it set on a timer and it will deflate just as easily
Animated Inflatable Pirate Shipwreck
See it in action
There are a number of animated features on the inflatable pirate shipwreck. The sailor at the top of the wreck waves his scabbard back and forth. The sailor in the middle moves his head from side to side.

Gemmy Inflatables
Leader in airblown holiday decor
Gemmy makes this inflatable decoration and a host of others. In fact, they are the leading manufacturer in inflatable decor for a number of holidays and events. They have just unveiled their line of new products for Halloween 2013.
It's hard to find reviews online for their individual products but what you can find is a large number of videos from people who use these in their yard each and every Halloween.
Why people love Gemmy inflatables:
Incredibly easy to set up
Weather resistant
Safe to use indoors and out
Store easily
Last for years
Easy to mix and match with more inflatables in a growing collection
The biggest complaint? There just aren't enough of these!
Last year Walmart was selling these mostly online and did not have a large display of inflatables in their stores and they may do that again this year so plan to get one early if this has been on your list of desired outdoor decorations.