**This post may contain affiliate links for products I recommend. If you click a link and buy something I may receive some compensation. This does not change the price you would pay.**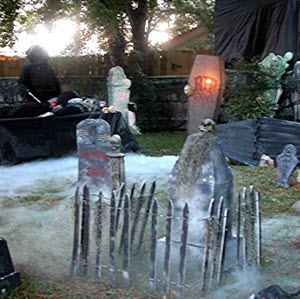 A Halloween fog machine, like the inexpensive ones listed here, generates fog and mist at strategic locations and is the perfect addition to your Halloween decorations.
Use one outside near your front door on Halloween evening while the kids are out trick-or-treating or use one indoors during your traditional Halloween party.

Just find one the right size for your needs. You might need a larger one to provide enough fog coverage outside for your entire decoration display but a smaller one inside to provide just some low-lying coverage.
Black cat photo by: Wxmom CC BY-SA 2.0
Inexpensive Fog Machines for Halloween
Sizes and options
There are professional fog machines used for large-scale events and movies but you can find smaller, inexpensive models you can use inside or outside your home to enhance your own Halloween decorations.
Following are some of the best models for outside displays.

Chauvet Hurricane 900 Fog Machine
A fog machine converts fog liquid into fog and expels it into the surrounding area. This machine has a tank size of 1.3 liters and heats up in five minutes.
Use the manual button to generate fog or operate the machine through the wired remote control. It puts out a great deal of fog. An LED light illuminates the tank so that you can see it more easily for refilling and causes a small glow in the center of your creepy fog show.
You'll get 1500 cubic feet of fog from this one and it comes with a 10 foot wired remote which my sons would love.
Every Halloween, my middle son and his friend set up a special display at our house or or the friend's house. They like to make sure they have the scariest display to entertain the older kids.
I could see them timing the mist to start seeping out when a big group of trick or treaters approaches the yard.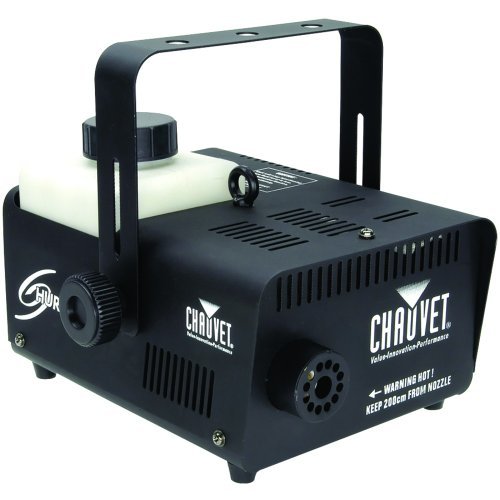 Chauvet Hurricane 1100 Fog Machine
This is an 1100 watt fog machine for inside and outside use. Perfect for holiday displays or outdoor parties.
Water based fogger with 1.3L tank. Fog juice not included. Low fluid indicator and auto shut-off for safety when liquid runs low.
Fog Machine Fluid
1 gallon water-based fog juice. Non-toxic, long-lasting and high output fog juice works with the Chauvet fog machines as well as other water based foggers.
Foggy Halloween Cauldron
Cool party decoration
What better way to put that fog to good use on the spookiest day of the year than by setting up a fake cemetery scene in your front yard?
This kit comes with a set of 15 different pieces that you can use outside to create just the look you're after. Kids will love it!
Halloween Fog Machine Ideas
How to Use a Fog Machine on Halloween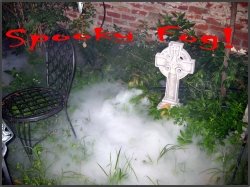 Use a Halloween fog machine to create a spooky environment for your Halloween party. Either place one at the entrance of your home so that your guests walk up to a foggy and dimly lit (but safe!) exterior with ghostly music playing in the background.
If you live in an environment where you can still hold your party outside in October (thinking Californian, Arizona – the calm and warmer southwest), use one large fog machine or two smaller fog machines at each end of your outdoor patio, string orange lights on your trees and around your patio, and place pumpkins and other Halloween decorations around the area. You can make cardboard cutouts of grave markers and headstones and place those at the edges of your party area, as well.
Indoors, a Halloween fog machine looks best in the dark so to obtain maximum impact, use it just off of your party space in a room that will be kept dark or down the hallway to the bathroom and keep the hallway lit only by real or electric candles.
Halloween fog photo by: Ethorson/ CC BY-SA 2.0