**This post may contain affiliate links for products I recommend. If you click a link and buy something I may receive some compensation. This does not change the price you would pay.**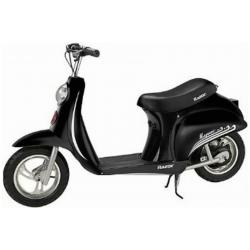 The Razor Pocket Mod Miniature Euro Electric Scooter is a great scooter kids can use to cruise the neighborhood. It's recommended for children twelve years and older. It's got a 90 day warranty and a 150 pound weight limit. It's a single speed and doesn't go more than 15 mph. it's got 12 inch pneumatic tires for a smoother grip and ride. The vintage body styles a European scooter. It even travels as far as ten miles on one charge. It's retractable kickstand lets your child mount and dismount without fuss. It is available in several different colors making it easy for both boys and girls to love.

Best Price on Razor Pocket Mod Miniature
Click the button for the best price on the Razor Pocket Mod Miniature:

Razor Pocket Mod Miniature Features
This scooter is packed with features.
Electric motor
Rear suspension system
Quiet
Smooth ride
Storage under seat
Vintage body
Razor Pocket Mod Miniature Euro Electric Scooter
Video demo
This video shows you exactly how easy it is to ride.

Razor Pocket Mod Miniature Reviews
Consumer Ratings of the Razor Pocket Mod Miniature
There are more than 300 reviews of this product online with an average rating of 4.4. Consumer comments are overwhelmingly positive from both kids and adults.
In particular, parents love that it's quiet and easy to ride. Even kids at the younger age of the acceptable range can be up and riding on this in a very short period of time. Kids can ride with their friends and still hear what's happening around them.
There's been a rash of tire issues, it seems, with recent deliveries. Tires can cost $25 to replace and, as with a bike, you should count on having to replace these periodically.
Here's what parents had to say:
Looks great!
Kids love it!
Pocket Mod Miniature is easy to learn – even for those who haven't mastered a regular bike yet.
Comfortable size for kids across the age range thanks to design. This means older kids aren't going to be cramped up just because they're taller.
Requires about 12 hours to charge the first time, less for subsequent charges and lasts all day.
About Razor
Razor was established in 2000. it combines technology with safety and high quality material.The company was founded in 2000. Razor is specifically designed for children. Over 20 million scooters have been sold that has to say something about the great quality found in Razor.
Why people love Razor:
Great value
Strict safety standards
Trusted brand
Best seller award
Best toy of the year award
All products come with safety warnings and instructions
Currently the Razor Pocket Mod Miniature Euro Electric Scooter is on sale saving you almost $30. It comes in many different colors and themes from vapor black and Betty purple to hello kitty and sweet pea.