**This post may contain affiliate links for products I recommend. If you click a link and buy something I may receive some compensation. This does not change the price you would pay.**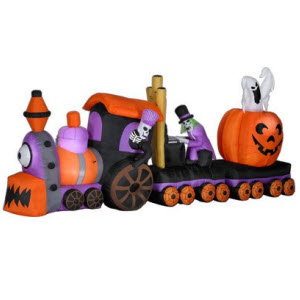 Every year this site gets traffic looking for an inflatable Halloween train and this time we have three great choices to consider – one of which is brand new for 2014.
Two of them are quite long which is one fast way to decorate a wide yard. The third is better for a smaller yard but they're all very interesting and good quality.
I've listed them by length but I'll also get into where you can get the best price because while there are several to choose from they're not widely available and the prices range all over the place even for the same product. A little comparison shopping will save you some money and I'll show you how.
Table of Contents: 7′ for Smaller Yards / 14′ New for 2014 / 16′ Animated / Train Sounds for Halloween
Small Skeleton and Graveyard Train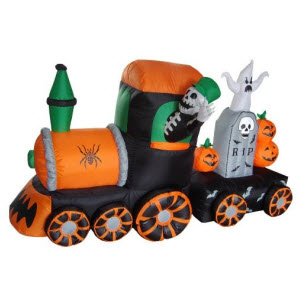 This is the shortest of the three airblown trains but still bright and colorful. It, too, has been out a few years and has great reviews.
7 foot long engine and car combined
Skeleton conductor with engineer cap
Ghost and pumpkins surround the headstone on the single car train
Made of weather resistant material
Bat design on the front of the engine and the car
Easy to store
Note: the lights on this train are not very bright. Expect to add a string of your own to make it brighter
Best Price?
Right now this is listed on Amazon (cheapest price) and eBay (whose prices were too high to even send you there).
Pumpkin and Candy Corn Train – New for 2014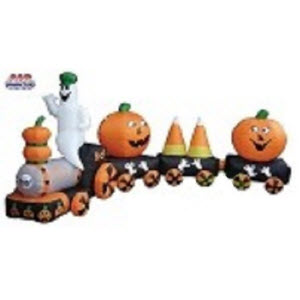 Bless YardInflatables for having someone custom design a new inflatable train for this year!
They've been in this business for quite some time and must have noticed a need. I'd spotted this when finishing my new list of the best inflatables for Halloween.
14 feet long for the engine and three cars
Made of durable, weather resistant nylon
The base of each of the 3 cars is decorated with white ghosts while the engine has jack-o-lanterns along the front and sides
Includes fan and stakes
Brightly lit for a great display
Where to Buy?
Because this was exclusively designed for one retailer I've only found at at Amazon, YardInflatables and eBay (several listings and a wide range of prices). (YardInflatables has the lowest price right now.)
Animated Conductor and Organ Playing Skeleton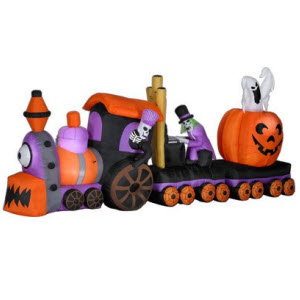 This inflatable Halloween train is one of the longest and most animated available. It's an impressive 16 feet long, plays music and is sure to keep trick-or-treaters lingering at your house for awhile to check out all the features!
Lights and animation keep things interesting. Add some simple fog with an outdoor machine around the base and you've got all you need for a great display.
16 feet long and 6 feet tall
Conductor skeleton waves his hand back and forth
Plays eerie organ music
Ghost rises from inside the pumpkin
Well lit throughout the train for a bright and clearly visible nighttime display
Self-inflating in seconds – just plug in
Weather resistant fabric fits easily back in the in the original box
Bright purple, orange and black
Where to Buy
This train has been out for several years and I think it might no longer be in production since it only seems to be available through some 3rd party sellers on Amazon and one at eBay (which is cheaper at the moment).
Scary Train Sounds
Creep up your outdoor Halloween train display with Scary Train Sounds.
Download some simple sounds and hook up your sound system or MP3 to a player. Put the speakers as close to the train as possible to make the sounds more realistic.
If you're adding the inflatable Halloween train to your collection this year remember to take pictures! It's a great backdrop for those holiday memories.