**This post may contain affiliate links for products I recommend. If you click a link and buy something I may receive some compensation. This does not change the price you would pay.**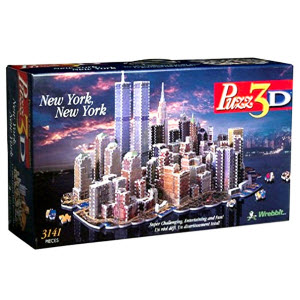 The Big Apple, the heart of New York, is one of the most popular cities in the US. It fascinates even those who have never had a chance to visit. That's one of the reasons that puzzlers have for adding a New York 3D puzzle to their collection.
There are several but, of course, the most popular is one that has been around for quite some time and it's appeal – and value – have only grown as it's one of the few that features the Twin Towers pre 9/11.
Table of Contents: Puzz3D 3141 Piece NYC / Best Price on Puzz3D / NYC Puzzle Ball / NYC 3D Structures
The New York 3D Jigsaw Puzzle by Puzz3D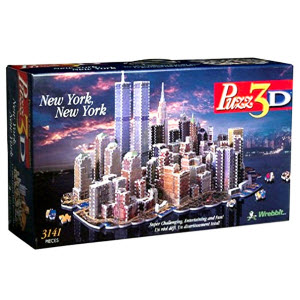 I was born in New York and have been to Manhattan, Yankee Stadium, and the Statue of Liberty. I remember the episode of CSI that featured this puzzle as one of the pieces of evidence in a case.
The Puzz3D New York City puzzle is one of the most widely recognized on the market. It contains 3141 pieces and depicts the city skyline as it appeared with the Twin Towers.
It is also one of the largest 3D puzzles you can buy and incredibly challenging. Avid collectors often want this particular set for their collection.
You'll need patience and determination to get through this puzzle. People have taken weeks – sometimes months! – to put this together. The detail and scope of the puzzle itself including streets, towers, buildings and parks in New York's skyline are challenging but motivating at the same time. You absolutely can't wait to get to the next section as more and more of the city comes to life.
In fact, you can find tons of videos online where proud puzzlers have taped themselves assembling this challenging and unique three dimensional jigsaw puzzle using time lapse video.
3141 sturdy, foam-backed pieces
Level: SUPER CHALLENGING
21.25 inches tall X 35 inches wide X 26 inches in depth
May include secret mini puzzle
Includes detailed instruction manual
Shop Around for the Best Price
Because this puzzle is not widely available, sellers are usually small time and control the market when it comes to pricing. Amazon is actually the most expensive option right now.
Make sure to check eBay because I've come across some of the cheapest prices with private listings (like this one) on that site instead of through larger retailers.
Every review I've read has been extremely positive. From beginners to advanced, people love the challenge but I think that's because most go into it knowing that it's going to be hard and they're looking forward to something that will keep them occupied for weeks. If you buy this one thinking it's going to be easy then I think you'd be disappointed.
If you're ever missing the manual or want to take a look at it before you buy check out this post from a guy who documented his completion of the puzzle and has the manual available for download.
3D Puzzle Video
As I mentioned, there are LOADS of videos for this particular kit. Completing it is quite an accomplishment. Puzzle addicts are always searching for the next big challenge and this presents the ultimate experience!


Puzz 3D and Hasbro
This line of 3D puzzles was stared by a company called Puzz 3D under parent company Wrebbit in the early '90s. They were based in Canada and leveraged the attention their products garnered into more than a passing fad. About five years ago, Hasbro acquired the company and moved their headquarters to the US.
In Wikipedia's reference to Puzz3D this New York puzzle is featured in a section referencing examples of their products and it's the only one for which an image was included.
The company puts a lot of time and attention into building quality products that will hold up to repeated use but still light-weight enough to work with in any location.
Sturdy, foam pieces are easy to work with
Designs include significant attention to detail
They add a whole new level to traditional jigsaw puzzles
They're both a logic puzzle and an interactive puzzle
Great activities for entire families to enjoy
Offer a chance to explore cities, skylines and historical buildings (they have great 3D castle puzzles) many might never see in real life
There just aren't enough of these left anymore!
3D Puzzle Ball of NYC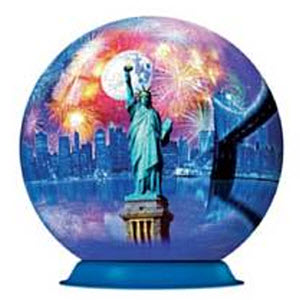 If you're looking for a full city scene of NYC, this NYC puzzle ball doesn't cost nearly as much as the one mentioned above and is a better choice for beginners.
Finished puzzle has a 6″ diameter
Includes plastic stand to hold the puzzle so you can keep it on display
270 curved, perfect-fit pieces for a smooth, globe-like presentation
Pieces are numbered on the back in case you get stuck
Globe puzzles are a lot of fun to put together and the numbered pieces keep you from losing your mind and spinning the ball around and around looking for the next piece that fits. You do have to sort of build it up in layers since it's curved and that means you can't move ahead to another section but must finish the one you're on in.
3D Puzzles of Famous New York Structures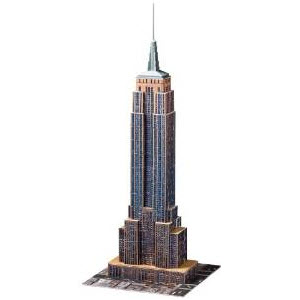 Click to check today's priceOutside of the city scenes noted above your choices are limited to those of famous structures from downtown NYC.
216 pieces for a medium level challenge
Pieces are plastic which will last longer than cardboard
Nice coloring and holds together without glue
Maybe because the pieces are plastic it makes the colors in the building appear more rich and realistic. The finished project looks very nice but the one drawback mentioned by consumers is that you have to actually bend the tabs on the pieces yourself and that could lead to breakage if you're not careful.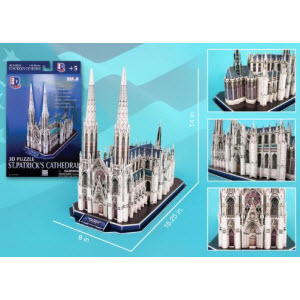 Click to check today's priceAnother favorite is this 3D puzzle of St. Patrick's Cathedral. The intricate detail of the building itself makes it challenging as well as pretty to look at.
117 interlocking pieces
Pieces are easy to fit together
Large enough to make a nice, finished display – 8 inches W x 14 inches H x 16 1/4″ L
Best for ages 5 and over
Manufacturer makes a number of other NYC puzzles so you can collect them as a set
Whichever you choose you're sure to have fun and if you have a favorite I didn't mention be sure to share in the comments section below!