**This post may contain affiliate links for products I recommend. If you click a link and buy something I may receive some compensation. This does not change the price you would pay.**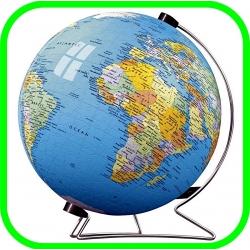 This 3D Globe Puzzle is not only fun – it's a great learning tool. You'll easily remember the names and locations of continents, oceans, and countries after working with the pieces to put the entire thing together.
Kids and adults all enjoy this popular puzzle ball model! I'd love to take my kids on a trip around the world but that's just not feasible. The tactile experience of roaming their hands and fingers around the world and pointing out names of places they've heard about is the next best thing.

Best Price on the 3D Globe Puzzle
Cheaper than most regular globes!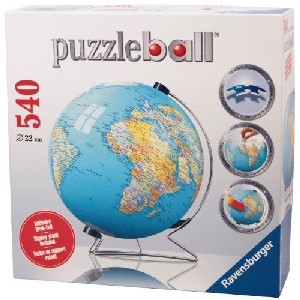 Ravensburg Puzzle Ball 3D Globe
We really wanted a globe in the house so that we could help teach our kids about different countries, travel, prepare them for trips and get them excited about the world around them.
This puzzle format is more affordable than some of the other models and kids just simply absorb the information on the puzzle because they're staring so intently trying to find certain pieces to match the country or section they're working on. It worked unbelievably well!
We used to have a flat USA puzzle book that we used to help the kids learn the names of the states and their capitals and it became a game for us. We'd use a timer to see who could get through the pieces the fastest. This one takes much longer and covers a lot more territory and we've had just as much fun.
3d Globe Puzzle Features
No glue required!
I'd always wondered how the pieces of a round puzzle might stay together but this works really well. Unlike those of other 3D puzzles, the pieces are curved and they form such a solid fit that when the globe is done, you can't tell it's a jigsaw at all from a distance.
540 curved, colorful plastic pieces
8 1/2 inches in diameter
Display stand included – finished globe can rotate on the stand without coming apart
Pieces are numbered on the back if you want to just have it set up for display purposes
Countries are labeled
Highly addictive!
How a Globe Puzzle Works
Globe Puzzle Video
I love this kid! (He reminds me of my 13 year old son.) He's done a great job with a time lapse video of himself completing the globe puzzle. He also gives some tips for how to do the puzzle. If you want to see how it works before you buy, this video will show you what it looks like at various stages of completion and give you a good idea about whether or not it's challenging enough to meet your needs!

Ravensburger Puzzles
Quality 3D Puzzle Balls
Ravensburger is a German company with international popularity as the maker of games, puzzles, and books. They have an entire line of puzzle balls with themes from television shows to animals to ocean settings. They start with bright, vivid pictures and then make desirable and challenging puzzles from them.
Why people love Ravensburger puzzle balls:
Takes jigsaw puzzles to a whole new level
Beautiful scenes
Quality construction
Take up less space than flat puzzles
Last for years
Large selection of themes and images
When you're finished with the puzzle you wish you weren't!
The 3D globe puzzle is a great initial choice because it combines fun with geography which explains its broad appeal to all age groups. If you like puzzles, this one is so much fun to put together! Then you can move up to more challenging options like the New York 3D puzzle from another manufacturer.