**This post may contain affiliate links for products I recommend. If you click a link and buy something I may receive some compensation. This does not change the price you would pay.**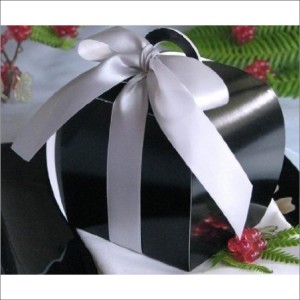 This unique Cupcake Purse Wedding Favors box is going to be a great addition to any wedding planning for the reception, the bridal shower, or even other events and occasions all year long. The purse style is unique and a great opportunity to dazzle it up a little. Add an embellishments you can think of to these boxes to coordinate with your wedding colors.
You can plan a 'decorating party' for all of your brides maids or bridal shower guests and enjoy an artistic afternoon making these boxes sparkle. Then you can add a cupcake or other goodies and party favors to give to guests at your reception.

The package has a generous 100 flat boxes with easy to follow folding instructions and the closure is built in (the flaps secure to the handle of the purse).
Cupcake Purse Wedding Favors – All White or Pretty Prints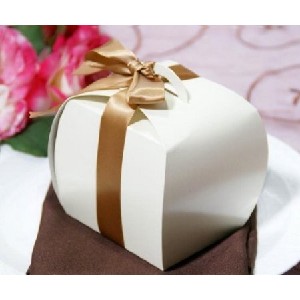 Unique Cup Cake Purse Favor Boxes
Have you ever watched some of those reality TV shows and seen the incredible wedding parties? The dresses alone cost more than my entire wedding. The decorations are always covered down to the smallest detail. It's as if some magical decoration fairy came along with a list of everything unique in the world and assembled it in one place. I'm always wondering where on earth they find all these things?
These purse cupcake boxes seem to have been dropped by that fairy. They have four different patterns including this plain, ivory one. There's also one all in black and two different black and white prints.
,br/>There's a little, curved cardboard handle on the top that's perfect for attaching a bow or ribbon.
PRODUCT FEATURES
Kit with 100 Pieces
It is a purse and it is an individual cupcake box great for cupcakes or other fabulous treasures and party favors. The 'box' is shaped like a purse with a handle and the closure is a flap which secures to the handle.
The adorable design lends itself to a wide range of embellishment opportunities. You can use multiple medium craft and art items to create unique and memorable treasure keepers. The embellishment of these boxes could be a party activity or an after school event.
Adults and children will love the fun they can have folding and decorating these adorable individual cupcake boxes.
Easy to fold into a purse shape (comes flat when shipped)
100 flat boxes in each package (economical)
Decorate them any way you want (limited by your imagination)
Artists and craft persons alike are going to love the opportunity to embellish these elegant purse boxes
3.5 x 3 x 3.5 inches (L/W/H) Includes the 'fill-able' area inside the cupcake box
Wedding Cupcake Decorating Ideas Video Tutorial
Learn how to create a decorated cupcake for a wedding reception or bridal shower with tips in this video.

Cupcake Purse Wedding Favors Ratings And Review Summary
What are people saying about the Cupcake Purse Wedding Favors
There are no reviews at the time of this writing but there are some ideas you can use to enjoy the individual cupcake boxes even more.
Think about ways you can engage your guests, wedding shower attendees, or others in the process of customizing the boxes. Also consider quick solutions such as water color misters (to add some color to the box without adding toxins) or other food grade decorations you can add to customize the boxes and make them a treasured keepsake from your wedding reception.
These are a few of the ideas and special features about Cupcake Purse Wedding Favors:
Two flap closure (flaps lock onto the handle of the purse) for securing the items inside
Hidden treasures (no clear area so what is inside is a surprise until opened)
Use as a place setting on the reception table (party favors as well as place markers)
Use them as business gifts (welcome new clients) fill them with goodies and pass them out at networking events
Wedding reception alternative to the wedding cake (a cupcake is a great alternative — replace the wedding cake with individual cupcake boxes filled with cupcakes or other goodies)
The design is unique and the embellishment options are endless so you have yourself a great item to add to your list of wedding reception decorations and ideas.