**This post may contain affiliate links for products I recommend. If you click a link and buy something I may receive some compensation. This does not change the price you would pay.**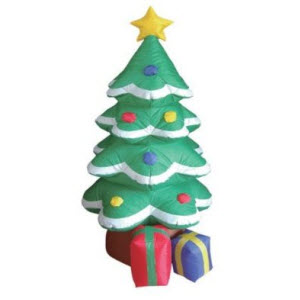 Of all the airblowns you can buy for your yard, the inflatable Christmas tree is my favorite. To me, it seems to most blend in with the rest of a holiday display. I'm a traditionalist – lights and music and window decorations are a must and some of the inflatables just don't seem to mix in as well. But a tree? That goes with everything!
Even if they're used alone they don't look out of place and for those of us who live in the desert (me) they can sometimes be the only thing of any height in our front yard during the holidays.
Many of these can also be used safely indoors as well as outside – great if you're traveling for the holidays or have a small apartment.
Table of Contents: 4 ft with Snow Trim / 8 ft with Presents / Animated with Rising Santa / Color Changing Kaleidoscope Tree
Following are four great choices for 2014 and information on where you can find the best deals.
Airblown 4ft Tree with Snow Trim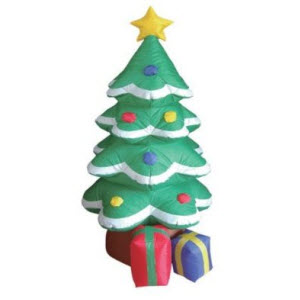 Click to check today's priceBZB Goods is one of the three leading manufacturers of inflatables. This airblown stands 4 feet tall – a nice height for indoor use or to add to an outdoor display.
Yellow star topper makes the tree look more like the real thing
Colorful red, blue and yellow ball fabric gives the appearance of ornaments
A set of attached, wrapped presents surrounds the base
Includes the fan and stakes
Brightly lit from within
26 inch diameter at the widest part
No longer in production (at least not showing in the current line of products on the BZB site)
Put a few outdoor reindeer decorations around the tree and it makes for a charming display.
Best Price
While Amazon has plenty in stock you may find that the price is better at Walmart (it is at the moment, anyway).
8 Foot Airblown Tree with Wrapped Presents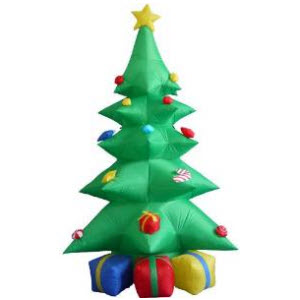 Click to check today's priceThis is a taller inflatable tree but also made by BZB Goods. You'll note it's a slightly different design. There's no snow trim but more variety in the ornaments.
95″ tall when fully inflated
59″ diameter (which is nearly 5 feet so don't be misled by the picture – this is HUGE!)
Adorned with 3D ornaments that are shaped like balls, candy canes, Christmas candy and wrapped presents
Set of bright, wrapped presents at the base
Inflates in just a couple of minutes
Includes lights inside so it's easy to see at night
Made of weather resistant, lightweight, polyester
Zipper enclosure hides the fan and yet makes it easy to reach inside the inflatable if you need to check or fix lights
Item Number: 100068 on manufacturer's 2014 list of available products
Best Price
It looks like Amazon has the best price and considering this one is twice the height of the tree mentioned above and it's less than twice the cost you're getting more for your money. Just keep the size in mind. You're going to want to put this in a larger yard with some open clearance above.
Inflatable Christmas Tree with Animated Rising Santa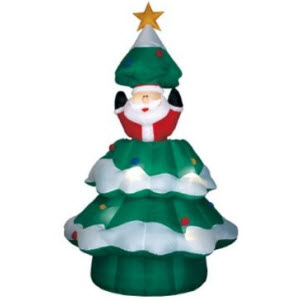 Click to check today's priceAh! Gemmy makes some of the best, most creative holiday airblowns and this one has been a favorite for several years. Unfortunately supply will be running low as this is no longer in their line up. I contacted Gemmy to find out and confirmed that only the items on their website are in their current production (and this one isn't there).
However, you can still buy at as some retailers are sitting on supply.
4 1/2 feet tall when Santa is tucked into the tree and 5 1/3 feet when he's fully risen
Santa rises and lowers into the tree
Yellow star topper, snow trimmed branches, and ornaments
Weather resistant
Comes with fan and stakes and fully enclosed in the zipper casing
Best Price
The best supply for 2014 seems to be at Amazon and the animated Christmas tree is reasonably priced.
Here's Gemmy's video showing the animation. I love that Santa sort of wobbles up out of the tree.
Kaleidoscope Christmas Tree by Gemmy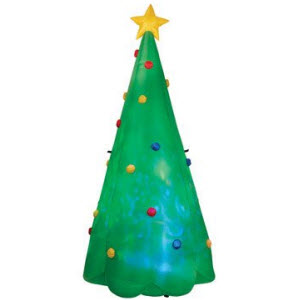 Click to check today's priceOne of the things Gemmy has played with recently is color changing inflatables and their kaleidoscope line includes this 8 ft tree.
Now, only if they'd give more information on their site. However, I've dug up the list of features:
Stands 8 ft tall
Self inflating with zip enclosure at the base
Cord length is approximately 5ft
Projection of rotating lights in different colors looks like lots of mini, moving spotlights for constant change in color patterns
Stakes and tethers included
Where to Buy
Because this tree is pretty new for 2014 you'll find you have more options so be sure to comparison shop but for now the lowest price is this listing on Amazon for the Gemmy Kaleidoscope Tree.
Short or tall, these are impressive no matter where they're used. Bright lights ensure everyone will see it as they're driving by. Super simple set up means you aren't going to spend hours maintaining a beautiful display.
The material used is durable and weather resistant. At the same time, it's soft and light weight so packing the decoration back up is easy. Moving and placing the decoration is also a breeze.
Fan units inflate the tree by being zipped inside. A single plug works the entire tree including any animation, lights, and fans.
Low wattage – although these inflatables can be huge, they require deceptively small amounts of power to inflate so you're not paying a fortune for an impressive display
There are so many ways to use an inflatable Christmas tree – flank your front door, build an outdoor display, combine with an airblown snow globe or grace the hallway of a building or school. Because they last so long you'll be able to find new ways to use them for years to come. Have fun!