**This post may contain affiliate links for products I recommend. If you click a link and buy something I may receive some compensation. This does not change the price you would pay.**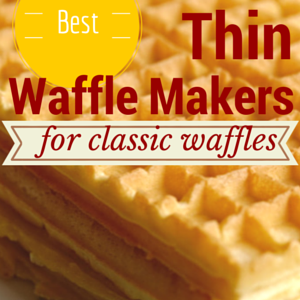 While much of the planet gushes about thick Belgian style fluffiness, there are plenty of people who want a waffle maker for thin waffles. Count me in for a number of reasons – the first of which is having three boys who are hooked on Eggo.
Buying them at the store is just outrageously expensive if I can, instead, make something similar at home, freeze them, and let the boys reheat them in the toaster.
Another great reason is that you can't really make great waffle sandwiches as well unless you use the traditional, thin squares.
Anyone on the same mission to find which one they should buy runs into a number of challenges. The online consumer ratings for waffle irons are often swayed by those who prefer thick over thin. That makes it hard to shop for them online. Waffle height isn't usually a feature that's listed in product descriptions, either.
Table of Contents: Black & Decker with Removable Grids / Chef's Choice with 4 Squares / Chef's Choice with 2 Squares
Oh, but I love a challenge! So, I scoured the web to pull data out of consumer comments that would point me to the best ones that make square, shallow-pocket, thin waffles that would best resemble the frozen ones my kids like so much.
The first step? Avoid the flip style waffle makers – they're designed to make thicker, waffles and not great for thin ones.
One of the best ways to tell what the waffles will look like when they're done is to measure (or eyeball) the depth and size of the indentations in the grids. Shallow indentations are ideal for an American style waffle.
I've found the three best choices depending on how many you want to make at once and whether or not you want one with removable grids.
Black & Decker 3-in-1 G48TD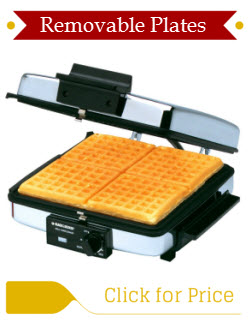 Waffle makers with removable grids are simply easier to keep clean. Between the thin, American style waffles produced by the Black & Decker 3-in-1 traditional waffle maker and the interchangeable grids, this one is highly recommended.
Makes four 4″ square waffles at a time
Waffles are 1/2-5/8″ thick which is similar to Eggo's size
Grids are reversible with a flat surface on one side so it doubles as a griddle when fully opened
Flat grids can be used for closed grilling (to press hamburgers, for instance)
Nonstick surface
Knob on the front controls temperature with settings for Off, Low, Medium and High
Grids come out for hand washing (NOT dishwasher safe)
3-5 minute cook time
Indicator light goes out when waffles are done
There are a few negatives that show up repeatedly in consumer reviews:
Quality of the materials used to make the waffle maker are less than what folks are used to seeing from their older Black & Decker models
Clasps that hold the plates in place can come loose and bend out of shape
While I think the quality of the next two on my list is better it comes down to whether or not having a waffle maker with removable plates is a plus for you or not. If it's a must, then you'll want this one. Otherwise check out the Chef's Choice 854 below.
Chef's Choice 854 Square Thin Waffle Maker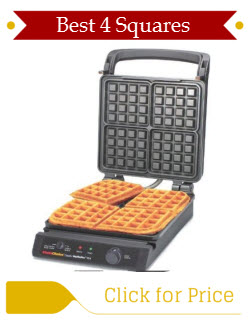 The Chef's Choice 854 produces square waffles with slightly larger pockets than the Black and Decker but are still the thin ones you're after. The added control knobs allow for much more customization for crispness and color.
Four 4″ square waffles about 5/8″ thick
One knob controls the crispness of the waffle's exterior by using either a slow or fast bake
One knob controls browning/temperature
Floating hinge produces waffles with an even height throughout
Many reviews where the ratings were the highest were the result of someone feeling as if they'd finally found the perfect choice for making waffles like they remembered as a kid.
If there's one drawback with this model it's the price. It's cheaper to buy the two square model below (at less than half the price) and simply be prepared to cook longer to get more done. If you have a large family then this is the better choice for saving you some time.
Chef's Choice Classic WafflePro 852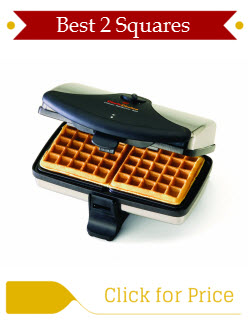 For die-hard, thin waffle enthusiasts who don't need a lot of extras, want a reasonable price and don't need to feed more than a couple of people at a time, the Chef's Choice 852 is perfect.
The size and quality of the waffles is the same as the 854 model but it costs half the price.
Produces 2 4″ square waffles that are about 5/8″ thick
Nonstick surface on the grids
Easy to clean
Can be stored vertically
Cooks in under 3 minutes
Knob on the top controls browning
Can make soft or crispy waffles
Reheats fast so you don't have to wait in between batches
I have three boys and often cook for them and their friends so being able to do only two waffles at a time might be a challenge for me but I like the style of this waffle maker the best. The fact that it reheats more quickly than others is a plus and might offset the extra cooking it would take to make more waffles.
The pockets are larger than an Eggo but they're as thin as the other two models on the page. As many other reviewers have noted, this is a top choice for anyone who has been eager to find something that makes American style waffles.
They're you have it! Three of the best choices for making Eggo style waffles at home.