**This post may contain affiliate links for products I recommend. If you click a link and buy something I may receive some compensation. This does not change the price you would pay.**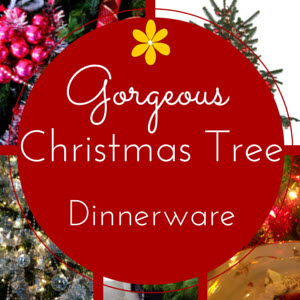 The holidays are coming and there are some wonderful Christmas tree dinnerware sets that would be a beautiful addition to your table whether you're hosting a crowd or planning a special dinner for close family.
Of course, Spode has a set that gets a lot of attention each year but there are several others to choose from including a playful pattern and one that's truly old fashioned (and very charming).
Don't think of these as just plates and bowls but also as future holiday decorations, too. Some years we don't eat Christmas dinner at our house but are visiting family, instead. However, I'll pull out my pretty plates and sprinkle them throughout my dining room hutch to dress up my dining room during December. They're just too nice to be tucked away!
5 Beautiful Choices: English Charm / Spode Classic / Pretty & Playful / Contemporary / Spode Gold Trim
Old Country Roses Christmas Tree Place Setting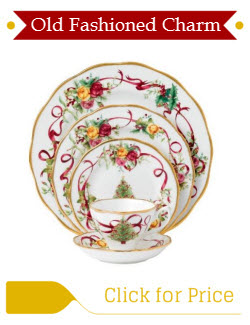 The combination of Christmas tree and English roses in the pattern of this set by Royal Albert has me hooked.
The outside edge of each plate is trimmed with ribbon, holly, and trios of roses. In the center is an old fashioned Christmas tree that's full and wide and decorated with gold ball ornaments and the same ribbon that winds around the plate's edge.
The plate rims are gold tone which is just the icing on the cake for this delectable blend of colors.
Dinner plates are 8″ in diameter
Made of fine bone china
Dishwasher safe
Available as a set or in separate pieces
Absolutely beautiful when paired with a small pink Christmas tree as a centerpiece
Spode Holiday Dinnerware 12pc Set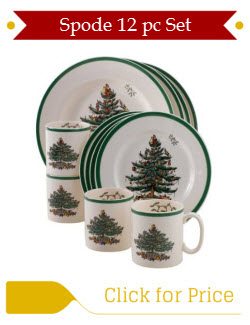 One of the most recognizable holiday sets is Spode's classic dinnerware featuring a Christmas tree in the center of the plates that's decorated with a collection of old fashioned ornaments. Underneath the tree is a layer of wrapped presents.
You can get a full setting for 4 including dinner plates, salad plates, and mugs for under $150. The mugs have extra detail with a line of garland running along the inside.
Dinner plates are 10 1/2 inches in diameter
Made of milk-white porcelain earthenware
Rims are edged in green
Dishwasher safe
Additional serving accessories available
While this pattern has been around for years, the new pieces you buy have probably been made differently than the much older originals. Those who are looking to complete a hand me down collection may be disappointed that these are stamped instead of hand-painted but if you're looking for a new set and not matching an old one you'll like the sturdy feel of the plates and mugs and the simple, holiday pattern that goes with everything.
Gibson Christmas Trimmings Plate Set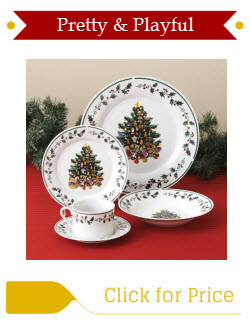 For a more playful set, the Gibson Christmas Trimmings dinnerware has a tree that will capture any child's attention (but adults love it, too). The tree in the center is large and covered in Santa Claus, gingerbread, and soldier ornaments. At the bottom of the tree is a stack of dolls, bears, and wrapped presents.
The edge is trimmed with holly leaves and berries and the edges are a dark green.
Large, 10.5″ diameter dinner plates
7.5″ desert plates
8″ bowls
Set includes cups and saucers
Made of fine ceramic
If you have children, this is the set that will get them to scrape their plates clean so they can get to the more playful Christmas tree pattern underneath.
This set is also one of the most affordable with a 20pc setting often costing less than $50. It's sturdy but not so delicate that you'll be afraid to use them for a family meal.
Nikko Ceramics Christmastime Tree Dinnerware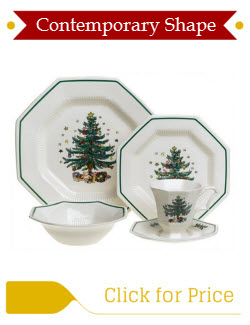 Nikko Ceramic's Christmastime dinnerware has a more modern feel in part due to the octagonal shape of every piece – from plates to bowls to mugs.
The pattern in the center features a Christmas tree surrounded by a flutter of stars and decorated with ornaments. A pile of presents sits below. Just inside the inner edge is a band of dark green trim.
Set includes dinner plate, salad plate, bowl, cup and saucer
Bowl shape is larger than the older set but everything else matches the original pattern
Made of glazed ironstone
Pattern retired in 2014
If you already have pieces of this collection you'll want to stock up this year as it looks to be recently retired.
Consumers who have this set love the sturdy feel of the plates and the pretty almost water-color like print of the Christmas tree. The plates have a nice inlay in the center, too, to help keep food on the plate. Serve a slice of a Christmas-themed cake for dessert on the smaller plates and watch the compliments flow.
Spode's Gold Christmas Tree Place Setting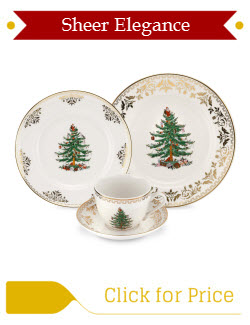 I saved the most elegant of the Christmas tree dinnerware sets for last. It's also Spode but the 22 karat gold border around the edges gives it my vote for the most decadent. The print in the center of the plate is the same as their classic design – it's the detailed edging that's different.
Made of earthenware
Dishwasher safe (although I'm not sure I'd do that…)
Just released in 2013
Accessory pieces available
This holiday set is absolutely beautiful to look at but it's the kind I'd be afraid to touch. I wouldn't be surprised, though, if one of the single pieces ended up in my dining room hutch if for nothing other than decoration.