**This post may contain affiliate links for products I recommend. If you click a link and buy something I may receive some compensation. This does not change the price you would pay.**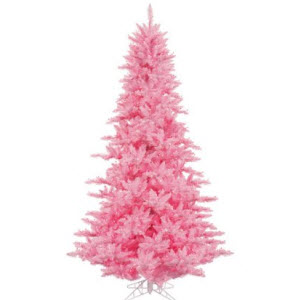 A beautiful, pink, tabletop Christmas tree is probably the ultimate decoration for a girl's bedroom over the holidays. Paired with matching lights, mini ornaments and even a small tree skirt in a coordinating color it's a charming way to get kids involved in dressing up the house for the holidays.
Of course, these aren't just for little girls – adults love them, too, for the unexpected pop of color they can add to traditional holiday decorations. They're also great for decorating an office desk.

Choosing one online can be tough because you're never sure the color in the product photos is accurate.
Table of Contents: Best Quality / Lowest Priced / Pink Barbie Tree
We found the following were some of the best based on the quality of the materials, the shape of the tree, and the price. All of them are 3 feet or less in height so they're on the small side. Perfect for an end table, desk, or next to a dollhouse.
Best Quality Pink Tabletop Tree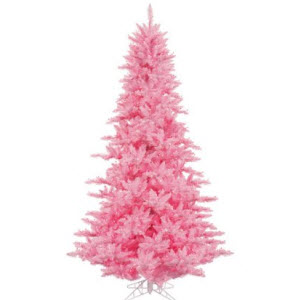 The Vickerman Pink Fir tabletop tree wins hands down for shape, quality and color. It's really a small artificial tree with life like needles instead of using strips of plastic or foil.
It's shaped like a fir tree with a nice, full appearance. The needles are a bright pink and it's pre-lit with 100 pink lights. It casts a charming, warm glow when lit (which works well for Valentine's Day, too).
3 feet tall – small enough for most tables but large enough to offer lots of decorating options
100 miniature pink lights with pink wire so nothing distracts from the overall color
Sturdy branches can be shaped and are strong enough to support ornaments
234 needle tips
Pink painted metal base
This small tabletop tree is the ideal choice if you want one that is going to last for years.
I checked the Vickerman site and the tree is no longer showing in their product line which makes me think it's not going to be available for much longer so snap this one up while you can. It's a beautiful centerpiece for holiday themed dinnerware.
Click here for the lowest price
Small Pink Christmas Tree for Tables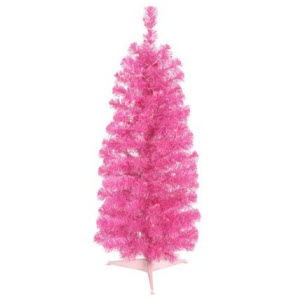 This 2 ft Sparkling Pink Christmas tree is also by Vickerman but it's smaller and less expensive.
The shorter height might be better for smaller tables. It's a darker pink than the one above and the needles are pink plastic PVC intermixed with shiny tinsel which is what gives it the "sparkle".
It comes pre-lit with 35 pink miniature lights. The power cord is 30 feet long which is pretty amazing considering the small size of the tree itself. That gives you a lot of flexibility for plugging it into nearby outlets.
87 "needle" tips
Pink power cord
Prelit with 35 stay-lit bulbs
Pink wire between the lights
The tree is thinner than it looks in the picture – very much a pencil style and not as full as the one above. The branches may support some lightweight ornaments. Garland can be added to make it look thicker.
This is a great choice if you don't want to spend a ton of money and you'll still get several years of use from it if you store it carefully in between holidays.
Click here for the lowest price
Pink Barbie Christmas Tabletop Tree for Girls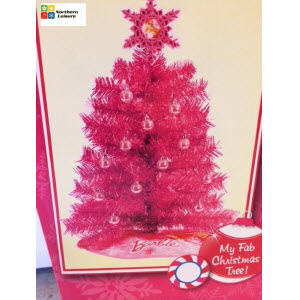 I don't know how long this one is going to be available because I don't think it's still in production but the My Fab Christmas Barbie Christmas Tree is a great shade of pink.
The tree topper and skirt do show the doll by image or name but for the most part you could "un-Barbie" this tree if you wanted.
24 inches tall
Comes with 12 ball ornaments that hang on the tree
Includes 18″ tree skirt and Barbie topper
Unlit
This tree has a buy it now price on eBay that's nearly twice the price at Amazon right now.
This tree will only hold very lightweight, small ornaments like the ones that come with it. There are no lights and I probably wouldn't add any because of the material used for the needles but if you have a child who loves Barbie she'll love this hard-to-find tree.
Click here for the lowest price
Once you find the right pink tree for your tabletop you could display it as-is or begin collecting miniature ornaments to dress it up each year. Imagine a little chest filled with tiny matching garland, beads, and decorations!