**This post may contain affiliate links for products I recommend. If you click a link and buy something I may receive some compensation. This does not change the price you would pay.**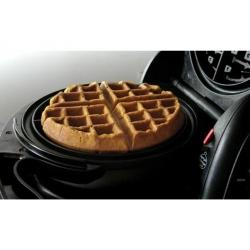 The Presto 3510 FlipSide Belgian Waffle Maker is exactly what you need if you want restaurant style waffles at home. It produces beautiful, thick and evenly cooked deliciousness because of the way the hinge allows the irons to be rotated from one side to another.
It's much cheaper than true commercial styles so affordable for us to use at home, looks sharp and has a load of well deserved high ratings by other consumers.

3 Reasons I Love This Waffle Maker
More than Just Great Looking Waffles!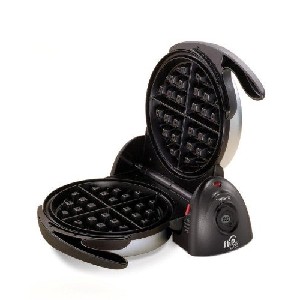 Presto 03510 FlipSide Belgian Waffle Maker
There are three seemingly simple things I really appreciate about this waffle iron. First, the handle locks in place and the hinge acts as a stand so you can store it standing up. That frees up cabinet space.
Unique flip style lets you pick up the waffle iron portion and rotate it up and over to the other side so that the batter is evenly distributed on both sides. This gives you nice shaped, even, professional looking waffles.
Finally, the timer also has a pre-alert beep so at one minute left there are two beeps to call you back over to the waffle iron. When it's completely done, it will beep five times. I'm notorious for walking away from something like this and somehow completely forgetting them. This extra beep keeps me from burning them and wasting batter.
Presto 3510 FlipSide Belgian Waffle Maker Features
Countdown timer and digital display
180-degree flip design
Base locks in vertical position for compact storage
Nonstick cooking surface
Brushed stainless steel
Extra-deep pockets and 4 easy-to-cut sections
How the Presto Flipside Waffle Maker Works to Distribute Batter
See it in action – Video
I love how they mention you can even make chocolate waffles in this video. Really, though, the demonstration shows you how easy it is to set the timer and flip the irons.

Presto Brand Recognition
Presto's history works closely with the the customer service they provide. There is a reason they have thrived through years. It is a leader in kitchen appliances. They have a large research design to expand into uncharted territory. The company has been around since 1905, old and wise when compared to other competing companies. When the department of agriculture stepped in and required all low acid food to be canned to prevent food poisoning Presto became the leader in canning.
Why people love Presto:
Quality
Experience
Safety
Amazing customer service
Vast variety
Leader in many things
Presto even created the first all kernel popping popcorn machine. Fixing the mistakes other companies had made.
The Presto 3510 FlipSide Belgian Waffle Maker is a waffle maker that flips 180 degrees for an even coating. Oh and best of all…this machine comes with a one year warranty to fix anything that one might brake or make defective.