**This post may contain affiliate links for products I recommend. If you click a link and buy something I may receive some compensation. This does not change the price you would pay.**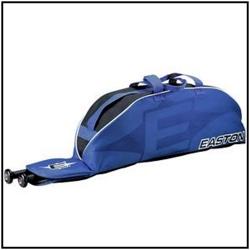 The best bat bags for baseball and softball have a few, simple – but important – features that make it easy for a player to haul their gear from one place to another.
The bag should be long enough to hold the length of bat you're using, have room for a couple of bats, protect your gear from inclement weather, have comfortable straps or wheels so there's less physical stress on one's back, and allow you to easily find the piece of equipment you need when you need it.

Two of my three boys have played baseball, my husband played from the time he was four or five years old, I've been a team mom, and have assisted my husband as the coach for several of our son's teams. In fact, I met my husband at the local batting cages. When it comes to sports gear, my husband and I have had our share of experience so I grabbed some time with hubby and set out to find a list of the top 3 bags we'd recommend.
Best Easton Bag for Baseball Bats
Sturdy and reliable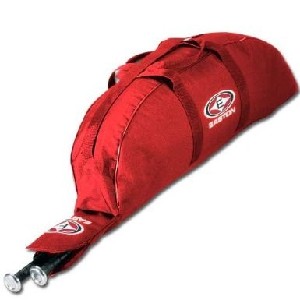 Easton Baseball Equipment Tote Bag
This is our number one choice for a bat bag for kids and adults. It will hold bats up to 36″ long, is extremely lightweight, very durable and inexpensive.
My husband has had one like this for over 20 years (yes, we still have it). It's dirty but there's not a single tear, rip or shredded seam. It's gone through several years of high school ball, several years of men's league play, and several rounds as coach of our son's team.
Inside there's room for two bats, balls, cleats, a glove or two and even a water bottle or snacks.
The bats are in a zippered back pouch so they're completely protected. This style is easy to carry. When slung over one shoulder, it has a slim profile so that it's not sticking out much to the side at all.
Easton Bag – Our Experience
Durable and long lasting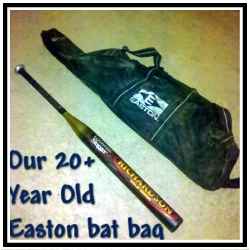 This is my husband's Easton bag he's had for over 20 years. You can tell it's certainly been well-used but there isn't a single rip in it, the seams are in perfect shape, and all the zippers and enclosures are in working order.
It's the same size as the one shown above. We believe that of all the styles that are available, this is the best. You can lean it up against a fence or wall, it doesn't take up much room in a trunk or closet, it's pretty impervious to rain and dirt can be brushed off. I'm sure if we ever took the time to wash it (nope, we haven't) the exterior would look even better than it does in this photo (just keep in mind how old that thing is!).
Top Umpire or Team Baseball Equipment Bag
Chest gear, helmets, and bats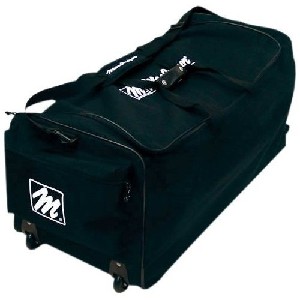 MacGregor Team Roller Equipment Bag
The last time my husband was the coach for our youngest son's baseball team, I assisted him with score keeping, getting the umpire geared up, and keeping the kids in line in the dug out. That keeping them in line thing was probably the hardest part. The kids are like monkeys on Red Bull!
The bag supplied by the local organization did not have wheels and we would invariably have a game time in the middle of the schedule so we'd have to park way out in the parking lot and our field would be the furthest one away. I couldn't even carry the bag – my husband had to be in charge of that, thank goodness, but it was a strain on his back.
If you need a team bag for equipment or one for an umpire who has to carry a lot of extra gear, this bag has wheels so you can cart your stuff around without stressing out your back or shoulders.
Best Backpack Style Bat Bag
Eases the burden on your shoulders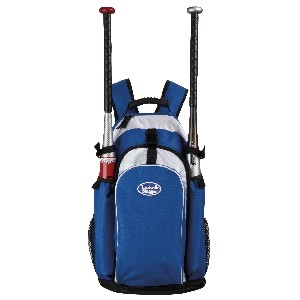 Louisville Slugger Large Bat Backpack
While we haven't used a backpack style bag only because it doesn't protect the grip of the bat as much as the other bags, it's a pretty popular alternative for the long style bags.
There are certainly some benefits to using this style. It's a more balanced weight load across your shoulders rather than carrying a bag on one side or another.
They still hold a great deal of equipment including a helmet, gloves, shoes, and two bats. This particular model comes in a huge assortment of colors, too, so if you're a girl and you'd rather avoid basic black or navy blue, you have some great choices.