**This post may contain affiliate links for products I recommend. If you click a link and buy something I may receive some compensation. This does not change the price you would pay.**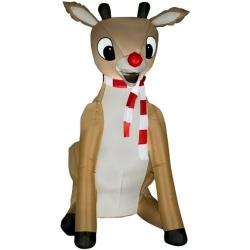 When my husband agreed to adding a Christmas reindeer inflatable to our yard I found these three that I thought were the cutest choices.
Of all the Christmas characters, Rudolph is my favorite. He starred in the Christmas shows I preferred the most when I was a child. I think it has something to do with his having to overcome something that made him different from everyone else that tugs on my heart strings.
I'd had figurines and ornaments in the house but it was time to find one I could use outside with my lights and holiday displays.

Inflatable Airblown Traditional Rudolph
My #1 Choice

Gemmy 5.51 Ft Christmas Inflatable Fabric Rudolph
I think this airblown inflatable reindeer most closely resembles the traditional Rudolph I'm used to seeing in my favorite holiday programs. He's a light brown in color and doesn't have a ton of trim and added features – just his adorable, red nose and a red and white scarf.
He stands 5.5 feet tall which is just a few inches taller than me but not so big that he'll take over my yard. I needed my decoration to fit in with the rest of my display. I have three different arrangements I use each Christmas that I rotate year to year.
I have an RV drive on one side of my driveway that always looks a little bare. I envision using strands of blue and white lights to create the look of a skating rink and placing Rudolph at the edge of that rink. It will offset the inflatable snow globe on the other side of the yard.
Inflatable Rudolph with Hat and Wreath
My #2 Choice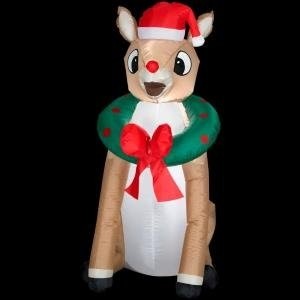 Rudolph The Red-Nosed Reindeer Christmas Airblown Inflatable
This little guy is 3.5 feet tall so he's shorter than my first choice but he's still the same color just with some extra trim. He's wearing a Santa hat and has a green wreath around his neck.
Both of these choices seem to light up very nicely but the one thing that might draw me to this shorter version rather than the taller one is that I have future plans for one of those airblown Santa and sleigh displays and I want the reindeer to look like it's in scale with the sleigh and that's probably going to be easier with this one.
It's also made by Gemmy and they have a great reputation for outdoor holiday decorations.
Inflatable Christmas Reindeer in Santa Hat
My #3 Choice

Reindeer in Santa Hat
You know how you set out looking for one thing (like the traditional Rudolph) and you end up seeing something else that you think is cute but wasn't quite what you had in mind? That's where this inflatable reindeer fits in my list.
I think he's just cute! He has a warm smile, a happy face, he's waving and he has a present in his hand. He'd certainly make for a nice greeting to any neighbors walking by or the kids who play in the neighborhood.
He doesn't, however, fit into my future sleigh plans because he's 7 feet tall. He's priced so well, though, that I couldn't quite cross him off my list.
As with the others, it already includes the lawn stakes so it will hold up in any winter storms which aren't a huge concern in my neck of the woods but the wind can pick up in the winter and I don't like to chase my decorations down the street.
Inflatable Manufacturers
Material makes a difference
Gemmy makes a couple of the items on my list and has a catalog of other styles and designs. In fact, they are the leading manufacturer in inflatable decor for a number of holidays and events.
Once you set up your 1st inflatable yard decoration you'll see just what makes Gemmy the leader. Have you ever had a windbreaker made of that paper thin, super-tough nylon fabric? That's how these decorations are constructed. The material is amazingly soft but the toughest outdoor stuff you can use. Similar to the fabric used for making outdoor stunt kites that have to hold up to incredible winds.
Why people love Gemmy inflatables:
Incredibly easy to set up
Weather resistant
Safe to use indoors and out
Store easily
Last for years
Easy to mix and match with more inflatables in a growing collection