**This post may contain affiliate links for products I recommend. If you click a link and buy something I may receive some compensation. This does not change the price you would pay.**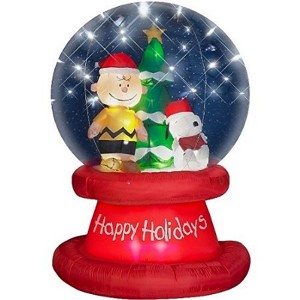 Animation, sparking lights, and easy set up make Christmas inflatable snow globes like these a very popular yard decoration for the winter holidays. They go up fast, hold up well, and can last for years. Best of all? Kids are enchanted with the little worlds inside.
(You know what? So am I!)

Christmas Inflatable Snow Globes for 2013
Airblown globe decorations for the yard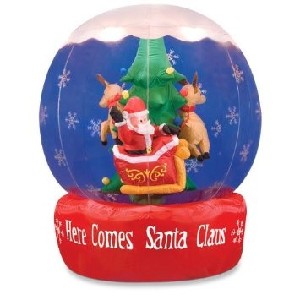 Santa in Sleigh Reindeer and Tree Airblown Globe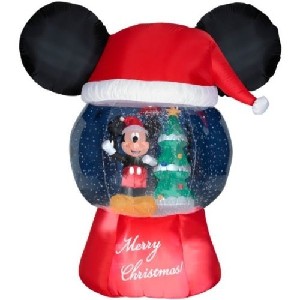 Mickey Mouse Ears Snowglobe Christmas Airblown Inflatable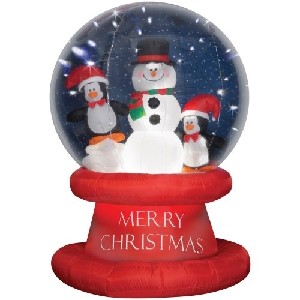 Gemmy Imports 83322 Airblown Santa Outdoor Decor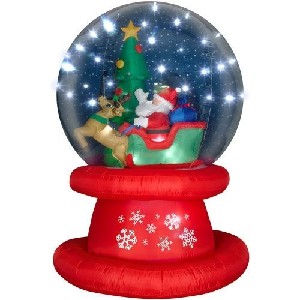 6 Foot Airblown Christmas Snow Globe Decoration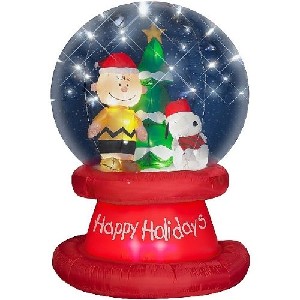 6′ Peanuts Snoopy Christmas Airblown Inflatable Globe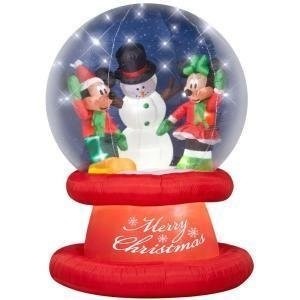 Disney Mickey Minnie Snowman Globe Inflatable
New Joy Christmas Inflatable Globe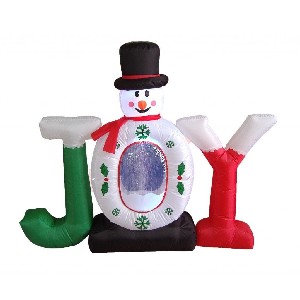 Inflatable Joy Snowman Snow Globe Yard Decoration
This airblown is 4 foot tall but what I like best is that it displays a happy message that the neighbors will be able to read as they're driving by or taking a walk down the block.
The letter O is filled with fake snow flakes that blow around when the decoration is turned on. It does light up and the lights rotate through several different colors.
Each year we switch out the theme for our outdoor display. One year we do red and green and the next we do blue. Sometimes we use all of our inflatables and sometimes we use only our inflatable reindeer.
It's taken us some time to grow our collection to cover both themes but I couldn't settle for just one and I love the way blue icicle lights on the roof highlight any of the inflatables in our yard.
We went out a few weeks ago looking for a new one to add for this year and so far we've found only a small collection in retail stores and better prices online for now.
Christmas Inflatable Snow Globe Features
Animation, Fast Set Up, Economical
I used to think inflatable yard decorations were kind of cheesy looking. I officially recant my position. 🙂 The problem was I didn't know how to blend them into the rest of my traditional display. Once I figured out how to do that with placement and color choice, I realized they're an economical way to increase the size of one's display without spending too much money. The large size provides scale and makes your decorating dollar stretch further.
Made of solid, weather resistant nylon that is extremely light but amazingly tough
Literally sets up in seconds
Low watt usage – most have just one power cord that work both the fan, the lights and any animation
Stores easily back in the original box
Can be mixed with other inflatables and yard decor
Kids love to watch the twinkling lights and floating snow inside the globes
Snoopy Snow Globe Light Show
See it in action – Video
The inflatable Snoopy snow globe shown above has a unique light display feature. Super bright LED lights flash for an eye-catching decoration. See the video below.

Gemmy Inflatables
Leading Manufacturer
Gemmy is the leader in manufacturing home use inflatable yard decorations for Christmas and other annual holidays.
They began in 1984 and have grown their collection to an impressive number of decorations playing on technology, designs, and bright lights for outstanding displays.
Christmas inflatable snow globes take the little worlds we love in tiny bubbles and expand them to life size wonders for the magical month of December. Enjoy!