**This post may contain affiliate links for products I recommend. If you click a link and buy something I may receive some compensation. This does not change the price you would pay.**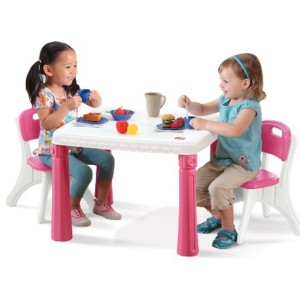 A childrens plastic table and chairs set like these great ideas posted below gives kids their own place to play and work. They're perfectly suited to little arms and legs, are easier to sit at and more comfortable, and can be used for all kinds of activities.
I got so tired of watching my son try to sit on his feet in order to reach the height of our kitchen table that we finally got him a small one of his own and it's amazing how much use he gets out of it every day.

Pink Plastic Table and Chair Sets for Girls
I have four nieces and I think every single one of them has done their room in pink at one time or another. It's a favorite color for little girls. It's a good thing there's no lack of choices when it comes to pretty little table sets to go along with just about every shade of that color you can imagine.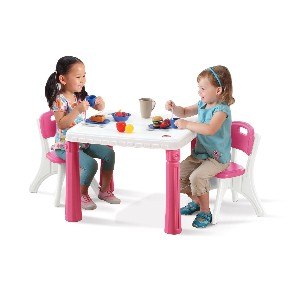 Step2 LifeStyle Kitchen Table and Chairs Set in Pink Plastic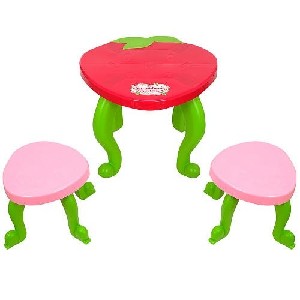 Strawberry Shortcake Cafe Set for Girls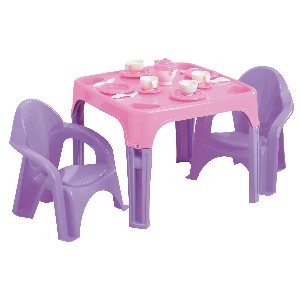 Pink Tea Party Table and Chairs Set


Best Plastic Table and Chair Sets for Boys
As a mom of 3 boys, I know what they're going to do on a table set you put in their room – everything including standing on it. You want something very sturdy but also functional for Legos, toy cars, coloring, building blocks, as a train table and for puzzles. I promise – they won't always use it as a jumping off point to get from one side of the room to the other.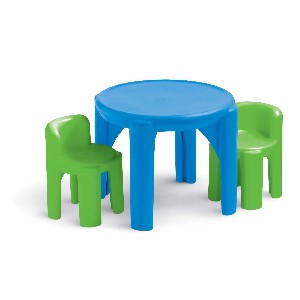 Bold n Bright Plastic Table and Chairs Set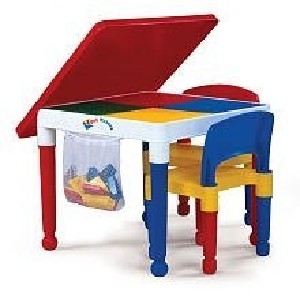 Kids Plastic Construction Table and Chairs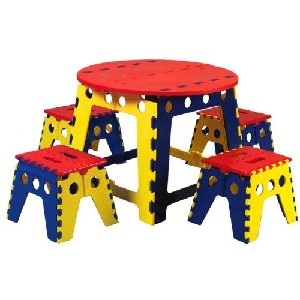 Folding Plastic Artist Table Set for Boys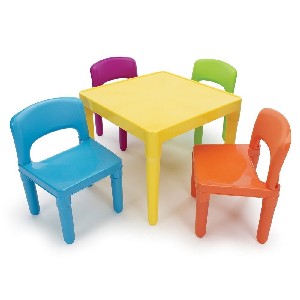 Plastic Childrens Table and 4 Chair Set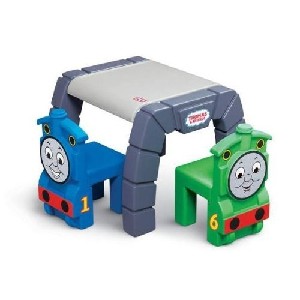 Little Tikes Thomas and Friends Table and Chairs Set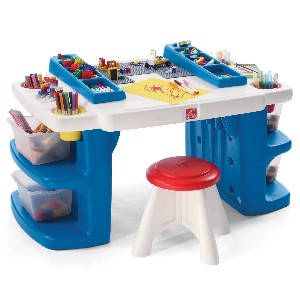 Step2 Build And Store Activity Table with Chairs


Step2 New Traditions Table and Chairs Review
Yes, it's durable plastic but designed to look like real wood furniture. It's a really good size for kids with a 30 inch x 30 inch square top. It comes with two chairs but you can buy another set of two chairs separately.
The smooth top table works for all kinds of arts and crafts, Play-dough, school work, pretend tea parties, or for building blocks and toys.

Plastic Outdoor Picnic Tables for Kids
While almost any plastic set can weather the outdoors, some are built with extras to accommodate outdoor play. Here in Arizona, if we don't get a table with an umbrella, we'll be setting our kids up for melted crayons and play things. Choose between bench styles and chairs (hint – bench styles can seat more children) and then the size you'd need for your family.
For my boys, I had the Little Tikes plastic picnic table (without umbrella) and we used it for years. It held up incredibly well even though it was outside all year in the blazing, Arizona sunshine.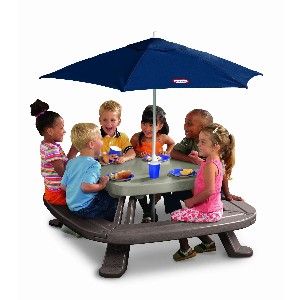 Fold n Store Play Table with Market Umbrella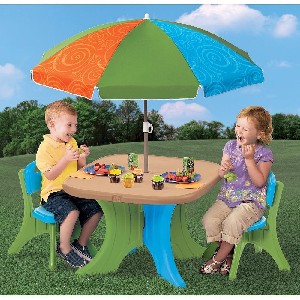 The Step2 Company Play and Shade Patio Set


Red Plastic Table and Chairs for Kids
Red is a popular play table color because its a nice, bright color; goes with many children's room themes, and it can be passed from one child to another without the younger child complaining that the color doesn't go with their room. It's a great choice for a table that will be shared by siblings, too.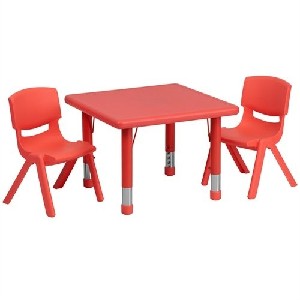 Square Adjustable Red Plastic Activity Table Set with Two Chairs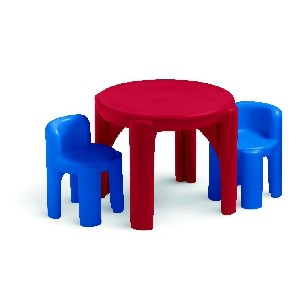 Little Tikes Red and Blue Table and Chairs Set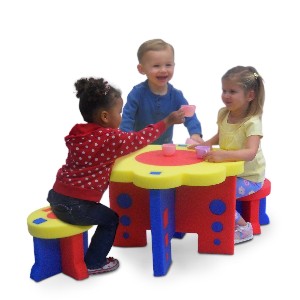 Kids Adventure Sunflower Table and Chair Furniture Set


Plastic Indoor Activity Tables for Children
When choosing a play table for your child, first figure out everything they'll be doing on the table. If it's for Legos, then one with a Lego top or inserts would be the best choice.
If they're going to be coloring or working with Play Dough or clay, you'll want a table that has a smooth surface and not a patterned one that will cause crayons to skip over spots on paper.
Also look at those with built in storage if the table will be used for crafts and activities. Everything we put in my youngest son's room has some sort of excess capacity built in because it seems there's never enough space for all of his stuff.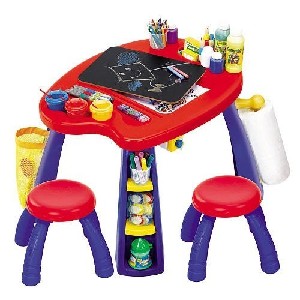 Crayola Creativity Play Station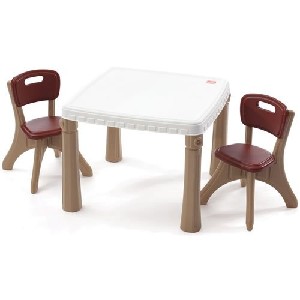 Tan Plastic Childrens Table and Chairs Set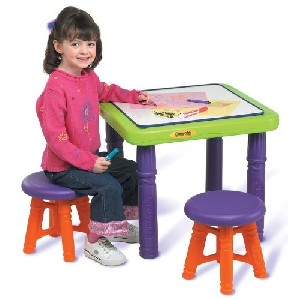 Crayola Sit And Draw Play Table


Toy Story Plastic Rocket Ship Table and Chairs
Kids Only Disney Toy Story 3 Transforming Puzzle Furniture
What a neat idea! This table and chair set morphs into a Toy Story rocket ship and then back again when you want to sit down and play. It takes a bit of assembly initially as you'll see in the following video but once assembled kids can easily switch its form themselves.