**This post may contain affiliate links for products I recommend. If you click a link and buy something I may receive some compensation. This does not change the price you would pay.**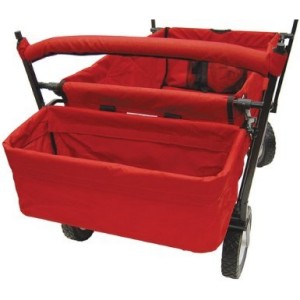 Have you heard of the On the Edge folding wagon? It's one of the most efficient and feature-packed yard carts in this price range. Sturdy, functional, easy to maintain and it pops open with almost nothing more than the flick of your wrist.
Done with it? Fold it flat and tuck it away. It's light enough and so compact you can store it in a closet, in your car, or tucked away in your laundry room.

The On the Edge Folding Wagon is One of the Most Popular
It's Back!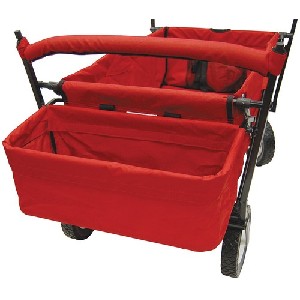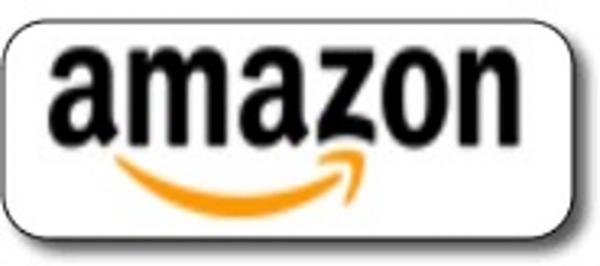 The On the Edge Wagon disappeared for awhile but it's back on the market. Same great red color, same great features, and excellent reviews. It's one of the most popular utility wagons.
Incredibly functional, there's a good amount of interior space – enough to hold a couple of small children – and a basket on the back where you can store other belongings, towels, small gardening tools.
Use this to take your plants or lawn seed from one part of your yard to another. Keep it in your car and use it for picnics, camping or the beach. The wheels are firm enough to handle sand without any problems.
Includes a Canopy Cover
Find a deal on this outdoor yard cart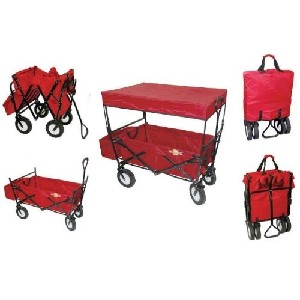 On the Edge Wagon Features
One-Hand Operation and Durable Material
What makes this folding wagon so convenient is the overall design. The frame is solid and opening the wagon is much like using one of those umbrella strollers you use with kids. Undo the velcro tabs and shake out the unit by the handle and the frame extends to its full length ready for loading.
Other features include:
Weight capacity of 120 pounds
Made of stain resistant, durable material so holds up well over time, in all kinds of weather
Padded forms surround the head bar of the wagon so that children riding inside aren't at risk of hitting their head on the metal frame
Two mesh storage pockets on the front of the unit can be used to store water bottles or other small items
Folds nearly flat so can be stored in the trunk and taken to the store, the mall, the beach, the park the nursery – you name it!
Dimensions: 39 x 24 x 44 inches extended. Weight: 27 pounds
8 inch rubber wheels
Long, easy grip handle
Shade canopy included
End bin can be used to separate kids from food, books, or other goods being transported
Folding Wagon Video
See it in action!
On the Edge Folding Wagon Reviews
Pros, Cons and Consumer Feedback
There are over 60 reviews online and the wagon with a strong 4/5 star rating. Users love how easy it is to set up and put away but they also admire its strength and flexibility. Often, the unit was purchased with one use in mind and it didn't take long for buyers to find lots of other ways to put it to use.
Here's a summary of what users had to say about the wagon:
Fits nicely in the trunk – even in small cars.
Weather resistant
Easy to pull and turns well
Can hold two kids comfortably
Wide wheel base so no issues with tipping or turns
Some complaints about strengths of the welds although that didn't seem to stop people from appreciating the low price and functionality of the wagon
Invaluable if you do any camping!
One of the most common comments was how often buyers were stopped while using the wagon by those who thought it looked really neat and wanted to know where they'd gotten it!
Ways to Use the On the Edge Wagon
Make these yard and house tasks easier
If you're like most folks, you'll end up buying the On the Edge folding wagon to use in your yard and suddenly you'll realize it comes in handy for a number of other tasks.
If you camp, picnic or swim at the local lake, use the cart to haul your stuff to and from your car. If you or your kids participate in any sports, use the cart to take your lawn chairs, cooler and sports equipment from the car to the field. If you are a member of any clubs or organizations that require you haul paperwork or equipment to temporary job sites, bring out the cart.
It's easy to set up and easy to stow away when not in use. A great all around tool that will easily pay for itself.
The On the Edge folding wagon is like having a bunch of carts in one because it can do so much. It's a hit with kids, too (no surprise, right?)!