**This post may contain affiliate links for products I recommend. If you click a link and buy something I may receive some compensation. This does not change the price you would pay.**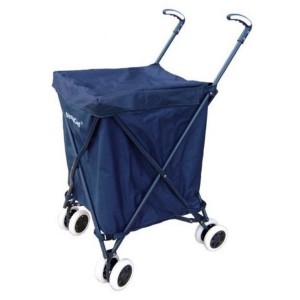 Find the best folding utility cart for your home and outdoor needs in the styles and options listed here. These are perfect for shopping, to move items around the house or for working in the yard. They're super convenient if you like to walk to the store but can't carry everything back home in your hands or if you work in the garden a lot and need to transport plants and tools even a short distance.

Folding Shopping Cart
Portable grocery cart
Before we moved into the house we're in now, the grocery store was far enough way that driving was really our only option for getting there. In our current home, though, there are several stores within reasonable walking distance.
My husband and I have begun doing at least one of our grocery trips each week by walking there and using a folding cart that we can take with us. Ours can be wheeled along while it's folded so it's easy to push it along on our way and it holds about 10 small, plastic bags including a couple of gallons of milk for our trip home.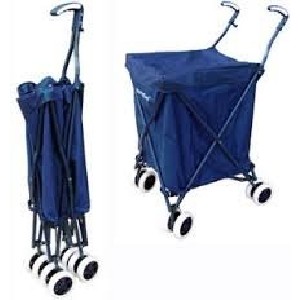 VersaCart: Folding Utility Transit Cart – Transport up to 120 Pounds With Ease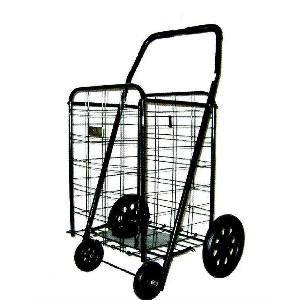 American Trading House, Inc. H1001XL-Heavy Duty Shopping Cart in Black
Folding Wagon Cart
Flatbed utility cart
My parents have about two acres of property and it slopes quite a bit from front to back. Spread around the property are two garden beds, three flower beds, and a number of sections that need to have their gravel or bark chips refreshed.
My dad uses a folding flat bed cart he stores in the garage to take supplies to the different parts of his yard that need work. If the job carries over a day or two, it's easy enough to leave everything in the cart, pull it back up to the garage and store everything to get pulled down the next day.
The On the Edge folding wagon is one of the most popular choices based on other consumer reviews, too.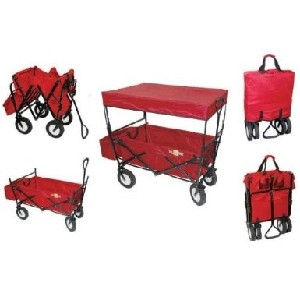 On the Edge Red Folding Utility Wagon
For beach, gardening or kids
44 x 24 x 39 inches
Sturdy, stain resistant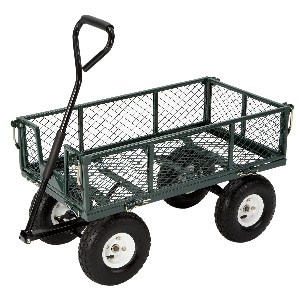 Tricam Farm Ranch Steel Utility Cart
Folding removable sides
10 inch pneumatic all-terrain tires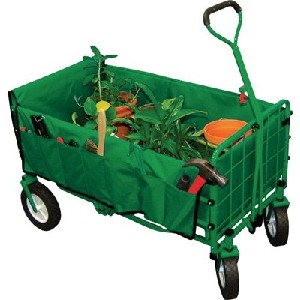 Green Folding Wagon
38″ x 24″ x 21″
Cap. up to 200 pounds
360 degree wheels
Covered Utility Cart Foldable carts with lids

Qube Cart XL
15″ x 17″ x 18″
Folds in seconds
Plastic sides
Capacity: 80 pounds


Quik Cart Hand Cart with Lid
Compact Aluminum with heavy plastic


Deluxe Folding Covered Cart
Compact Closed storage
Folds away easily

Folding Utility Cart Features
Portable, back-saving benefits
Utility carts that you can fold and put away don't take up as much space as full-sized carts or wagons but they do just as reliable a job. If you have small children, you know how difficult it can be to get stuff done around the house or the yard. Keep your hands free for kids by using these fold out carts to move stuff around your house or yard.
They're perfect for campers or for going to the beach. No matter how close you park, you always have to haul a bunch of stuff down to where you'll be spending hours by the water. Use a wagon to bring down your cooler, chairs, snacks, and towels.
Carrying heavy bags of dog food, seed, planting materials or other equipment from garage to yard can be bad for your back. Use heavy duty wagons to do the heavy work and then put them away – out of sight – when you're done.
Some of the best features to look for:
Sides collapse, remove of fold in so that when not in use the cart takes up as little space as possible
Many have pneumatic wheels so that they roll over anything – gravel, grass, door jams, concrete or carpet
Rust proof rubber tires are long-lasting and operate quietly
Sturdy frames support a good amount of weight for multiple uses
Collapsible Quik Cart
See it in action – Video
See how convenient it can be to use a foldable cart for your picnics, shopping, yard work – even trips to the beach!
Grocery or Garden Carts
How to Choose
Collapsible grocery carts are slightly different in shape than the wagon style folding carts used for outdoor and garden work. Each style serves a purpose and has their own benefits. How do you choose which is right for you?
Consider the following:
Will you store the cart in your car at any time?
What are the largest items you foresee having to transport?
What style handle will fit you best?
Do you need a covered cart or not?
What kind of lining, if any , will last longer based on your intended use?
How much interior capacity do you need?
Don't be surprised if, after you have one, you find yourself ordering a few more for other purposes or to give as gifts to family and friends. This is one of those things you don't realize how much you'll use it until you have it!
Most people buy a folding utility cart with one use in mind and then find hundreds of other uses they hadn't imagined. The next time your spouse asks for help bringing in the groceries or your neighbor asks for help hauling in a load of wood, grab the cart!