**This post may contain affiliate links for products I recommend. If you click a link and buy something I may receive some compensation. This does not change the price you would pay.**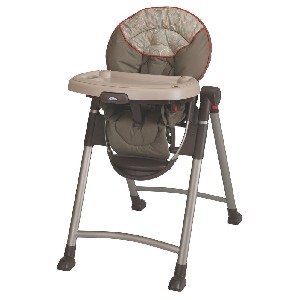 One mom – me – scoped out the best folding high chair and deals in an effort to find one that's easy to use, will last a long time, and will work with me rather than fight me. Being a parent is hard enough without having to deal with baby gear that takes up too much room, requires a degree in engineering to operate or takes hours to really clean.
My biggest decisions had to do with the features and material that would be most beneficial. There are options for wheels, plastic and metal vs wood, and fabric vs plastic seat covers.
While I was at it, it made sense to point out some of the best models that might work better for other parents since we all have different floor types, requirements and budgets.

Folding High Chair with Wheels
The best selling Folding High Chairs with Wheels
The very first high chair we had was a hand me down. It didn't fold but it was on wheels and I really enjoyed that feature. We had a decent sized kitchen and eating area in our town home at the time but the best position for feeding my son was to have the chair right in the walk way between the two areas. I loved being able to just push the chair over to the corner with my foot when we were done because of the wheels.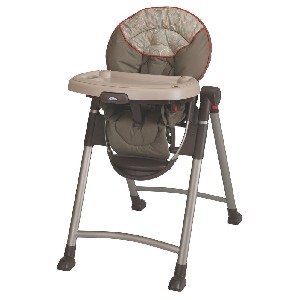 Graco Contempo Folding High Chair with Wheels
My #1 Choice
Removable tray, tray insert, locking casters and slim design
(Click image to read product specs)
Besides a price I thought was very reasonable, this high chair has a couple of features that I really liked. The tray has a little cup holder spot, the tray has an insert that fits inside the main tray so that when you're done feeding your child you can remove just the insert and they'll still have a spot in front of them to play on while you're cleaning up.
Folded, the unit is only 8 1/2 inches wide with the tray attached. That's about the same width as my mouse pad. The way the legs are shaped, it easily stands on its own so you can put it against the wall without leaning it against something or store it in a closet.
There are six different seat positions, you can push a button above the casters with your foot to lock them so the high chair stays in place, the seat pad can be thrown in the washing machine and the tray insert is dishwasher safe.
Because my family is always passing baby items from one household to another and you never know what gender is going to use it next, I try to stick with gender-neutral tones and I thought this one would work well for either a boy or a girl but would still look really good with the black fabric on my dining room chairs.
There were a number of other folding high chairs with wheels that made my cut and I've listed those below.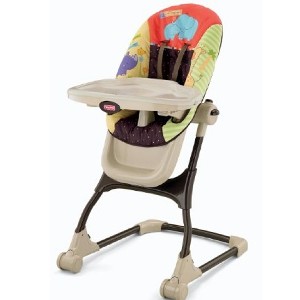 Fisher-Price EZ Clean Folding High Chair with Wheels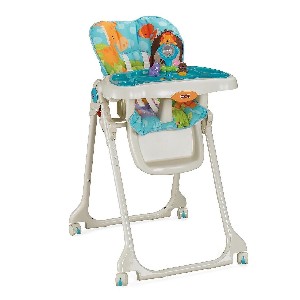 Fisher-Price Precious Planet Sky Blue Folding Wheeled High Chair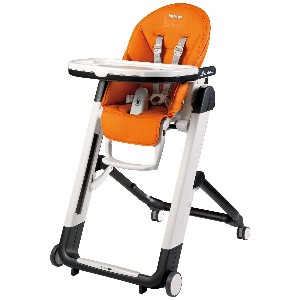 Peg Perego Siesta Folding Infant Highchair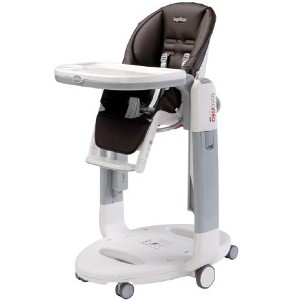 Peg Perego Tatamia Fold Up High Chair with Casters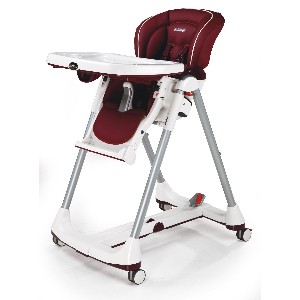 Peg Perego Prima Pappa Best High Chair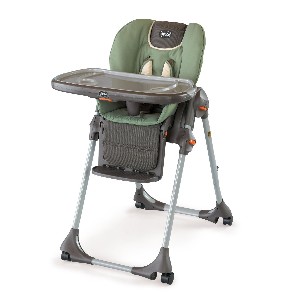 Chicco Polly Double Pad Fabric Portable Highchair
Wooden Folding High Chair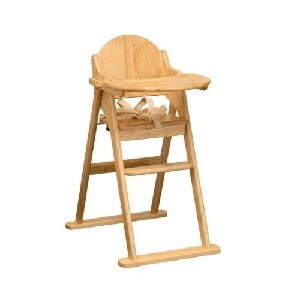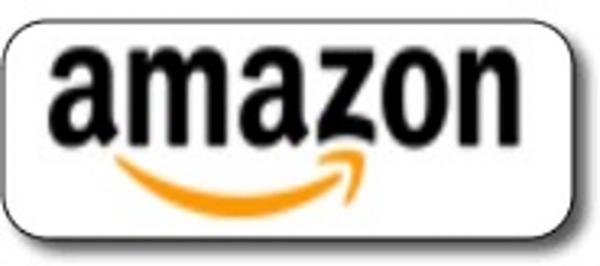 This is just like the high chairs restaurants use. It's simple, compact, easy to clean and there's no fabric to wash.
It's a sturdy chair for toddlers, easily stored at a relative's house or can go back and forth to the babysitter's.
Folding High Chair Overview and Information
High chairs play many roles in your child's meal time experience. Meal time is when we learn many skills and learn from each other about manners and safety. We also build relationships with each other during meal time socialization.
Provide your child with a safe place to practice eating skills
Keep your child at eye level with the rest of the family to engage in meal time socialization
Be within arms reach if your child has difficulty needing your attention
Give your child eye view of everyone at the table for table manners examples
See Why They're So Convenient
How To Choose the Right Compact High Chair
Many of the features you will want to check for when making the decision about which high chair to purchase are listed below. The objectives span a variety of topics such as safety, your child's enjoyment, meal time socialization skills, building relationships, and meal time skills. There are a few other items to consider such as portability and storage options.
Consider the following:
Will your child be safe? The chair should meet your child's age as well as developmental skills
Will the chair be cleanable (is tray dishwasher safe, can the seat cover be washed?)
Is the unit free standing or will it need a chair or table to hold it?
Is the high chair portable?
When folded, how much space will it need to be stored out of the way?
Is the unit durable
Will the child grow out of it quickly? — Will it convert to a toddler chair?
How many points on the harness? Infants should have at least a five point harness, while toddlers my do well with a three point harness system.
Is the unit a dual tray system? One tray is usually dishwasher safe and the bottom tray is for durability.
The right high chair will provide your child with a safe place to practice meal time skills and get to know other members of the family. Meal time socialization is key to a lifetime of healthy meal time habits and overall health.