**This post may contain affiliate links for products I recommend. If you click a link and buy something I may receive some compensation. This does not change the price you would pay.**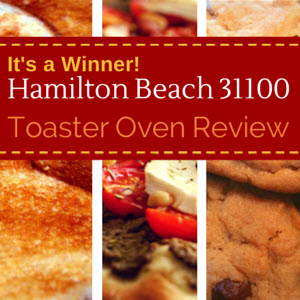 It may look simple and uncomplicated (and it is) but in this Hamilton Beach 31100 toaster oven review you'll find out why it's one of the best mid-range options you can buy.
It earned high marks after an in depth comparison of 30 models and analysis of hundreds of user ratings. It's a powerful combination of features for providing flexibility in the kitchen as well as faster cooking times.
Not that it's perfect – there are a few things I wish it had but the pros far outweigh the cons. Let me show you why this knob-controlled model outperforms many of the more upscale, digital convection ovens.

Table of Contents: Features & Capacity / Included Accessories / Consumer Reviews / Best Deal / Great for Cookies / Available in Stainless Steel / Compatible Cookware
Features and Capacity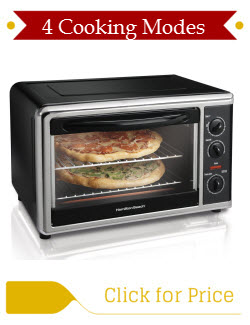 Interior dimensions: 14.125 inches wide, 13.25 inches deep and 9.25 inches tall (this is just over a cubic foot of space)
Exterior dimensions: 20.75 inches wide, 17.5 inches deep, and 12.5 inches tall
Bake (without convection), Convection, Broil, and Rotisserie functions
120 minute max timer with audible alert and auto shut-off
Max temperature: 450 degrees with knob control for fine-tuning
Two interior racks that can be used at the same time
Operates at a max of 1500 watts
Non-stick interior
Included Accessories
2 wire racks with adjustable settings for four different height options
1 baking pan
1 drip tray
Removable crumb tray (to catch those bread crumbs)
Full rotisserie with spear
Consumer Reviews, Pros, and Cons
Consumer ratings are strong. It has lots of online comments from users who have had a great experience with this model.
Here's what consumers loved best:
It has a LARGE interior – Comparable models in this price range had less space (even ones that were labeled "large capacity"). The interior is even bigger than 2 of the most popular counter top convection ovens.
No hot and cold spots – There is a consistently even temperature throughout with the convection cooking option. It doesn't matter if your tray is on the top or the bottom through the entire baking cycle, your food will be evenly heated.
Good light or dark toast control – Because you can adjust the temperature in very small increments you have more flexible options for controlling the darkness of toasted bread or bagels.
Cooks more at one time – Reviews show that people truly enjoyed the two rack option and that it was a big help in cooking more foods in a shorter amount of time. Combined with their regular oven, holiday cooking was much easier and they were able to serve more hot dishes at once.
Rotisserie – does a great job with crispy exterior and juicy interior.
Okay, now for the negatives. There are a couple of things that could be better:
No interior light
While it will hold not one, but two, 9 x 13 dishes, they can't have any handles on them. Same with cookie sheets. Sometimes this means having to shop around to get more pieces that will fit inside but it does come with one tray to get you started.
Comes with a two prong cord instead of a 3 prong cord.
Where to Get the Best Deal
Right now the best deal is Walmart's price on the Hamilton Beach 31100 toaster oven. They have it listed for the same price this model went for almost two years ago.
However, comparison shop Amazon's price on the 31100 to be safe. They're currently higher but the two have been known to compete heavily against each other – especially during the holidays.
This model continues to rank at the top of my list of the best toaster ovens under $100.
Best Toaster Oven for Cookies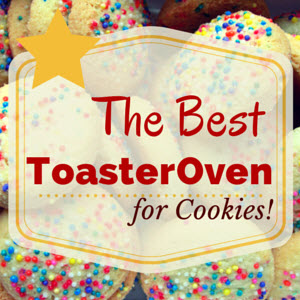 Want the best toaster oven for cookies? This one fits the bill. Four features combine for faster, more even baking: convection cooking for evenness and speed; generous interior for larger cookie sheets; better temperature control; and two racks so you can bake two trays at once.
Around the holidays, you can give this thing a massive workout and it will keep up without a hitch.
Once you try it, you'll find your regular oven might get a little jealous.
Features Perfect for Baking
While toaster ovens are more capable today than ever, there are certain features that work better for baking than for cooking and the Hamilton Beach 31100 has them all. Here's my complete list.
No more switching cookie trays from the upper and lower racks halfway through
Shorter baking times if convection feature is used
Can use the Bake function without convection for softer cookies
Better temperature control than digital so if you find that you need to set it for 355 degrees to get perfectly golden-brown cookies, you can
Different cookie recipes will benefit from convection cooking while others will do better with the regular baking function. Having the ability to choose one function or another plus the finer temperature settings you can choose means you have full control over the outcome and can get cookies soft or crispy according to your personal preference.
Want Stainless Steel Instead of Black?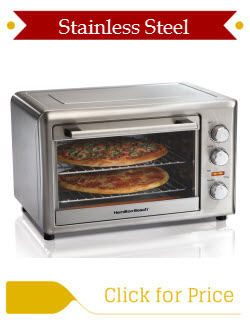 For all of you who prefer stainless steel for all of your appliances, you'll be pleased to know that the Hamilton Beach 31103 Convection Toaster Oven is identical in size and features to the 31100 and is stainless steel.
Of course, that means it costs more, too – about $30. You do get the same quality performance and all the included accessories.
I think it looks much more modern, too! That must have to do with the slight detail changes like the straight, bar handle instead of the curved one on the 31100 and the found, stand-out dials instead of the sort of old-fashioned knobs on the other model.
Compatible Cookware and Cookie Sheet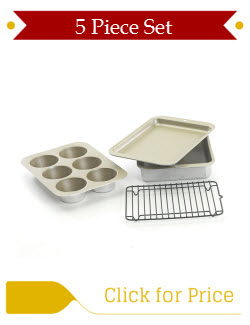 There are some special requirements for bakeware that is compatible with any toaster oven. Rule #1 is that you can't use glass because it will shatter.
Size of the bakeware is the next challenge. For cookie sheets, you need 9 x 13 at the most and they should have shallow (or no) sides in order to allow the air to flow around the food during convection cooking. The sheets can't have handles at the end as that will make them too big to fit inside. Unfortunately, this is a difficult size to find. You'll get one small baking pan with the Hamilton Beach 31100 toaster oven but it's not exactly a cookie sheet.
This set by Nordic Ware works nicely. It includes a 7 x 10 inch baking sheet, one casserole pan (with plastic lid), one muffin pan , and a broiler.
The pieces have a non-stick coating and are designed for use with toaster ovens.
All in all, the 31100 is a great value with lots of features beyond just making great toast.