**This post may contain affiliate links for products I recommend. If you click a link and buy something I may receive some compensation. This does not change the price you would pay.**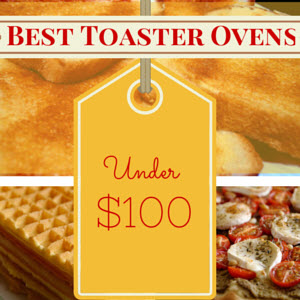 After hunting, reading and researching, I put together the definitive list of the 5 best toaster ovens under $100.
I was amazed at how difficult it was to gather this information but in order to choose the model I thought would serve my family most efficiently, it seemed it had to be done.
Once done, it made sense to share it online so no one else would have to scrounge around for the facts necessary to compare these models side by side. Here's hoping this list helps you choose wisely, too!
(Updated October 2014)

TABLE OF CONTENTS: Model with Largest Interior (Black) / Model with Digital Controls / Model with Interior Light / Non-Convection Model / Model with Largest Interior (Stainless) / Side by Side Comparison Chart / Convection vs Non / Digital vs Knob Dials / Research Process
Hamilton Beach 31100 Convection Toaster Oven Under $100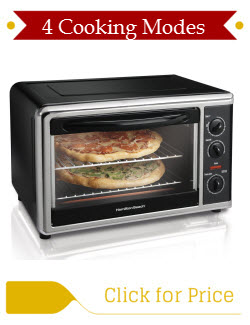 One thing became very clear as I was researching toaster ovens and that was that the interior dimensions are even more important than the exterior dimensions. The more space you have inside, the more flexible the oven is and the more different kinds of cooking and baking you can do.
The Hamilton Beach 31100 gets a boost because not only is it reasonably priced at under $100 but it comes with two racks set up in such a way that you can use both at once. This means you can do more cooking in less time.
The combination of broiling, convection oven, rotisserie, strong consumer ratings, interior dimensions, and dials which let you set the temperature just where you need are what place this number one on my list.
Pros – Here's Where it Excels
Consumer Rating – Consistent 4+ star ratings online
Price – While it's not the cheapest on the list, it has more features and space so you get more for your money
Interior Dimensions – Largest interior space at 1.0 cubic feet which means you can do larger pieces of meat on the rotisserie than with the other models (except the 31103 which is identical except for the stainless steel finish)
More Cooking Types – Can broil, is a convection oven and includes rotisserie accessories
Temperature Controls – Uses dials which means you have ultimate control over the setting and are not limited to digital settings that only allow 25 or 50 degree increments
Timer – Has a built in timer with a full two hour (120 minute) maximum setting
More Rack Positions – You have four different rack positions so you can fit more of your existing pans and dishes
More Accessories – More value for your money with more included accessories
Cons – Things to Keep in Mind
These few things could have been better and this is where it didn't rank so well against the other models:
Total Weight – This and it's stainless steel twin, the 31103, are the heaviest models on the list and weigh a full 5 pounds more than the next heaviest model on the list
Toast Shade Adjustment – There is no way to push "lighter" or "darker" for toast. You have to rely on the timer and find the time that gets the toast just the way you want it.
Cord – It comes with a two prong cord rather than three. While this is compatible with the 3 prong outlets in most modern homes, it means the unit will not be grounded when plugged in which poses a slight risk of electrical shock. However, if you live in an older home with only two prong outlets, a unit with a two pronged plug means you won't have to rewire anything or find an adapter in order to use this in your kitchen.
Black & Decker CTO7100B Toast-R-Oven and Rotisserie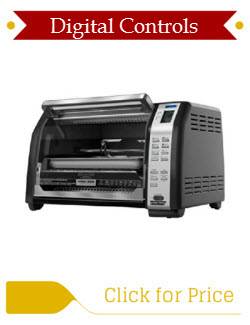 While the Black & Decker is still under $100 it costs nearly as much as the #1 model but makes up for the difference in features by having the best digital control set up with more pre-programmed settings than most. The buttons are easy to read and responsive to your touch without much effort. Some digital panels are overly complicated but not this one.
The Black & Decker CTO7100B Toast-R-Oven is a convection oven with rotisserie capabilities and can handle baking, cooking, and simple jobs like toasting your favorite snacks.
Because the Black & Decker CTO7100B Toast-R-Oven is digital instead of dial controlled, it's important to understand that you are limited to setting temperatures in 25 degree increments. You can set the temperature for 350 degrees but not for 340. Since most baking and cooking temperatures end with 00 or 50, this shouldn't be a huge issue for most people.
Pros – Features Reviewers Love
What makes the CTO7100B number two on the list? Here are its strengths:
Consumer Ratings – Tied with one other model for the best average consumer ratings online.
Easy to Use Control Panel – Has the easiest set of digital controls with more pre-programmed settings than the other digital models on the list: Toast, Bagel, Bake, Broil, Cookies, Pizza, Frozen Snacks and Potato. Older children could learn to use this one pretty easily.
Interior Dimensions – While it has 25% less interior space than the #1 ranked oven, it still makes good use of interior space and can handle 6 pieces of toast at a time, a 12″ pizza, or a 9×13 casserole dish.
More Cooking Types – Can broil, has a convection setting and functions as a rotisserie for whole birds or large cuts of meat
Toast Shading Control – Has a specific setting for toast and you can adjust the shade to lighter or darker with the push of a button.
Timer – Has a built in timer with a full two hour (120 minute) maximum setting
Cons – Things to know
Temperature Control – You can only set the temperature between 200 and 450 degrees in 25 degree increments – no more, no less.
Oster TSSTTVMNDG Digital Large Capacity Toaster Oven Review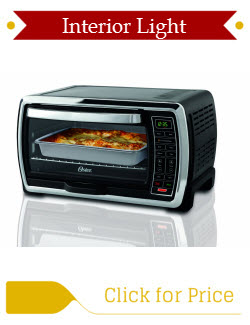 They may have called it a "Large Capacity" toaster oven but that's a bit misleading. It's neither the largest outside nor inside – but it does have the second largest interior space of the models on the list so I've forgiven them.
What really makes this one stand out, though, is that the Oster TSSTTVMNDG has an interior light – something none of the others have. If you are going to do a lot of baking and need to check on the look of your cakes and cookies without having to open the door, this is the ideal choice.
I'm not the only one who likes the Oster TSSTTVMNDG Toaster Oven. It had the second highest number of ratings online with a very positive average score. It also won a product award in 2011 so it's no slouch, for sure. It has a nice, clean design and looks good in any kitchen.
Pros – A Lot to Love
The Oster TSSTTVMNDG makes the cut for having the following features:
Consumer Ratings – Has over 1500 online reviews with an average score greater than 4 – always nice to know that other buyers are having a good experience with a product.
Interior Light – You'd think we were asking for the world here but there are very few models that have a light on the inside of the toaster oven. This is the only such model on my list. Maybe manufacturers think we don't need to see what's going on in there but more serious cooks who are going to use every feature of this machine may appreciate this feature.
Interior Dimensions – Second largest interior space (behind the 31100 and the 31103) so still handles 6 pieces of toast, a 12″ diameter pizza and a 9×13 baking dish.
Convection Oven – Handles toast and broiling but is also a convection oven for faster cooking in place of your regular oven.
Toast Shading Control – Change the setting like on a toaster from lighter to darker to get it just right.
Cons – What to Know Before You Buy
It didn't make #1 for the following reasons which you'll want to keep in mind:
Timer – The timer only goes up to 90 minutes and not two hours which will be okay for most people but something you should be aware of when comparing to the others.
Temperature Control – Limited to only selecting temperatures in 25 degree increments.
Fewer Rack Positions – Still flexible with 3 different positions for the rack inside but not quite as flexible as the two models that rank higher.
Cuisinart TOB-40 Custom Classic Toaster Oven & Broiler at Under $100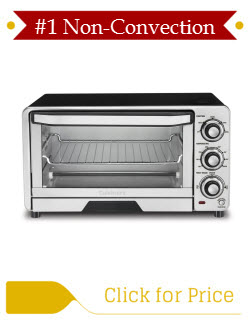 Anyone who appreciates the look of fine kitchen appliances will recognize even from a small picture of the Cuisinart TOB-40 that this is one gorgeous toaster oven.
It's sleek, shiny stainless steel and looks ready to do anything you need.
This is the only toaster oven on the list that is NOT a convection oven. It's just (but not really just) a toaster oven. It the best non-convection toaster oven out of all the under $100 models I reviewed.
The Cuisinart TOB-40 has the highest number of ratings online with the highest average score. It has a beautiful, modern design and looks good in any kitchen.
Pros – Best Features
The Cuisinart TOB-40 has several features that make it worth consideration:
Consumer Ratings – Has the most online reviews with 4+ star ratings than any other model that made the initial list.
Full Range of Temperature Settings – You have more control over the temperature setting by positioning the dial just where you want. You can adjust up or down in small increments.
Toast Shade Adjustment – Many of the toaster ovens with dials don't have a toast shade adjustment for lighter or darker so you're required to find just the right time setting for each person's preference. Not the case with the Cuisinart. It has a dial specifically for toast.
Auto Eject Racks – When you open the door, the rack pops forward so that you don't have to reach inside to retrieve your food. Much less chance you'll touch something hot by mistake and easier to get the food out when it's done.
Price – Two years ago this model cost more than most of the others on the list but it has since come down in price and is now the cheapest on the list.
Cons – Didn't Hold Up in These Areas
It didn't compare as well as the others in these categories:
Not a Convection Oven – That isn't really a negative. Sometimes you just really want a regular toaster oven that does a great job and this one meets those requirements. If convection is a must and you like the look and quality of Cuisinart, the TOB-195 model – while pricier – deserves a look.
Interior Dimensions – Has the smallest interior space of all the top 5 models with just .4 cubic feet. This means you can't use a 9×13 casserole dish but, instead, need just the right 9×11 dish.
Watts – Highest watts of all five models which means power consumption may be greater. Now, this coupled with a smaller interior should mean shorter cooking times which could balance out the power usage.
Fewer Rack Positions – With a smaller inside, you don't have as many options for rack settings and the Cuisinart has just 3.
Hamilton Beach 31103 Convection and Rotisserie Toaster Oven Review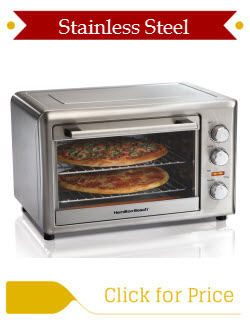 Hold it – this one looks a little familiar, doesn't it? That's because it's identical to the #1 product on the list – the Hamilton Beach 31100. The only difference is that this one is in stainless steel instead of black.
So, if it's identical in features and has the largest interior, why isn't it tied for #2? Because this model costs more than the black model and is the most expensive option on the list. If you want this color to match other appliances, it's only about $10 extra and you still get all the great performance.
The Hamilton Beach 31103 Convection Toaster Oven is a top performer, has high ratings, and the most space inside. The dual rack feature means you can cook more food all at once so it's perfect for larger families or those who like to entertain.
To read the pluses and minuses of the 31103, follow this link back up to the description for the 31100 toaster oven:
Compare Toaster Oven Features Side by Side
This very detailed chart shows the interior dimensions, exterior dimensions, features, and accessories of all five toaster ovens so you can see how they compare at each point including: compatible baking dish sizes, temperature range, watts, and outlet type.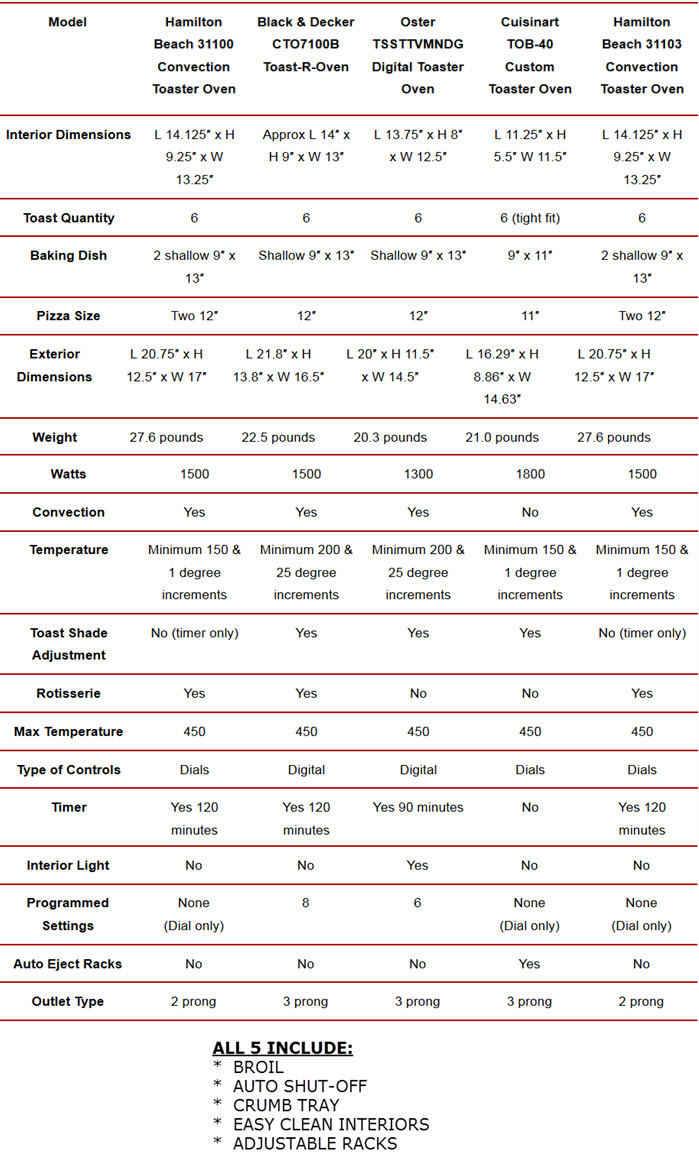 Convection vs Non-Convection
For years now, I've seen the cooking directions on boxes that say "For a convection oven…" and "For conventional ovens…". I knew I had a conventional oven so I'd ignore the other set completely. Every now and then, I'd wonder who the heck had a convection oven and what is it? Was I missing out?
Turns out, I was. Convection heating is an upgrade to regular ovens. It uses a fan at the back of the unit that cycles the hot air in and around the food which ensures an even cooking temperature no matter where the food is positioned. As a result of more air being circulated and the even heat distribution, cooking times are an estimated 25% faster. No sneaky microwaves are nuking your food. It's just a fan blowing the hot air around – much like the fan in my bedroom in the middle of summer here in Phoenix.
This is why the Hamilton Beach toaster ovens can stack two pizzas, two casserole dishes, or two trays of cookies at the same time and yet get them all done perfectly. In my regular oven, if I try to use both racks I have to switch the food around half way through the cooking time.
So, if you're going to buy a toaster oven anyway and you can get one with convection heating for less than $100, then you'll find you can get more done than just toast. It's highly likely you'll find yourself gradually using your range less and the counter top model even more.
This video gives you some tips for using a convection oven.
Choosing Between Digital and Dials
Who doesn't love digital these days? Cool LED screens and push button controls. We love them on our phones, our bathroom scales, and our home security systems.
On a toaster oven, though, most digital choices have one drawback. When you push the up or down button to change the temperature, it only goes up or down in increments of 25 degrees. If the minimum setting is 200 and you push the arrow to increase the temperature, the next setting would be 225 degrees. You can't set it for 210.
This isn't a flaw. In the past two years of preparing family meals, I can't think of a single time I had to set the oven for something that wasn't divisible by 25. My meatloaf is 350, my casserole is 350, heating up frozen foods is 400 or 450. I'd be just fine with increments of 25.
However, there are people who need the option to get their temperature at the perfect setting for the type of area they live in or for certain foods they cook on a regular basis. If you think you need that level of control, choose a model with dials. For most people, the digital models will work just fine.
Another point to consider between the two control types is whether or not anyone in the house has difficulty grabbing small knobs. Things like arthritis and carpal tunnel might affect grip. If that's the case in your household, buttons might be a better choice.
I mentioned I might show you the spreadsheet I used to gather my information and here it is – just a quarter of it, actually!
My Research and Review Process on the Top Toaster Ovens that Cost Less than $100
After watching my mother-in-law make excellent use of her toaster oven during a family gathering, I decided we needed one for our house, too.
I thought it would be so easy to pick one but that was actually quite difficult. Watts, timers, interior space, prong types – did I need convection or not? I'd find what looked like a good choice only to discover that it was missing something I thought was important or didn't have good ratings from other users. Some product descriptions were missing key pieces of information which made comparing them even more complicated.
So, the analytical nerd that I am, I created a spreadsheet. I developed a list of the most important features, found the 30 most popular models online and started hunting down the facts for every one of the 30 models. I assigned a weight to each of the factors, scored the products, and calculated the results.
Performance and flexibility were rolled in by considering how the combination of features for each model determined the kinds of cooking each could handle.
Finally, I read thousands of reviews online to find all those niggling kinds of things that were either praised by consumers or that were found bothersome.
The data was tallied and resulted in these top 5 toaster ovens that all cost under $100.