**This post may contain affiliate links for products I recommend. If you click a link and buy something I may receive some compensation. This does not change the price you would pay.**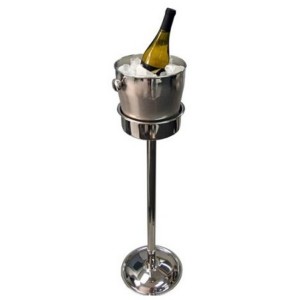 Just like a fancy hotel, an ice bucket with stand for your bar or kitchen is great for entertaining. You can use them inside or out to chill a bottle of wine, champagne, or even your pitcher of iced tea.

When you're preparing a formal dinner at home, the last thing you want to do is get up and down repeatedly to fill wine glasses during the meal. Keep the stand near you and you can simply pass the bottle around without worrying that it's become too warm.
Stainless Steel Ice Bucket with Stand
A stainless steel ice bucket on a stand next to your elegantly set dining table is one of those special touches that crank your event up a notch. Keep your favorite chilled wine right nearby for guests whether you're serving a party of two or a larger group.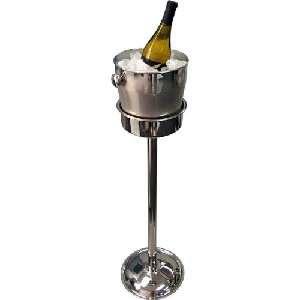 Wine Bucket with Pipe Style Stand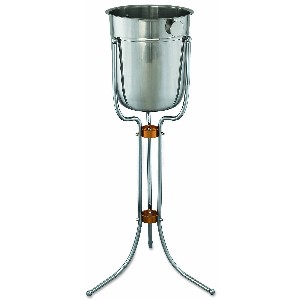 Alegacy Chafer Bucket & Stand #6950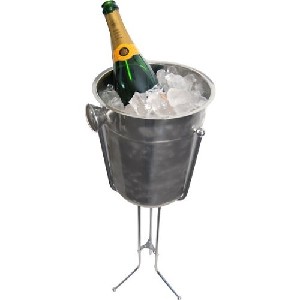 Champagne & Wine Bucket with Stand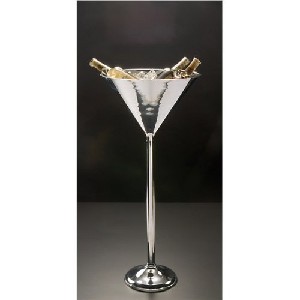 American Metalcraft WBSM42
(Each)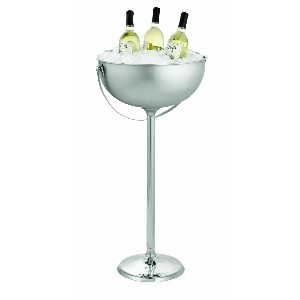 Round Beverage Stand with Handle


Copper Ice Bucket and Matching Stand
Copper ice tubs are pretty just by the nature of the color of the metal. You can use these indoors or outside on the patio for a barbecue or something more formal. They're flexible in that they'll look great whether filled with beers and sodas or set out with bottles of champagne and trimmed with some greenery for a wine tasting party.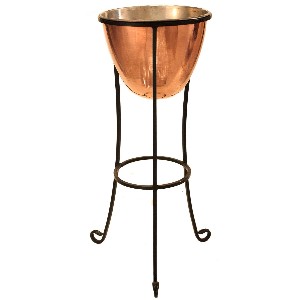 Solid Copper Champagne Cooler with Wrought Iron Stand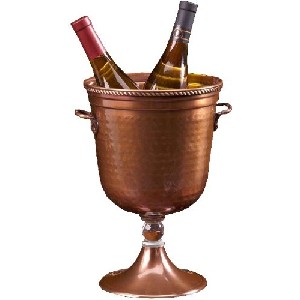 Shastra 13-Inch Copper Champagne Cooler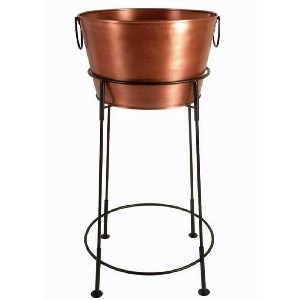 Beverage Tub with Stand in Copper Finish


Using an Ice Bucket to Chill a Champagne Bottle
Did you know that you can prepare an ice bucket so that it will keep your bottles colder for longer? Follow these tips to get the best chill.

Ice Party Tubs on Stands
A party needs one thing most of all in order to be a success – cold drinks. Large party tubs set around your backyard patio or inside and out of the way of the kitchen invite guests to grab what they need without having to find someone to ask for a refill.

Oakland Living 91002-BK Stainless Steel Ice Bucket Outdoor Cooler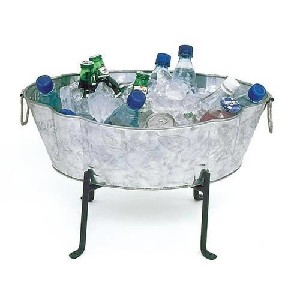 Achla Designs C-52 Embossed Galvanized Tub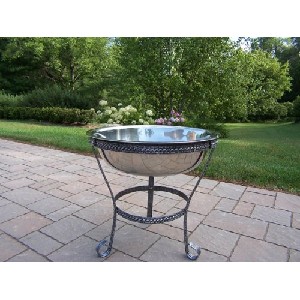 Stainless Steel Standing Bucket or Fire Pit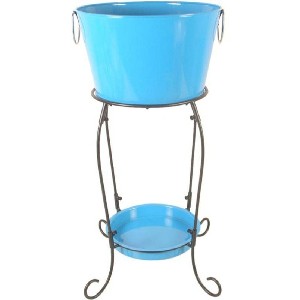 Blue Beverage Tub with Stand and Tray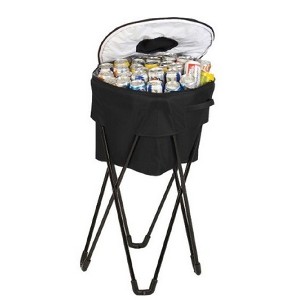 Collapsible Barrel Cooler with Stand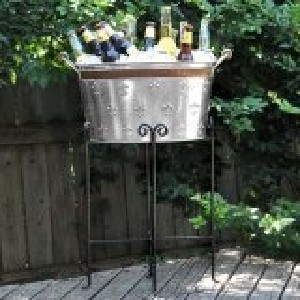 Fleur De Lis Tin Beverage Tub and Stand


Ice Buckets with Stands and Trays
Sometimes an ice bucket isn't enough – you need space to make mixed drinks or trays to hold glasses and more bottles. In those cases, using a beverage cart on a wheeled stand gives you lots more storage to work with. These don't come with an ice bucket but you can choose any number of styles and keep it stored with the beverage center so it's available when needed.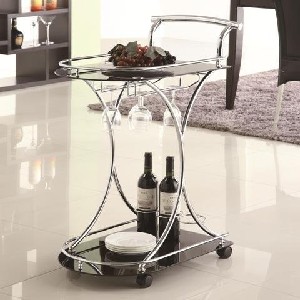 Beverage Server Cart on Wheels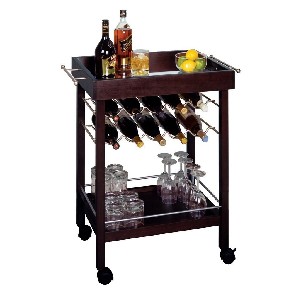 Mini Bar Cart Stand with Wine Rack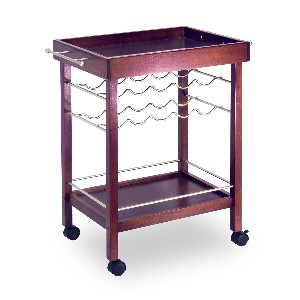 Winsome Wood Bar Tray Cart Espresso Finish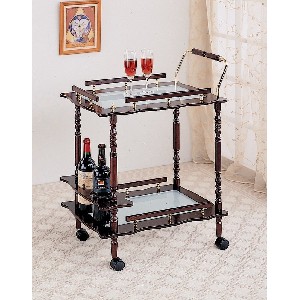 Serving Cart in Cherry Coaster


LED Light Up Color Changing Ice Bucket
This one isn't on a stand but it's so cool, how could you not take a peek? There are lights and colors built into the LED ice bucket. For evening parties, it'll add a great, glowing ambiance.