**This post may contain affiliate links for products I recommend. If you click a link and buy something I may receive some compensation. This does not change the price you would pay.**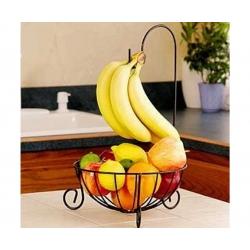 If you like to set your fruit out on the counter, use a fruit bowl with hanger like these to keep things tidy and free up space. They're less likely to get bruised and crushed by surrounding apples and they look pretty neat hanging there ready to pick and eat.
There are so many different bowls that finding one to match your kitchen shouldn't be a challenge at all. The ones below are my favorites.

Wire Fruit Bowls with Banana Hanger Hooks
Wire fruit bowls let more of the fruit inside show through so I think that adds more color to your kitchen. There's not a benefit outside of that as compared to using a regular bowl but the colors and display look so pretty as you can see from the samples below.
Before getting a wire fruit bowl that had a curved arch hook for my bananas for my kitchen counter, I used a regular bowl, put the heavy fruit on the bottom and just placed the bananas on top. The problem is you could never see what was under the bananas so the apples and other fruits underneath usually just sat until they spoiled. My kids can readily see what's available this way and they eat more of them as a result all while keeping my bananas from getting bruised.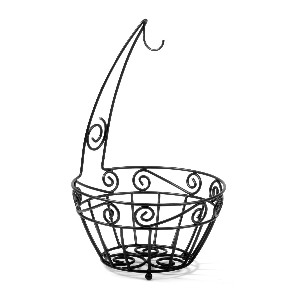 Spectrum 39210 Scroll Fruit Tree, Black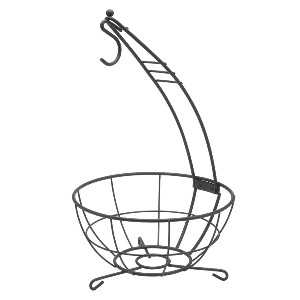 Kamenstein Fruit Basket and Banana Hanger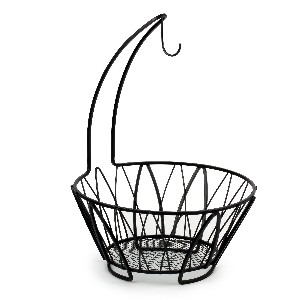 Spectrum 91610 Twist Fruit Tree, Black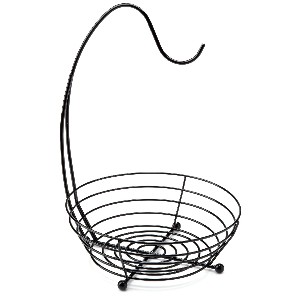 Taymor Black Basket Banana Holder



Vanderbilt Home Black Chrome Banana Tree Fruit Basket


Keep Bananas From Bruising
The purpose of a banana hook is to keep the peel from resting against something which can increase the amount and rate of bruising you see on the outside. If your kids are picky about the color of the outside of their banana, keeping them hung where they won't be squashed by other fruit will help them stay less blemished on the outside.

Double Hook Banana Hanger with Fruit Platter
I watch a lot of the afternoon TV shows on the Disney channel. I blame it on my kids but it's really because I enjoy the shows. About the time Sesame Street was discussing not having Cookie Monster eat so many cookies in an effort to help kids make better eating choices, Disney also started having the kids on their television shows eat more healthy snacks. First Lady Obama has even starred in one of the commercials where she works with a few kids showing them how to eat better.
My youngest son was very sensitive to this change and suggested we have more fruit and vegetables in the house for him to snack on. As soon as he started eating more of them, so did his two older brothers. This fruit bowl and banana hook combination is perfect for displaying a greater amount of fruit with less chance for it to be squashed than some of the other designs.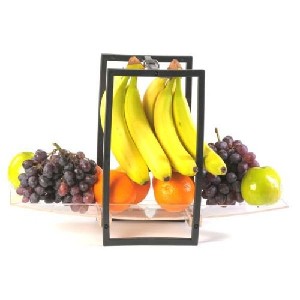 Zojila Andalusia Fruit and Banana Holder
Pretty Display for Bananas and Grapes
Two banana hooks and a platter style tray for fruit
(Click image to read product specs)
In a regular bowl, some fruit is going to end up sitting on other fruit. This is more of a tray and has more room than a bowl. All the fruit gets a chance to breath, so to speak. The added advantage is that it makes a great display for parties. When we have a barbecue, I hang grapes from the top and put sliced fruit on the tray.
The tray is removable and easy to wash.
Chrome Wire Fruit Bowl with Banana Hook
I have a friend whose kitchen is one of those that you swear you only see in magazines. Every appliance is stainless steel, he has a commercial, double glass door refrigerator, an island the size of my kitchen and a commercial garbage compactor.
Everything he puts on his counters (black marble, of course) must be stainless steel so he has a chrome banana hook and bowl in a spiral pattern that fits perfectly with his other decor.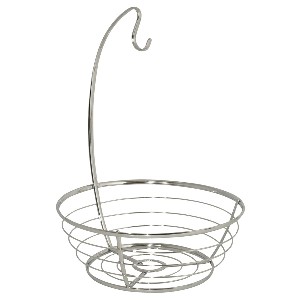 InterDesign Axis Fruit Bowl with Banana Hanger, Chrome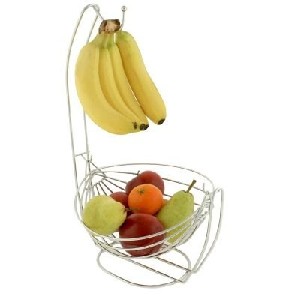 Kitchen Fruit Basket Bowl and Banana Hook Combo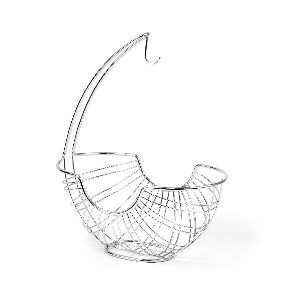 Spectrum 10870 Pantry Works Ellipse Fruit Tree, Chrome


Fruit Bowl with Monkey Shaped Banana Hook
So, there's what's reasonably affordable and then there's what we'd really get if money were no object, isn't there? This is one of those kinds of items.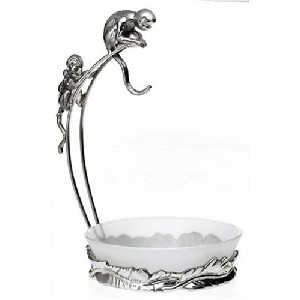 Arthur Court Monkey Banana Holder with Bowl
When the Monkeys Go Bananas
A complete work of art with climbing monkeys, fruit bowl and a banana hook
(Click image to read product specs)
The monkeys are by far my favorite part of this bowl but the elegant design of the base is my second favorite piece.
I can't imagine not getting a smile out of everyone who noticed this on your counter. It's a bit pricey but if you've a think for monkeys, bananas, or a generous wallet it's simply too much fun to overlook.
How to Cut Perfect Banana Slices Every Time
Pretty Display for Bananas and Grapes
Cuts five even slices of bananas with one squeeze
(Click image to read product specs)
I'm a sloppy banana cutter. I try to do it too fast and the slices are all uneven. Not with a tool like this, though! It's super fast and you get perfectly sliced bananas for your fruit salad.
This is also something I feel is safer for my kids to use than trying to use a knife to cut the bananas. Most of the time they just pull them off the banana hook but sometimes they want them on top of their cereal or in their yogurt.