**This post may contain affiliate links for products I recommend. If you click a link and buy something I may receive some compensation. This does not change the price you would pay.**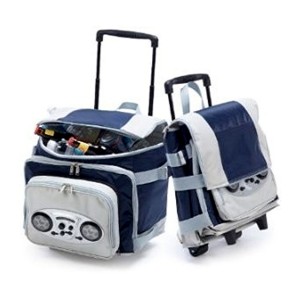 For that next beach party, plan on bringing a cooler with speakers and be the group's mobile DJ with cold drinks and great tunes on the go. You can use these for camping, picnics, hikes or for those days you have to be at your kids' sporting events ALL day.
Rolling Cooler with Speakers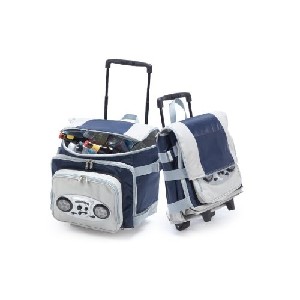 Picnic Plus Cooladio Speaker Cooler
Built in radio
Attach your MP3 or CD player
Holds up to 60 cans
Retractable handle and fold-up design
As a family of five, we have no fewer than five coolers. There's a large one for taking camping or to our in-laws cabin, two medium sized ones for picnics or day trips, two smaller ones for kids sporting events and at least one backpack style for hiking or nature walks. What I hate about them is that they take up a lot of space in the garage but that's not an issue with the Picnic Plus. It folds up!
The radio on this one is so-so but the ability to attach your iPod is what makes it so attractive. I'd rather play our own music lists anyway. Some of the places we visit aren't going to have great radio reception anyway.
This is a soft sided cooler with a built in handle that works like those on your carry on luggage. It's leak proof and easy to clean.
Now, Igloo makes a similar model with a hard shell but it costs more than twice the price of this one. You might compare the two to see which one makes the most sense for you.
Backpack Cooler Bag with Speakers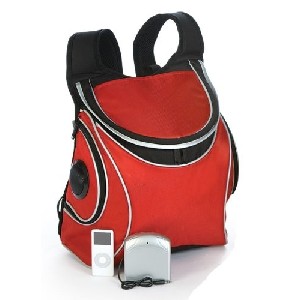 Picnic Plus Cooladio Backpack Cooler with Built-in Speakers
Holds 18 cans
Sturdy straps
Large opening for easy access
Several times a year we head up north to my in-laws cabin. There's no internet, only two channels available on the television, and lots of peace and quiet. There are also a lot of parks, trails, and rivers around the area so we usually venture out for a day trip.
This backpack holds just the right number of water bottles and a few snacks to keep us going until we get back for dinner. It's lightweight, has a nice fit, and doesn't leak on you while you're walking. There's also a port for your MP3 player and included headsets so you can hike while listening to your favorite music.