**This post may contain affiliate links for products I recommend. If you click a link and buy something I may receive some compensation. This does not change the price you would pay.**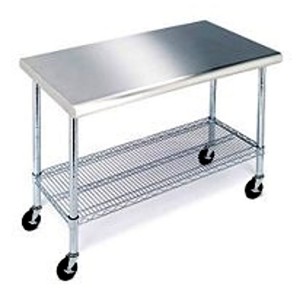 A stainless steel kitchen cart like the ones I found here add to the functionality of your kitchen. If you lack counter space, have to move around too much to prepare large meals, or need a place to park your kitchen tools while you work, having this extra space comes in very handy.
Think ahead – some have different materials for tops (like butcher block) and some come with extra drawer space. Figure out how best you'll be using this in your kitchen and get the style that will fit all your needs.

Stainless Steel Kitchen Carts on Wheels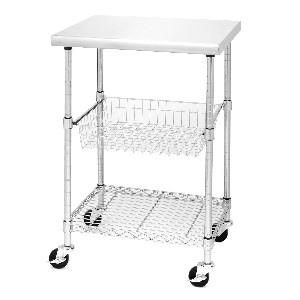 Seville Classics SHE18321 Stainless Steel Kitchen Workstation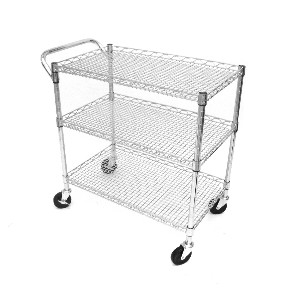 Seville Classics SHE18304 18-Inch by 34-Inch by 33-1/2-Inch Industrial All-Purpose Utility Cart, Chrome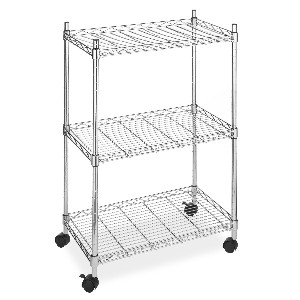 Whitmor 6056-344-N Supreme Cart, Chrome


All Stainless with Drawers or Storage Baskets for the Kitchen
These carts have extra drawers or storage shelves so you can store appliances, spices, or dinnerware. If you always use your island when mixing up pie crust, for example, you might keep your pie tins on the shelf so they're always available just when you need them. Tuck your rolling pin in, too.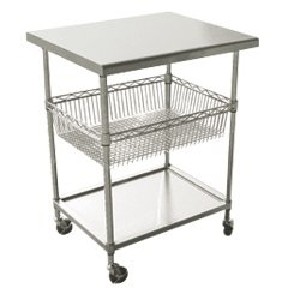 RELIUS SOLUTIONS Stainless Steel Utility Cart with Center Storage Basket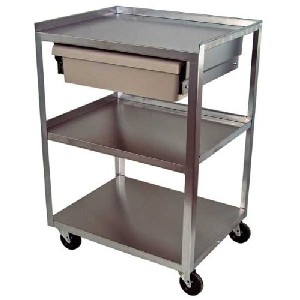 Cart, Stainless Steel with Economy Drawer, Assembled


Black Cart with Modern Detail and Steel Top
Three drawers, one cabinet, and towel racks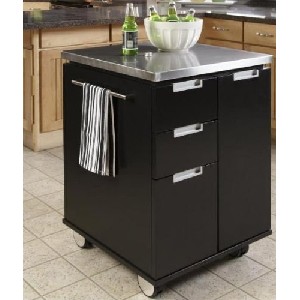 A black kitchen cart might not work for every kitchen but this design is so functional that I can't overlook it. The top is still stainless steel as are the drawer pulls and the towel bar.
The size is compact but large enough to give you extra work space and the storage inside is like adding a whole extra kitchen cabinet to your space.
The door is self closing but convenient supplied with two shelves for large bowls, table linens, pots and pans or those cooking racks that area always looking for a home.
Wood Kitchen Carts with Stainless Steel Tops
These styles have wood bases in a variety of finishes but the tops are made of stainless steel. You get all the benefits of easy cleaning and a finish that stands up to heat and cutting but the beautiful look of real furniture.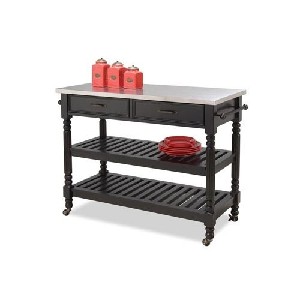 Home Styles 5218-951 Savanna Kitchen Cart, Black Finish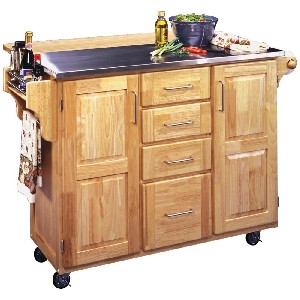 Home Styles 5086-95 Stainless Steel Top Kitchen Cart with Breakfast Bar, Natural Finish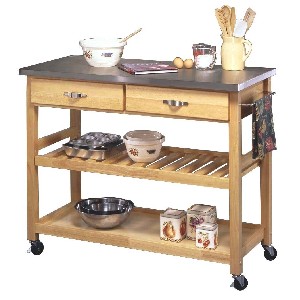 Home Styles Natural Designer Utility Cart with Stainless Steel Top


Cherry Finish Island Cart with Stainless Top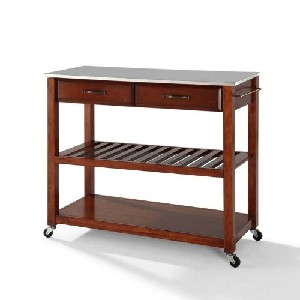 My kitchen cabinets and all of my wood furniture were done in a cherry finish. We have lots of brown, cream and black accents in our home and this finish brings them all together.
I have a buffet cart much like this one but with doors for storage and without the steel top. After seven years I wish I'd gone for the top. Without it, the wood surface is great for knick knacks but not great for added counter space.
White Finish Kitchen Island with Stainless Steel Top
Extra Storage and Locking Wheels


My sister and I are complete opposites in so many ways but we're as close as two sisters could be. While my home is all dark and muted colors, her home is all white and bright colors – colonial blue, copper back splash, rich maroons – she's a paint wizard.
br/>This white cart would work perfectly for her. It's got a lot of functionality and everything is organized so your tools are right at hand. You could use this for food prep or as extra serving space during a party.
There's a spice rack and towel holder at one end, a paper towel holder at the other, two drawers, four doors with shelves, and two of the casters lock so you can keep it from moving around while you work.
Before you choose one, figure out the size that will fit in your space, whether or not you want one that combines wood with a steel top or is all stainless steel and, finally, consider the storage needs for drawers, shelves, or doors. A little planning and you'll find one that makes working in your kitchen a whole lot easier.