**This post may contain affiliate links for products I recommend. If you click a link and buy something I may receive some compensation. This does not change the price you would pay.**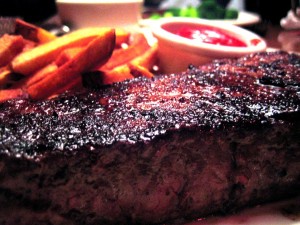 There's nothing like knowing how to cook a New York Strip Steak in your very own home. This steak, one of America's favorites, tempts with its sizzling crust flavored with your choice of seasonings and its melt-in-your-mouth tenderness. Think you can only get a perfect steak like this at a top steakhouse restaurant? Not so.

These simple Instructions for cooking your own New York Strip steak at home will help you prepare an excellent meal. Cooking the perfect New York Strip Steak is easier than you think!
For years, I routinely traveled the country as part of my job. This often involved eating at some of the country's best restaurants and steakhouses. My husband and I even have a favorite out-of-state steakhouse we always visit on our anniversary (partly because the steak is the best and partly because I've never had better whipped sweet potatoes anywhere else! MGM Las Vegas Craftsteak).
Pick any popular steakhouse in the United States and I've probably eaten its steak. There was always one, tiny flaw with this travel perq – I sometimes (most of the time) really wanted these same steak experiences in my own home with my own family. I like the people with whom I do business, but I LOVE my family. I really didn't think I was asking too much in figuring out a way to be able to prepare an awesome steak myself. So, after some trial and error and a lot of research, I am finally able to confidently deliver a great steak at home. Now, I've gathered that information in one place so you, too, can know how to cook a New York Strip steak yourself.
So get ready for one mouth-watering piece of meat….plan a party – or just an intimate dinner for two. It's time for you to master one, great steak.
Photo used under Creative Commons from churl.
Start with the Best Cut of Meat
Understanding USDA grades will help you pick the best steak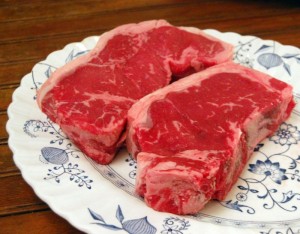 Your first task is to pick the best possible cut of New York Strip Steak you can afford. The United States Department of Agriculture, or USDA, grades meat based on its age and degree of marbling – the white fat found in beef. The younger and more marbled the beef, the better its flavor and texture. Prime, Choice, and Select are the meet cuts available to the general consumer with Prime being the best cut of meat.
Shop carefully. Not all grocery stores carry USDA Prime beef. Look for the actual title of "USDA Prime" and not a lower USDA grade disguised with a brand name. If you can't find Prime at your grocery store, try a local butcher or purchase from a reputable online source. You can get some of the best cuts of meet online and have them delivered to your door often at a discount to your local options.
Look for a New York Strip steak that is at least 1 1/2 inches thick. Steaks thinner than 1 1/2 inches will dry out more easily.
While Choice and Select grade meat can be prepared nicely at home, do not expect them to have quite the same flavor and bite as a steakhouse steak. Knowing how meat is graded, however, can help you find the best cut of these grades. Look for those with the most marbling and test the meat's age by pressing it gently with your finger. The younger the beef, the more tender it will be when pressed.
A strip steak comes from the cut of meat called the short loin, situated next to the tenderloin and top sirloin cuts. It is naturally tender and goes by many names including a Kansas City Strip Steak, strip steak, and shell steak.
Photo used under Creative Commons from ulterior epicure .
How to Pick a New York Strip Steak
Prepare Your New York Strip Steak
Simple Seasoning
It doesn't get any easier than this:
Pull the steaks out of the refrigerator and let them sit on a clean plate or pan for an hour before grilling. An even meat temperature will make for more even cooking.
When the hour is up, rub the New York Strip Steak with cooking oil (do not spray cooking oil on your grill) and follow with salt (kosher is best) and pepper (fresh, cracked). Do not put the seasonings on before the coating of cooking oil as it is believed salt will draw moisture out of the meat. For even more flavor, make a steak rub recipe using your own spices.
A marinade can also be used to add unique character to a steak. If you use a marinade, you should remove the steak from the marinade before letting it come to room temperature. When your steak hits the cooking surface, it will cook more evenly if it is dry. If necessary, dab a paper towel on the top and bottom to sop up any excess liquid.
For the best steak dry rub straight out of a Chicago steakhouse you can buy CharCrust – Seals in the Juices. Their hickory rub is legendary!
How to Cook a New York Strip Steak on the Stove or on a Grill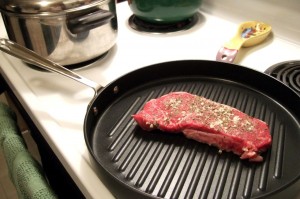 At this point, your meat should be room temperature.
When the meat hits the cooking surface, it will sear more easily and more evenly if the meat is not wet.
How to cook a New York Strip Steak on the Stove Top:
Pre-heat your oven at 400 degrees
Pre-heat a Lodge Logic Pre-Seasoned Grill Pan on your stove top on medium-high for 15 minutes
Place the steak in the pan, wait 5 minutes and flip the steak. You're looking for the outside to become very dark in color, but not charred. This sears the outside of the meat. Sear the second side for five minutes.
Once both sides are seared, put the entire pan in your oven for 10-20 minutes flipping them once half way through. Check the temperature with a meat thermometer or push on the steaks with your finger to sense how well they're cooked. The thickness of your steak plays a significant role here. Press on the steak to determine if it is rare, medium, or well-done. The firmer the meat, the more "done" the steak. Rare will be slightly more firm than when the meat was raw, medium will feel like pressing on the center of your palm, and well-done will feel like pressing on the harder, less fatty parts of your hand.
Remove the steak from the grill, place a half of a tablespoon of butter on each steak and let sit for 5 minutes.
Using the grill pan will give you a great outer crust but letting the meat continue to cook in the oven is what will finish the New York Strip Steak to your desired expectations. I usually use steaks that are about 1 1/2 inches thick. I like my steak rare so I finish mine in the oven for 5 minutes per side. My husband likes his well done so I leave his in longer.
Why a Cast Iron Grill Pan? The grill pan has a ribbed bottom to provide a grill-like cooking environment. Cast iron is a solid, heat-conducting element. Both characteristics are critical when you cook a New York Strip steak on the stove top to ensure even cooking as heat is distributed more easily and thoroughly.
How to cook a New York Strip Steak on the Barbeque
Pre-heat your barbeque on high for at least 15 minutes. High heat – 500-600 degrees – is important for searing the outside of the steak.
Place your steak on the grill, wait 5 minutes and flip the steak to sear the other side for 5 minutes. If you have a lid on your grill, you can close the lid and shorten the time per side to 4 minutes for the searing process. Do not flip more than once.
Once both sides are seared, move the steak to a surface of the grill that is not as hot as the main cooking surface and continue to grill at this lower temperature for another couple of minutes. If you want nice grill cross-marks on your New York Strip steak, make a 1/4 turn half way through the cooking time for each side.
Remove the steak from the grill, place a half of a tablespoon of butter on each steak and let sit for 5 minutes.
If your steak is thicker than 1 inch, you may want to continue cooking it in an oven set at 400 degrees for another 5-10 minutes per side.
Photo used under Creative Commons from noonch.
Best Book about Meat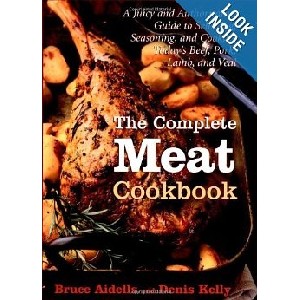 If you're looking for more than a recipe book about steaks, you can't do better than The Complete Meat Cookbook.
Referred to by readers as "The Meat Bible", topics cover cuts of meat, how to choose the best meats, and how to cook different cuts of meat for the best flavor.
It covers beef, pork, veal and lamb and includes a seasoning chart, as well.
Best Steak Knives
The one thing I was missing even after I figured out how to cook a New York strip steak? A good set of steak knives.
The J.A. Henckels International Stainless Steel 8-Piece Steak Knife Set is highly rated by consumers. The knives are one-piece construction made of corrosion-resistant stainless steel and come with a lifetime guarantee.
Presentation
Now that you know how to cook a New York Strip Steak, dress it up or go casual. Provide warm bread, a green salad, and a heaping baked potato with all the trimmings for a true feast or add steamed vegetables in a variety of colors for an appealing look. Throw in a little shell fish for a surf-n-turf meal your guests will never forget.