**This post may contain affiliate links for products I recommend. If you click a link and buy something I may receive some compensation. This does not change the price you would pay.**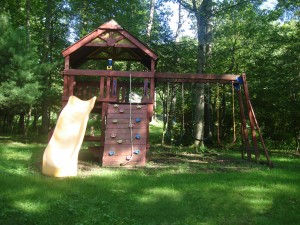 My parents have what I consider my favorite backyard for grandchildren. Over the years, they've worked with the natural flow of their land to put together an enticing playground that keeps our kids active for hours on end.
With 13 grandchildren – ten of whom live nearby – they never know when they'll have to entertain a crowd. They've done the yard in such a way that it's incredibly pleasing to adults, too, so when it's just the two of them the yard doesn't scream that a pile of kids are just minutes away.

When we start planning family vacations for the summer, this is the one place my kids insist we go. While that is most certainly so they can see their grandparents, aunts, uncles and cousins (whom they all adore) it doesn't hurt that my parents' backyard is a wonderland for kids.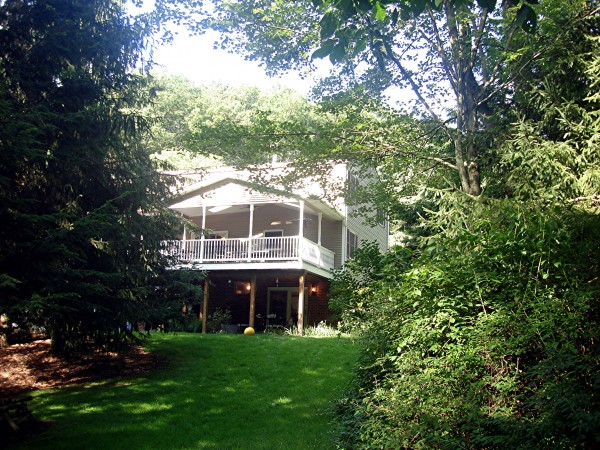 The house is centered on about two acres of land that slopes from top to bottom. In the winter – if there's snow – the kids can sled on the side yard, snowboard, or gently ski down from top to bottom. In the summer, the sloping yard allows for rolling downhill or setting up a champion slip-and-slide course.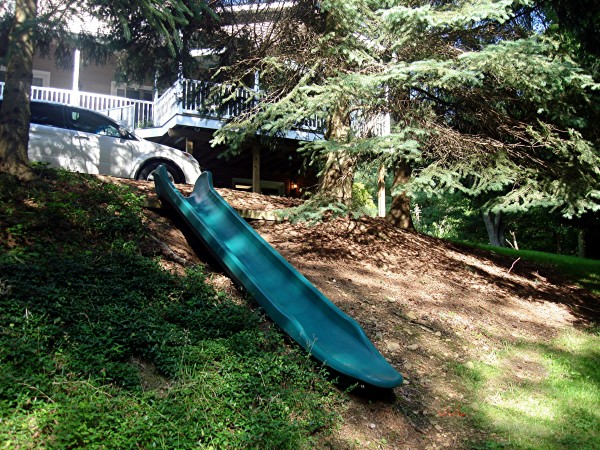 Kids love to play outside but if there aren't things for them to do out there it can quickly become boring. Rather than pack everyone up to go to a local park, my parents set things up so that the yard included favorite activities like swings and slides.
For the younger kids, this homemade slide built into the natural slope of the yard was an ingenious use of space. My dad put a piece of wood at the top of the hill and set it into the ground with anchors to hold it in place. He then bolted the top of the sled to that piece of wood. No risk of them falling from the top the way this is arranged!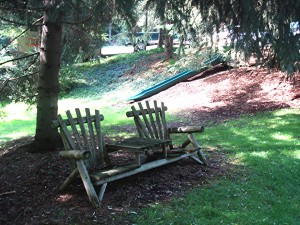 Nearby is a bench for two that gets perpetual shade. Parents can watch while kids play ball or tag. Kids can sit outside and read. Siblings or cousins can sit and chat.
What you can't tell from these pictures is that the trees attract a variety of birds and their whistling and tweets are beautiful background music to our time outside.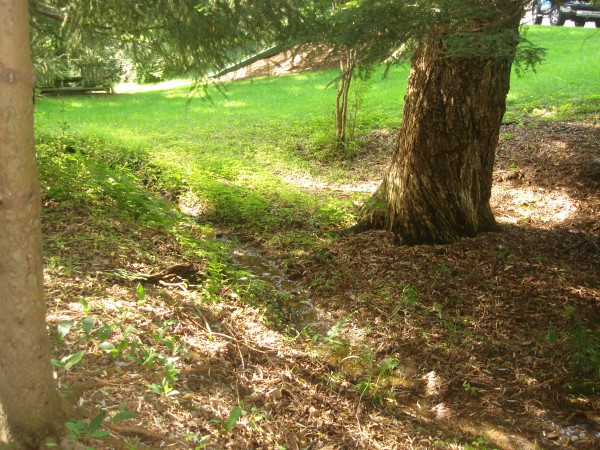 At the top of my parents' property is a pond belonging to the neighbor. The pond is home to geese, ducks, and the occasional family of turkeys. A stream from the pond trickles down through my parents' yard. The kids like to explore what might come floating by, look for tadpoles, and trample through the muddy edges. (Hence a mud room and extra boots stored just inside the back door….)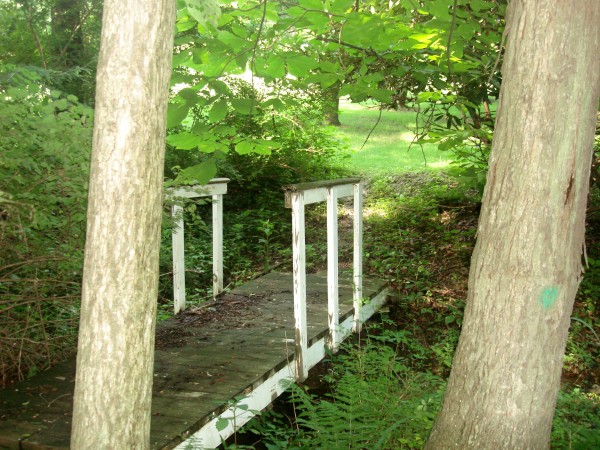 A bridge across the stream came with the property. It's hidden from view by a crop of trees and bushes. The grandchildren have to walk around towards the back of the property and loop through the trees to find the path to the bridge. The path is a haven for acorns and pine cones that get stashed in pockets and little, plastic buckets.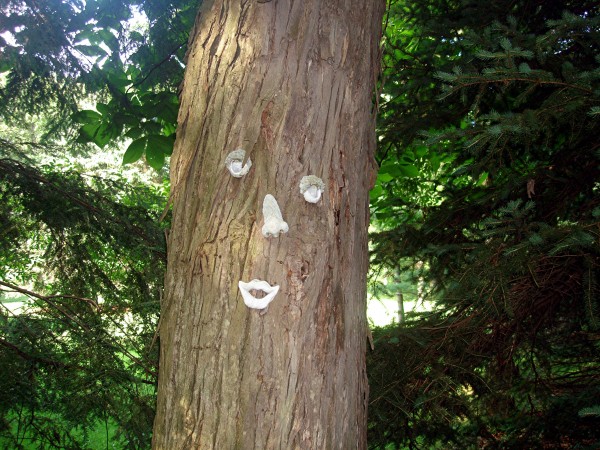 For the grandkids that wander back through the path to the bridge there's a funny surprise – a tree with a smiling face. When Mr. Tree showed up one day some of the younger kids weren't sure what to think but they've since grown to admire their little friend.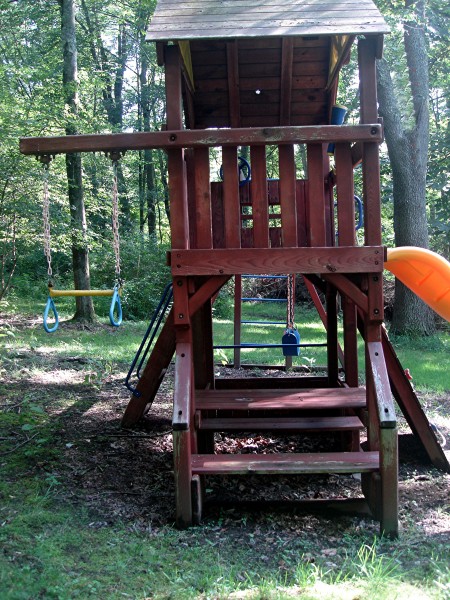 This swing set and fort came as a kit that my dad and brothers assembled on a slight hill at the back of the property. If you're sitting on either the back patio or the deck off the main floor you can't see the set through the trees but there's another bench up there so parents and grandparents alike can monitor the younger children as they climb, swing, slide, and call to each other from the covered fort.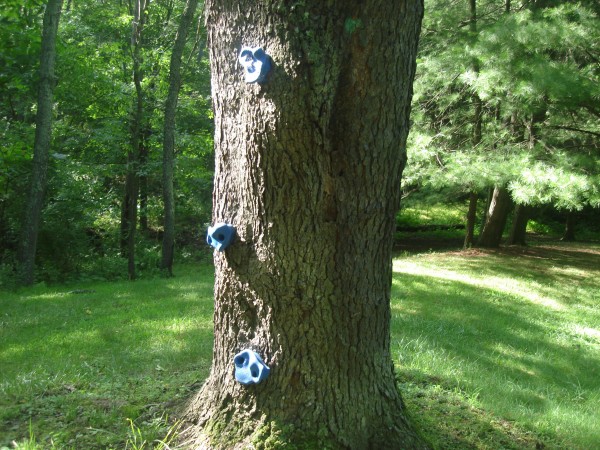 The entire property is surrounded with trees that grow in thick and green during the spring and summer. As a child, I loved to climb one we had on our property and sit and read for hours. The boys, however, simply like the thrill of mastering the up and down.
A large tree near the swing set was just begging to be climbed. So that they could do that safely, my parents attached plastic climbing hand and footholds to the base.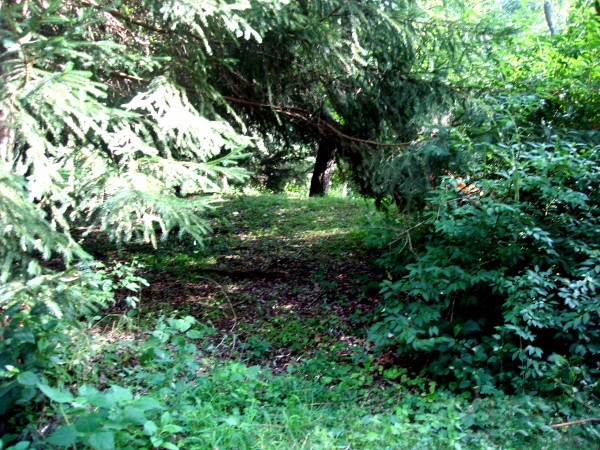 Some of the trees have low branches that hover over the ground while others are taller and leave enough room to walk below them. Between the surrounding bushes, natural arches have formed throughout the backyard and the kids will race each other through paths they've developed over time and rush through the shaded arches in a game of tag.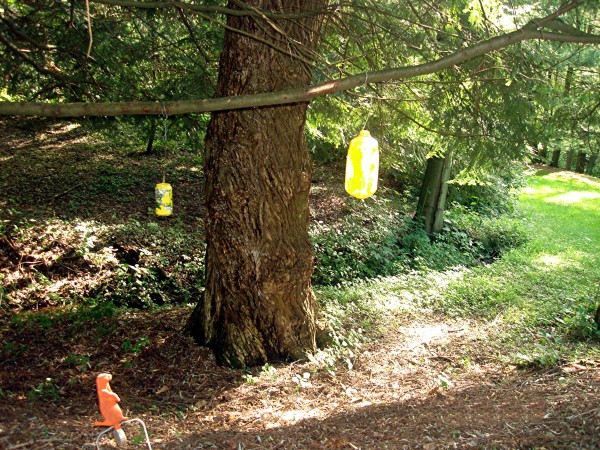 Of the 13 grandchildren, nine are boys and all of them have enjoyed the idea of having a BB gun or pellet gun at some point. We're not hunters but my dad grew up with BB guns and has always had something around the house for taking care of unwanted critters. (Once, while living in Colorado, he shot a snake that was making its way towards us kids while we were playing outside.)
Today, the grandkids can target practice with a pellet or BB gun and take aim at a couple of Mellow Yellow cans and a target chipmunk (but only when supervised from the comfy benches nearby).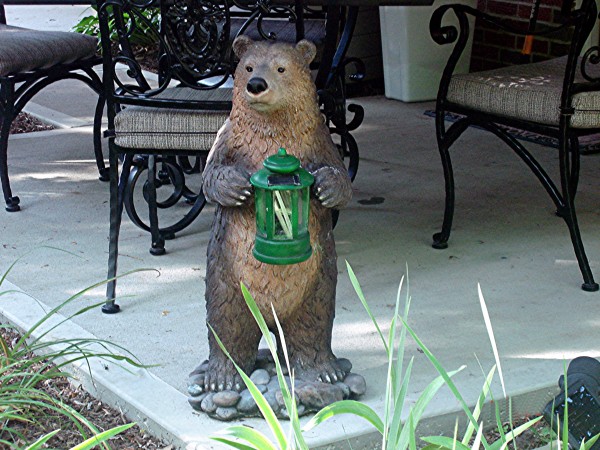 Fireflies light up the evening in the spring and summer and we've spent countless hours showing the kids how to capture them. Much of the yard is dark and unlit in the evening but this bear lantern that stands on the back patio always guides the grandchildren back to Mema and Pop Pop.
This side patio took longer to develop. For awhile it was rarely used. By repurposing some other outdoor furniture, adding a fire pit, planting a few tiki torches and adding to the wildflowers in the surrounding beds it has become the evening gathering spot. Kids can roast marshmallows for s'mores while parents sit and get warm by the fire on cooler nights.
Our nights spent outdoors often end here now with one generation telling the next about their own childhood stories and memories.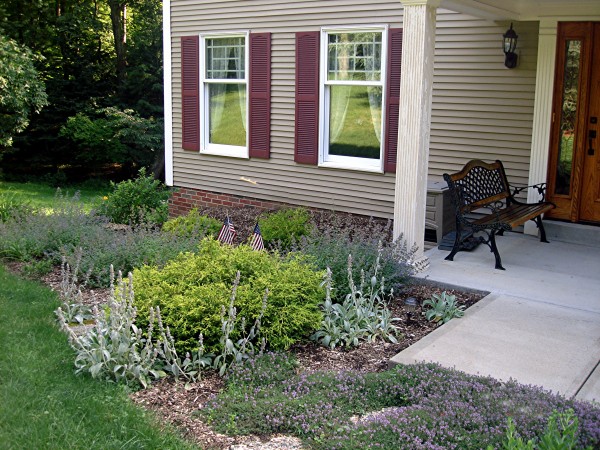 The porch out front holds another bench and while it's less used because all of the kid activities are located in back, it's another place we'll sometimes find a gaggle of grandchildren talking or – these days – checking the text messages on their iPhones.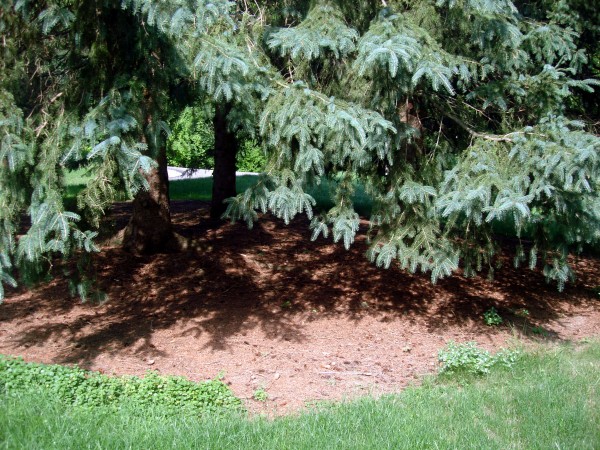 Square in the middle of the front yard are three, very large pine trees. In the summer the kids like to pull lawn chairs under this group of trees and play games. It's just tall enough for the younger ones to walk right under and the older ones to sit under without being scratched by branches.
The first time we brought my youngest to visit this wonderland, we found him outside in the morning under these trees in his pajamas. When we asked him what he was doing he said he was exploring as he'd never seen a forest before. (Trees like these are hard to come by in Arizona.)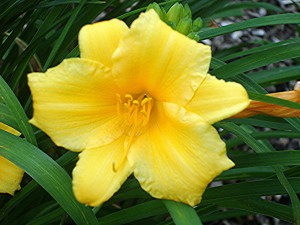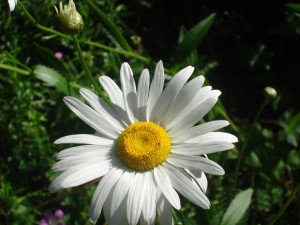 My parents have added to their flower and garden beds over the years. Each Mother's Day will find my mom and dad at the local nursery picking up new cuttings to fill out the beds and planters. There are daisies, multiple colors of day lilies, lavender, roses, begonias, stock and lemon thyme.
The grandchildren will sometimes pick a flower to present to grandma, sometimes wander from bed to bed to check the new buds, or help with the weeding.
My mother fills her collection of vases with fresh flowers when guests come to visit.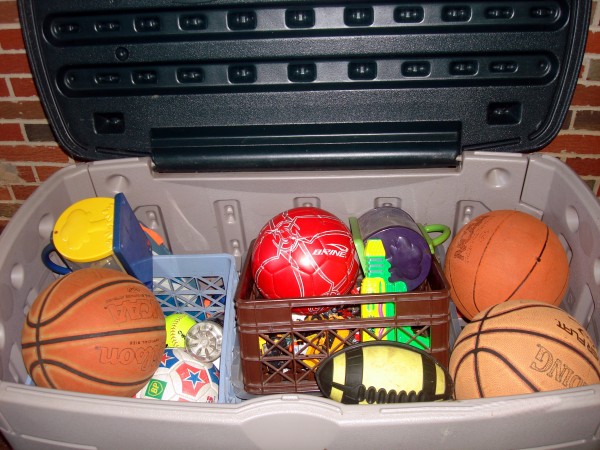 While the yard itself naturally presents an imaginative playground for children, there's also a nice, open space in the back that's been the home to many softball, wiffle ball, and soccer games – not to mention the ever popular water gun challenges. An outdoor storage container holds a number of balls, bats, and water guns.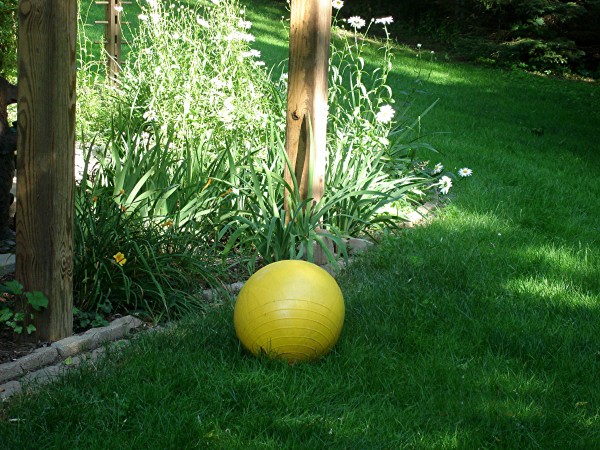 Every now and then a ball might get left outside like this yellow one after a dinner gathering held to get all the grandchildren together while the ones who live out of town (my family) were visiting for a week. I like this shot because it reminds me just how much enjoyment my children get from this special house with its kid-friendly back yard and creative and thoughtful grandparents.